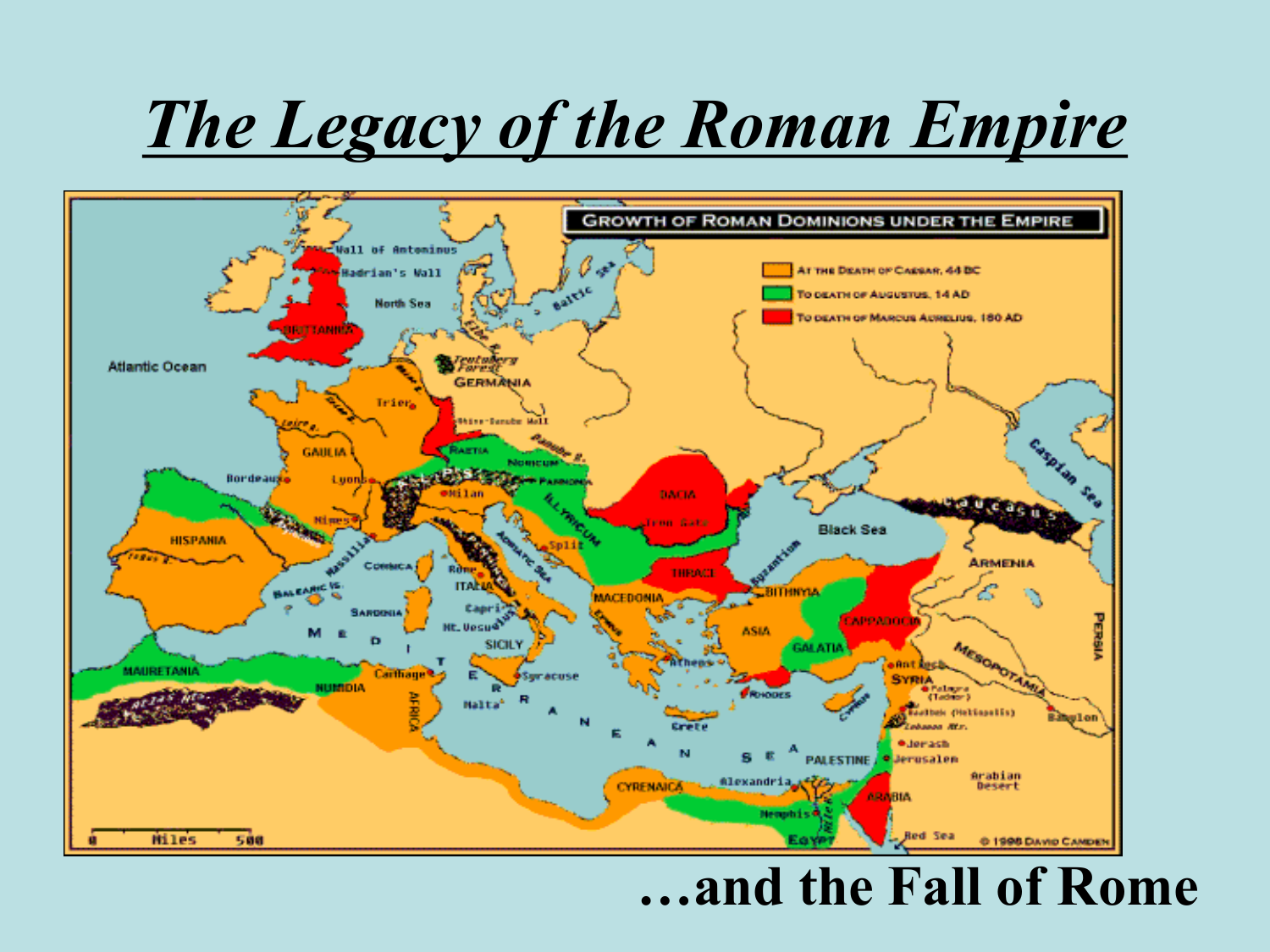 The Legacy of the Roman Empire
…and the Fall of Rome
What does this mean?
• Roman Empire
Contributions or
Achievements
• The end of the empire
in Western Europe.
Become the
"Legacy of Rome"
how it is remembered.
• The "Fall of Rome" or
the Fall of the Roman
Empire in 476 CE.
Roman Art
Statues
• Imitated Greek sculpture
• Good at making lifelike busts and statues
• Mosaics: artwork
where tiny patches
form a bigger
picture
• Decorated homes of
wealthy families
Frescoes
• Paintings over wet
plaster with water based
paint
• Like looking out a
window, 3- dimensional
• Murals of landscapes
• Blown Glass: highly
decorative bottles
• Gem cutting and
metalworking
• Cameos: carved
decoration showing a
portrait or a scene
Roman Architecture
Borrowed from the Greeks
• Arches: used throughout
the empire, on buildings
and bridges
• Columns: Used in buildings, for
support
Vault
• An arch used to
support a ceiling
Dome
• A vault in the shape of
a half-circle that rests
on a circular wall
Roman Engineering
• Aqueducts: carried water from the country into the
cities
• Bridges: Romans built bridges across rivers and
streams that did not block the water; they used
columns and arches
• Plumbing: Romans used running
water in houses, used
pipes to bring in water
• Foundations: Roman houses had
concrete foundations
• Baths: Romans built bath houses
Language and Writing
• Latin was used by scribes to record
important documents
• Roman proverbs still used ex. E.
pluribus unum out of many, one
• Money picture
• Factoid: In the 1939 film The
Wizard of Oz, the Wizard, who
was blown into Oz from a state
fair in Kansas, never refers to the
United States by name, but calls it
"the land of E pluribus unum."
Roman Numerals
• Roman numerals I, II,
III, IV, V, VI, VII,
VIII, IX, X
• Solve the following
problems.
• Create a new problem
and test your
neighbor!
Practice:
IX
+ IV_
?
VIII
x X
?
Latin roots used in English Words
Latin Prefixes Used in English Words
Latin Root
Meaning
English Word
Latin Prefix
Meaning
English Word(s)
anima
life, breath,
soul
animal
in, im, il
not
inactive, impossible,
illogical
civis
citizen,
community
civic
inter
among, between
international
com, co
together, with
communicate,
cooperate
lex, legalis
law, legal
legislature
manus
hand
manual
pre
before
precede
militare
to serve as a
soldier
military
post
after, behind
postpone
portare
to carry
portable
re
back, again
remember
unus
one
united
semi
half
semicircle
urbs
city
suburb
sub
under, less than,
inferior to
submarine
verbum
word
verbal
trans
across, through
transportation
Philosophy
• Stoicism: adopted by
most upper class
• "Living rightly"
meant living in a way
that agreed with nature
• Believed in good
character, self-control
and courage
Law & Justice
• Roman law covered
many parts of daily life
• Believed in universal
idea of justice
• Citizens had rights,
courts made decisions
that are fair and just
"Natural Law"
Government
• Republic: Constitutional government, citizens elect officials
• Political Rights: to vote, and hold office
• Civil Rights: freedom, ability to trade, to own property, to be
married
Roman Citizens
• Citizen: Lived in Roman State, had full political & civil rights
• Municipia: Lived outside Roman State, had civil rights, paid
taxes, joined army
The Roman Empire
Fall of the Roman Empire
By the 400's Rome was too
large to rule efficiently.
It was difficult to defend.
Why?
Corruption – the decay of people's values was widespread
and common …..This made the government ineffective
Slaves were being used to work land
Landowners created their own armies to take power
Rich landowners left Rome for the country
When Emperor Constantine moved the capital to
the east Byzantium (Constantinople) he took
much of the power and strength with him.
It shifted power to the east.
Constantinople (Byzantium)
WEST
ROME
EAST
Economic Reasons for the Fall of Rome:
•
•
•
•
People paid heavy taxes
Prices rose very high
Trade declined
Many people lived in poverty
Barbarians like Atilla the Hun kept attacking Rome.
Barbarian leaders overthrew the last emperor of Rome in
476 and took power.
The Western Roman Empire falls in 476 CE
- "The Fall of Rome"
Western
Europe
CONSTANTINOPLE
ROME
Eastern
Europe
The Eastern Roman Empire continues until 1453… also
known as the Byzantine Empire.