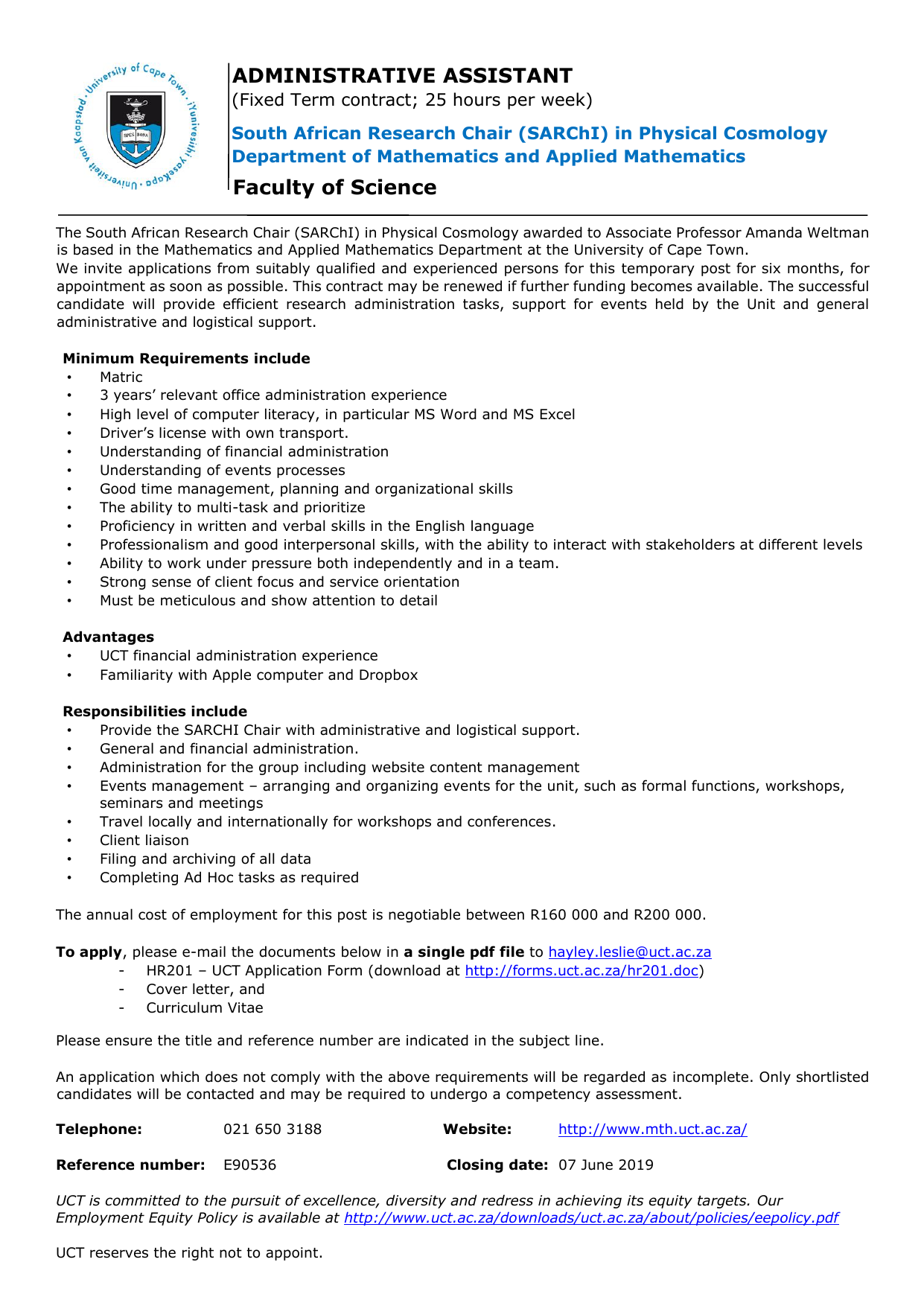 ADMINISTRATIVE ASSISTANT
(Fixed Term contract; 25 hours per week)
South African Research Chair (SARChI) in Physical Cosmology
Department of Mathematics and Applied Mathematics
Faculty of Science
The South African Research Chair (SARChI) in Physical Cosmology awarded to Associate Professor Amanda Weltman
is based in the Mathematics and Applied Mathematics Department at the University of Cape Town.
We invite applications from suitably qualified and experienced persons for this temporary post for six months, for
appointment as soon as possible. This contract may be renewed if further funding becomes available. The successful
candidate will provide efficient research administration tasks, support for events held by the Unit and general
administrative and logistical support.
Minimum Requirements include
•
Matric
•
3 years' relevant office administration experience
•
High level of computer literacy, in particular MS Word and MS Excel
•
Driver's license with own transport.
•
Understanding of financial administration
•
Understanding of events processes
•
Good time management, planning and organizational skills
•
The ability to multi-task and prioritize
•
Proficiency in written and verbal skills in the English language
•
Professionalism and good interpersonal skills, with the ability to interact with stakeholders at different levels
•
Ability to work under pressure both independently and in a team.
•
Strong sense of client focus and service orientation
•
Must be meticulous and show attention to detail
Advantages
•
UCT financial administration experience
•
Familiarity with Apple computer and Dropbox
Responsibilities include
•
Provide the SARCHI Chair with administrative and logistical support.
•
General and financial administration.
•
Administration for the group including website content management
•
Events management – arranging and organizing events for the unit, such as formal functions, workshops,
seminars and meetings
•
Travel locally and internationally for workshops and conferences.
•
Client liaison
•
Filing and archiving of all data
•
Completing Ad Hoc tasks as required
The annual cost of employment for this post is negotiable between R160 000 and R200 000.
To apply, please e-mail the documents below in a single pdf file to [email protected]
HR201 – UCT Application Form (download at http://forms.uct.ac.za/hr201.doc)
Cover letter, and
Curriculum Vitae
Please ensure the title and reference number are indicated in the subject line.
An application which does not comply with the above requirements will be regarded as incomplete. Only shortlisted
candidates will be contacted and may be required to undergo a competency assessment.
Telephone:
021 650 3188
Website:
http://www.mth.uct.ac.za/
Reference number:
E90536
Closing date: 07 June 2019
UCT is committed to the pursuit of excellence, diversity and redress in achieving its equity targets. Our
Employment Equity Policy is available at http://www.uct.ac.za/downloads/uct.ac.za/about/policies/eepolicy.pdf
UCT reserves the right not to appoint.