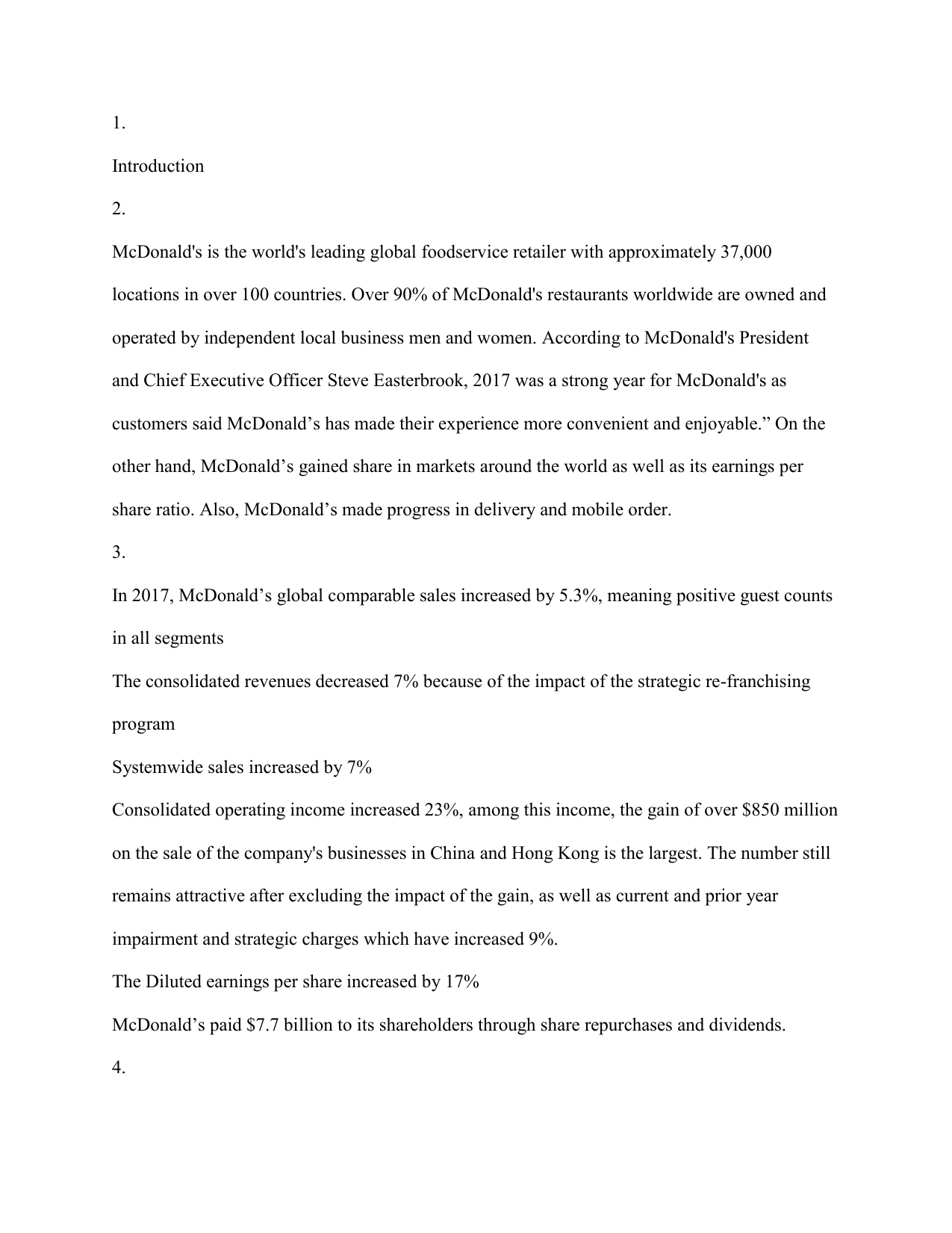 1.
Introduction
2.
McDonald's is the world's leading global foodservice retailer with approximately 37,000
locations in over 100 countries. Over 90% of McDonald's restaurants worldwide are owned and
operated by independent local business men and women. According to McDonald's President
and Chief Executive Officer Steve Easterbrook, 2017 was a strong year for McDonald's as
customers said McDonald's has made their experience more convenient and enjoyable." On the
other hand, McDonald's gained share in markets around the world as well as its earnings per
share ratio. Also, McDonald's made progress in delivery and mobile order.
3.
In 2017, McDonald's global comparable sales increased by 5.3%, meaning positive guest counts
in all segments
The consolidated revenues decreased 7% because of the impact of the strategic re-franchising
program
Systemwide sales increased by 7%
Consolidated operating income increased 23%, among this income, the gain of over $850 million
on the sale of the company's businesses in China and Hong Kong is the largest. The number still
remains attractive after excluding the impact of the gain, as well as current and prior year
impairment and strategic charges which have increased 9%.
The Diluted earnings per share increased by 17%
McDonald's paid $7.7 billion to its shareholders through share repurchases and dividends.
4.
Since 2017, McDonald's showed a strong performance in international markets and a higher
spending per customer in the U.S. "Value deals" included on McDonald's menu brought in a lot
of customers, outperforming small restaurants and diners who were still struggling to bring in
more traffic. However, earnings and revenue have continued to decline since last year.
McDonald's has continued to refurbish restaurants and add additional upgrades such as selforder kiosks and table service. The company is also trying to improve upon their menu by
including fresh beef hamburgers and new coffee drinks. The Company's revenues consist of
sales by Company-operated restaurants and fees from franchised restaurants operated by
conventional franchisees, developmental licensees and foreign affiliates. Sales at McDonald's
locations, that are currently undergoing these changes, have typically dropped in sales from 30 to
40 percent, though in 2017, net income increased 11% to $5.2 billion and diluted earnings per
common share increased 17% to $6.37.
5.
The Company's revenues consist of sales by Company-operated restaurants and fees from
restaurants operated by franchisees. Revenues from conventional franchised restaurants include
rent and royalties based on a percent of sales, minimum rent payments, and initial fees. Revenues
from franchised restaurants that are licensed to foreign affiliates and developmental licensees
include a royalty based on a percent of sales, and generally, include initial fees. Between 2015
and 2017, the Company accelerated the pace of re-franchising to optimize its restaurant
ownership mix, generate more stable and predictable revenue and cash flow streams, and operate
with a less resource-intensive structure. The shift to a greater percentage of franchised
restaurants negatively impacts consolidated revenues as Company-operated sales are replaced by
franchised sales, where the Company receives rent and/or royalty revenue based on a percentage
of sales. In 2017, revenues decreased by 7%. The decreases in revenues were due to the impact
of re-franchising, partly offset by positive comparable sales.
6.
Despite those impairments, comparable sales for the International Lead segment increased 6.0%
for the 4th quarter, led by continued momentum in the U.K. and Canada, as well as positive
results across all other markets. The segment's operating income increased 14%, fueled by salesdriven improvements in franchised margin dollars. In the High Growth segment, fourth quarter
comparable sales increased 4.0%, led by strong performance in China and positive results across
the majority of the segment, partly offset by continued challenges in South Korea. In the
foundational markets, fourth quarter comparable sales rose 8.0%, reflecting positive sales
performance across all geographic regions.
7.
The full-year diluted earnings per share of McDonald's increased by 17% to $6.37. This
includes: approximately $700 million, or $0.82 per share, of net tax cost associated with the Tax
Act; and a pre-tax gain of approximately $850 million on the sale of the Company's businesses in
China and Hong Kong, offset in part by $150 million of current year restructuring and
impairment charges in connection with the Company's global G&A and re-franchising program,
for a net benefit of $0.53 per share. Excluding the above items, as well as the $342 million or
$0.28 per share of prior year strategic charges, the full year net income was $5.4 billion, an
increase of 10%.
8.
All in all, McDonald's is making necessary changes throughout the company that I believe
should lead to good long-term returns for shareholders. But at the moment, there are better deals
to be found than McDonald's stock. For example, its main competitor, the parent of Burger King
-- Restaurant Brands International -- trades at 18 times earnings estimates and is expected to
grow earnings 19% annually over the next five years. Analysts expect McDonald's to grow
earnings just 9% per year over the same period, but it trades at a higher P/E. Therefore,
considered other alternatives available to investors, we suggest investors wait for better prices
before buying shares of McDonald's.