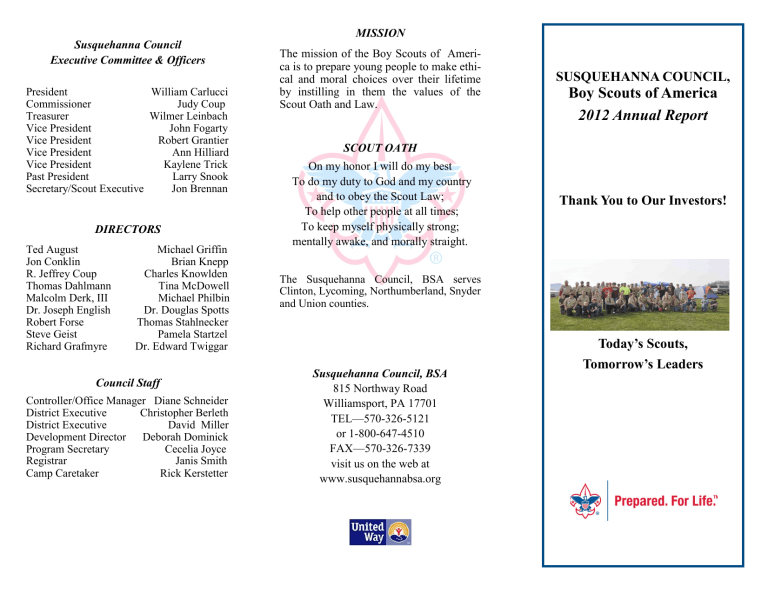 Susquehanna Council
Executive Committee & Officers
President
William Carlucci
Commissioner
Judy Coup
Treasurer
Wilmer Leinbach
Vice President
John Fogarty
Vice President
Robert Grantier
Vice President
Ann Hilliard
Vice President
Kaylene Trick
Past President
Larry Snook
Secretary/Scout Executive
Jon Brennan
DIRECTORS
Ted August
Jon Conklin
R. Jeffrey Coup
Thomas Dahlmann
Malcolm Derk, III
Dr. Joseph English
Robert Forse
Steve Geist
Richard Grafmyre
Michael Griffin
Brian Knepp
Charles Knowlden
Tina McDowell
Michael Philbin
Dr. Douglas Spotts
Thomas Stahlnecker
Pamela Startzel
Dr. Edward Twiggar
Council Staff
Controller/Office Manager Diane Schneider
District Executive
Christopher Berleth
District Executive
David Miller
Development Director Deborah Dominick
Program Secretary
Cecelia Joyce
Registrar
Janis Smith
Camp Caretaker
Rick Kerstetter
MISSION
The mission of the Boy Scouts of America is to prepare young people to make ethical and moral choices over their lifetime
by instilling in them the values of the
Scout Oath and Law.
SUSQUEHANNA COUNCIL,
Boy Scouts of America
2012 Annual Report
SCOUT OATH
On my honor I will do my best
To do my duty to God and my country
and to obey the Scout Law;
To help other people at all times;
To keep myself physically strong;
mentally awake, and morally straight.
Thank You to Our Investors!
The Susquehanna Council, BSA serves
Clinton, Lycoming, Northumberland, Snyder
and Union counties.
Today's Scouts,
Susquehanna Council, BSA
815 Northway Road
Williamsport, PA 17701
TEL—570-326-5121
or 1-800-647-4510
FAX—570-326-7339
visit us on the web at
www.susquehannabsa.org
Tomorrow's Leaders
2012 MEMBERSHIP STATISTICS
2012 FINANCIAL REPORT
Cub Scouting
Registered Cub Scouts
Total Cubs Scout Packs
1421
52
Boy Scouting
Registered Boy Scouts
979
Total Boy Scout Troops
59
Venturing
Registered Venturers
50
Total Venture Crews
7
Total Traditional Scouts
1523
Total Traditional Units
118
Total Learning For Life
9
Total Learning For Life Units
1
Council Totals
Total Youth Members
2459
Total Adult Volunteers
1465
Total Units, Groups, Posts
General Operating Fund
Support, revenue and transfers
Expenses
Increase in Unrestricted
Net Assets
2012 SCOUTS IN ACTION
$829,558
$721,339
$108,218
Statement of Support,
Revenue, & Transfers
Program fees and sales
$402,788
Investment Income
$ 10,494
United Way
$ 53,798
Friends of Scouting Campaign
Special events, contributions,
grants and memorials
$150,695
Total Revenue
$829,558
$211,783
Statement of Expenses
Field Services
$553,997
Program support (camps, activities, training,
supplies, printing, equipment) $132,840
Administration
(legal, audit, insurance)
$ 34,502
Total Expenses
$721,339
119
FOGARTY DINING HALL
During fiscal year 2012, John T.
Fogarty, was on a mission to revamp
the Dining Hall at Camp Karoondinha.
On April 28, 2013 we will see the fruits
of his labor in the re-opening and dedication of the new Fogarty Dining Hall.
Many thanks to all who supported John
in his efforts!
New Fogarty Dining Hall at Camp K.