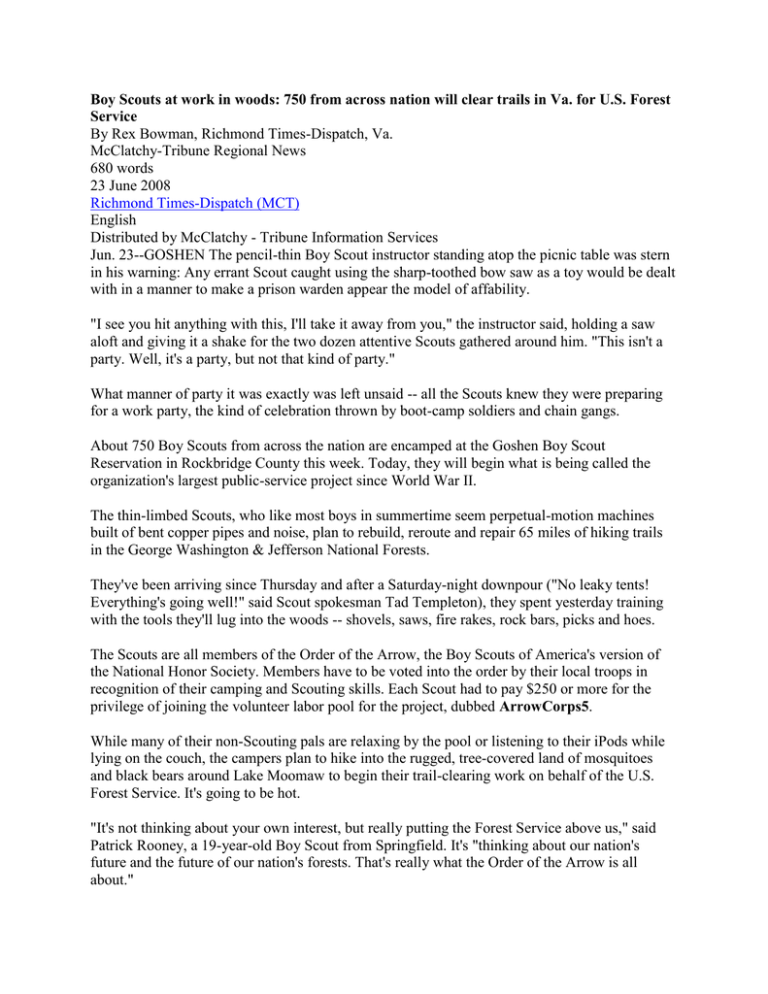 Boy Scouts at work in woods: 750 from across nation will clear trails in Va. for U.S. Forest
Service
By Rex Bowman, Richmond Times-Dispatch, Va.
McClatchy-Tribune Regional News
680 words
23 June 2008
Richmond Times-Dispatch (MCT)
English
Distributed by McClatchy - Tribune Information Services
Jun. 23--GOSHEN The pencil-thin Boy Scout instructor standing atop the picnic table was stern
in his warning: Any errant Scout caught using the sharp-toothed bow saw as a toy would be dealt
with in a manner to make a prison warden appear the model of affability.
"I see you hit anything with this, I'll take it away from you," the instructor said, holding a saw
aloft and giving it a shake for the two dozen attentive Scouts gathered around him. "This isn't a
party. Well, it's a party, but not that kind of party."
What manner of party it was exactly was left unsaid -- all the Scouts knew they were preparing
for a work party, the kind of celebration thrown by boot-camp soldiers and chain gangs.
About 750 Boy Scouts from across the nation are encamped at the Goshen Boy Scout
Reservation in Rockbridge County this week. Today, they will begin what is being called the
organization's largest public-service project since World War II.
The thin-limbed Scouts, who like most boys in summertime seem perpetual-motion machines
built of bent copper pipes and noise, plan to rebuild, reroute and repair 65 miles of hiking trails
in the George Washington & Jefferson National Forests.
They've been arriving since Thursday and after a Saturday-night downpour ("No leaky tents!
Everything's going well!" said Scout spokesman Tad Templeton), they spent yesterday training
with the tools they'll lug into the woods -- shovels, saws, fire rakes, rock bars, picks and hoes.
The Scouts are all members of the Order of the Arrow, the Boy Scouts of America's version of
the National Honor Society. Members have to be voted into the order by their local troops in
recognition of their camping and Scouting skills. Each Scout had to pay $250 or more for the
privilege of joining the volunteer labor pool for the project, dubbed ArrowCorps5.
While many of their non-Scouting pals are relaxing by the pool or listening to their iPods while
lying on the couch, the campers plan to hike into the rugged, tree-covered land of mosquitoes
and black bears around Lake Moomaw to begin their trail-clearing work on behalf of the U.S.
Forest Service. It's going to be hot.
"It's not thinking about your own interest, but really putting the Forest Service above us," said
Patrick Rooney, a 19-year-old Boy Scout from Springfield. It's "thinking about our nation's
future and the future of our nation's forests. That's really what the Order of the Arrow is all
about."
Craig Tripp, a 17-year-old from Roanoke, said the order's guiding principles can be summed up
in three words: brotherhood, cheerfulness and service. None of the Scouts, he said, is daunted by
the challenge ahead: manual labor from today through Friday, on occasionally steep slopes in
temperatures edging toward 90 degrees.
It's not all work. Each Scout gets to pick one day "to recreate," Tripp said. Options include
canoeing, whitewater rafting, rock climbing, swimming, biking or hiking. Plus, there's a solid
week of living in a tent and jawing by the evening campfire -- even today, in a world awash in
air conditioning and conveniences, it's considered good fun by many boys.
Still, Templeton noted, members of the Order of the Arrow know it's not about play, it's about
service.
"It's a boy-run group, and they amaze me every time I'm around them," he said. "When you see
them at work, you don't worry about the future of this country." Contact Rex Bowman at (540)
344-3612 or rbowman@timesdispatch.com.