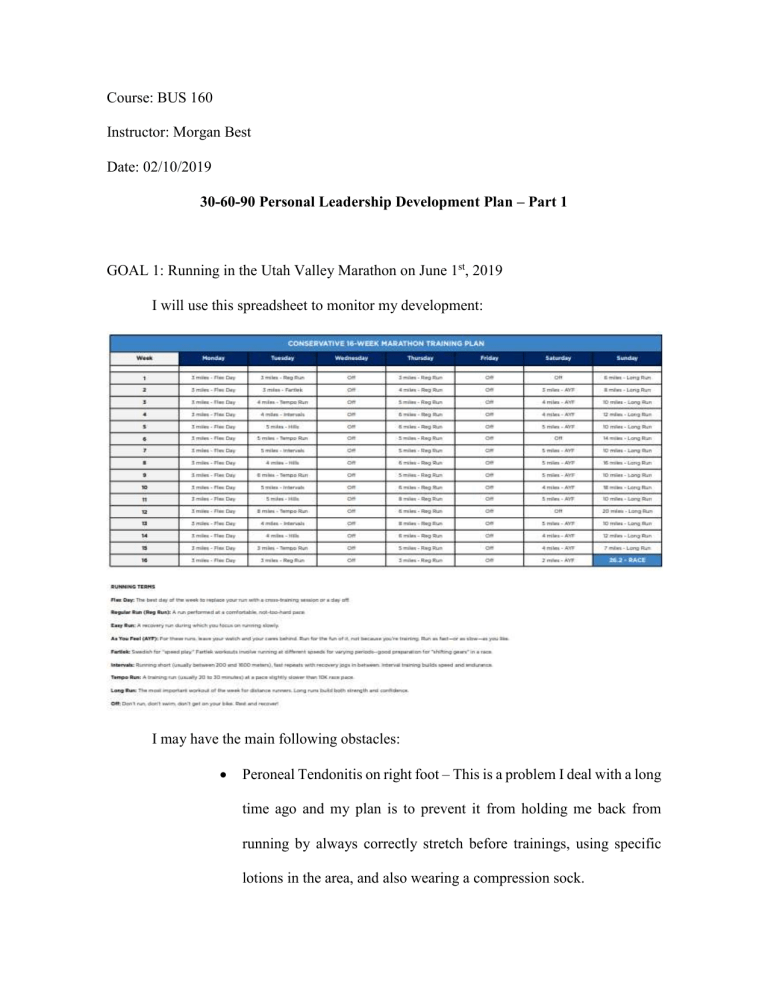 Course: BUS 160
Instructor: Morgan Best
Date: 02/10/2019
30-60-90 Personal Leadership Development Plan – Part 1
GOAL 1: Running in the Utah Valley Marathon on June 1st, 2019
I will use this spreadsheet to monitor my development:
I may have the main following obstacles:

Peroneal Tendonitis on right foot – This is a problem I deal with a long
time ago and my plan is to prevent it from holding me back from
running by always correctly stretch before trainings, using specific
lotions in the area, and also wearing a compression sock.

Lack of time for trainings – My schedule is really busy, since I work
full time and I'm currently taking 12 credits at school. So waking up
really early to have enough time for training might be very difficult. I
plan on preventing this from holding me back by managing my time
the best way I can, and doing a daily planning for every single activity.
GOAL 2: Learn the basics of Spanish – Levels 1 and 2
I am a native Portuguese speaker, so learning Spanish can open a variety of career
doors for me. My plan is to use the time I spend driving every day listening to the audiobook
of Learn In Your Car. There are several levels, and I am starting with level 1. Each level has
an amount of small interactive lessons to be listened. After each level I will be able to take
an online test to check my progress.
I may have the main following obstacle:

Attention – Driving is something that requires attention to a lot of
things, so I need to avoid distractions by focusing on what I am
listening very carefully.