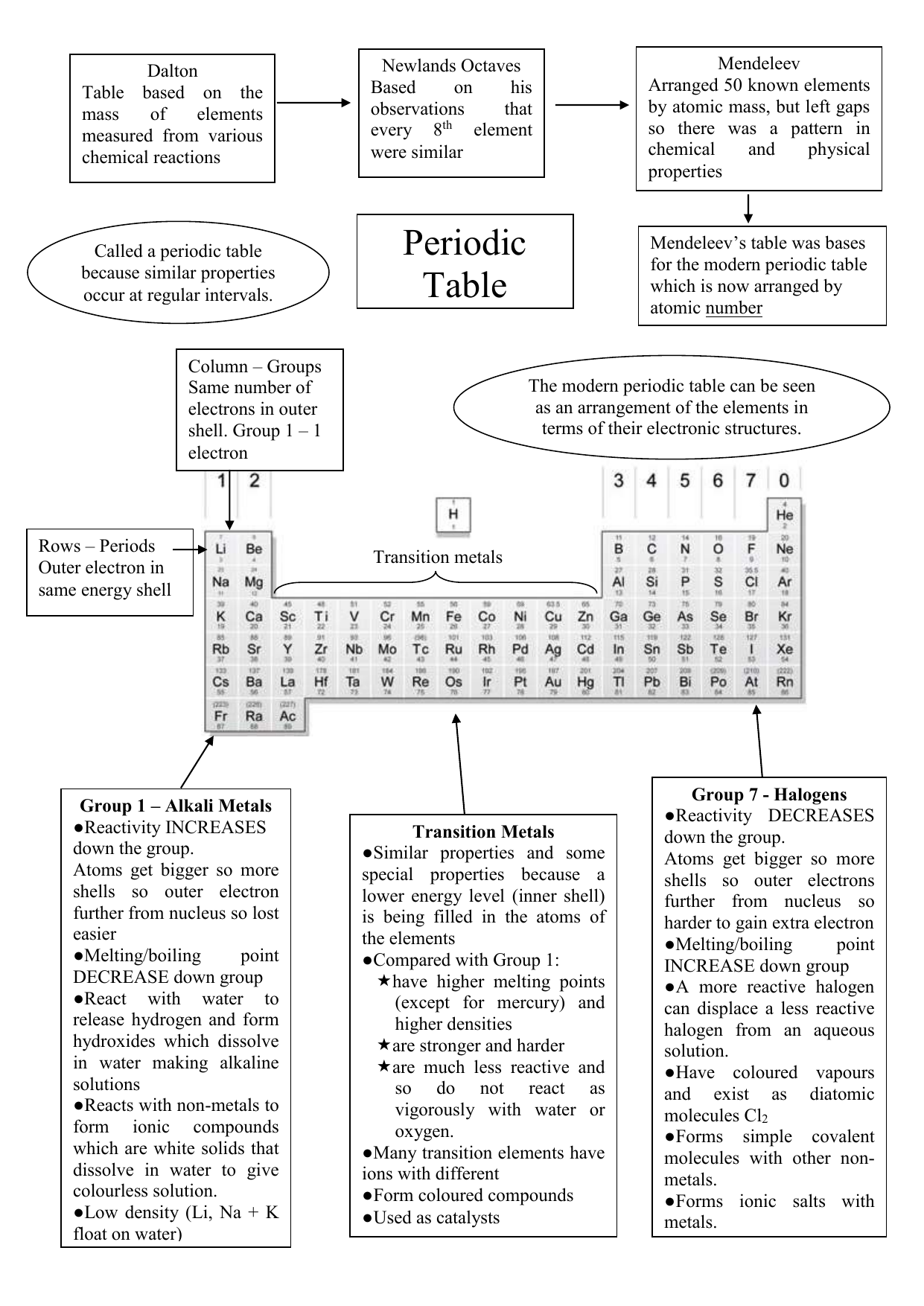 Dalton
Table based on the
mass
of
elements
measured from various
chemical reactions
Called a periodic table
because similar properties
occur at regular intervals.
Newlands Octaves
Based
on
his
observations
that
every 8th element
were similar
Mendeleev
Arranged 50 known elements
by atomic mass, but left gaps
so there was a pattern in
chemical
and
physical
properties
Periodic
Table
Mendeleev's table was bases
for the modern periodic table
which is now arranged by
atomic number
Column – Groups
Same number of
electrons in outer
shell. Group 1 – 1
electron
Rows – Periods
Outer electron in
same energy shell
Group 1 – Alkali Metals
●Reactivity INCREASES
down the group.
Atoms get bigger so more
shells so outer electron
further from nucleus so lost
easier
●Melting/boiling
point
DECREASE down group
●React with water to
release hydrogen and form
hydroxides which dissolve
in water making alkaline
solutions
●Reacts with non-metals to
form ionic compounds
which are white solids that
dissolve in water to give
colourless solution.
●Low density (Li, Na + K
float on water)
The modern periodic table can be seen
as an arrangement of the elements in
terms of their electronic structures.
Transition metals
Transition Metals
●Similar properties and some
special properties because a
lower energy level (inner shell)
is being filled in the atoms of
the elements
●Compared with Group 1:
have higher melting points
(except for mercury) and
higher densities
are stronger and harder
are much less reactive and
so do not react as
vigorously with water or
oxygen.
●Many transition elements have
ions with different
●Form coloured compounds
●Used as catalysts
Group 7 - Halogens
●Reactivity DECREASES
down the group.
Atoms get bigger so more
shells so outer electrons
further from nucleus so
harder to gain extra electron
●Melting/boiling
point
INCREASE down group
●A more reactive halogen
can displace a less reactive
halogen from an aqueous
solution.
●Have coloured vapours
and exist as diatomic
molecules Cl2
●Forms simple covalent
molecules with other nonmetals.
●Forms ionic salts with
metals.