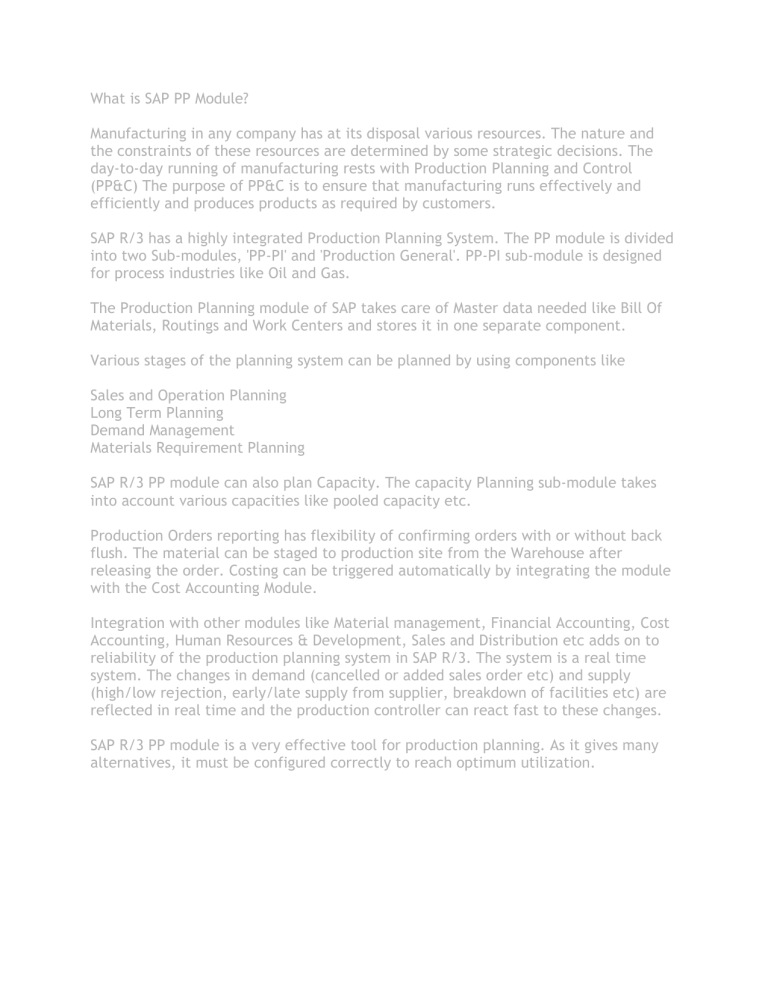 What is SAP PP Module?
Manufacturing in any company has at its disposal various resources. The nature and
the constraints of these resources are determined by some strategic decisions. The
day-to-day running of manufacturing rests with Production Planning and Control
(PP&C) The purpose of PP&C is to ensure that manufacturing runs effectively and
efficiently and produces products as required by customers.
SAP R/3 has a highly integrated Production Planning System. The PP module is divided
into two Sub-modules, 'PP-PI' and 'Production General'. PP-PI sub-module is designed
for process industries like Oil and Gas.
The Production Planning module of SAP takes care of Master data needed like Bill Of
Materials, Routings and Work Centers and stores it in one separate component.
Various stages of the planning system can be planned by using components like
Sales and Operation Planning
Long Term Planning
Demand Management
Materials Requirement Planning
SAP R/3 PP module can also plan Capacity. The capacity Planning sub-module takes
into account various capacities like pooled capacity etc.
Production Orders reporting has flexibility of confirming orders with or without back
flush. The material can be staged to production site from the Warehouse after
releasing the order. Costing can be triggered automatically by integrating the module
with the Cost Accounting Module.
Integration with other modules like Material management, Financial Accounting, Cost
Accounting, Human Resources & Development, Sales and Distribution etc adds on to
reliability of the production planning system in SAP R/3. The system is a real time
system. The changes in demand (cancelled or added sales order etc) and supply
(high/low rejection, early/late supply from supplier, breakdown of facilities etc) are
reflected in real time and the production controller can react fast to these changes.
SAP R/3 PP module is a very effective tool for production planning. As it gives many
alternatives, it must be configured correctly to reach optimum utilization.