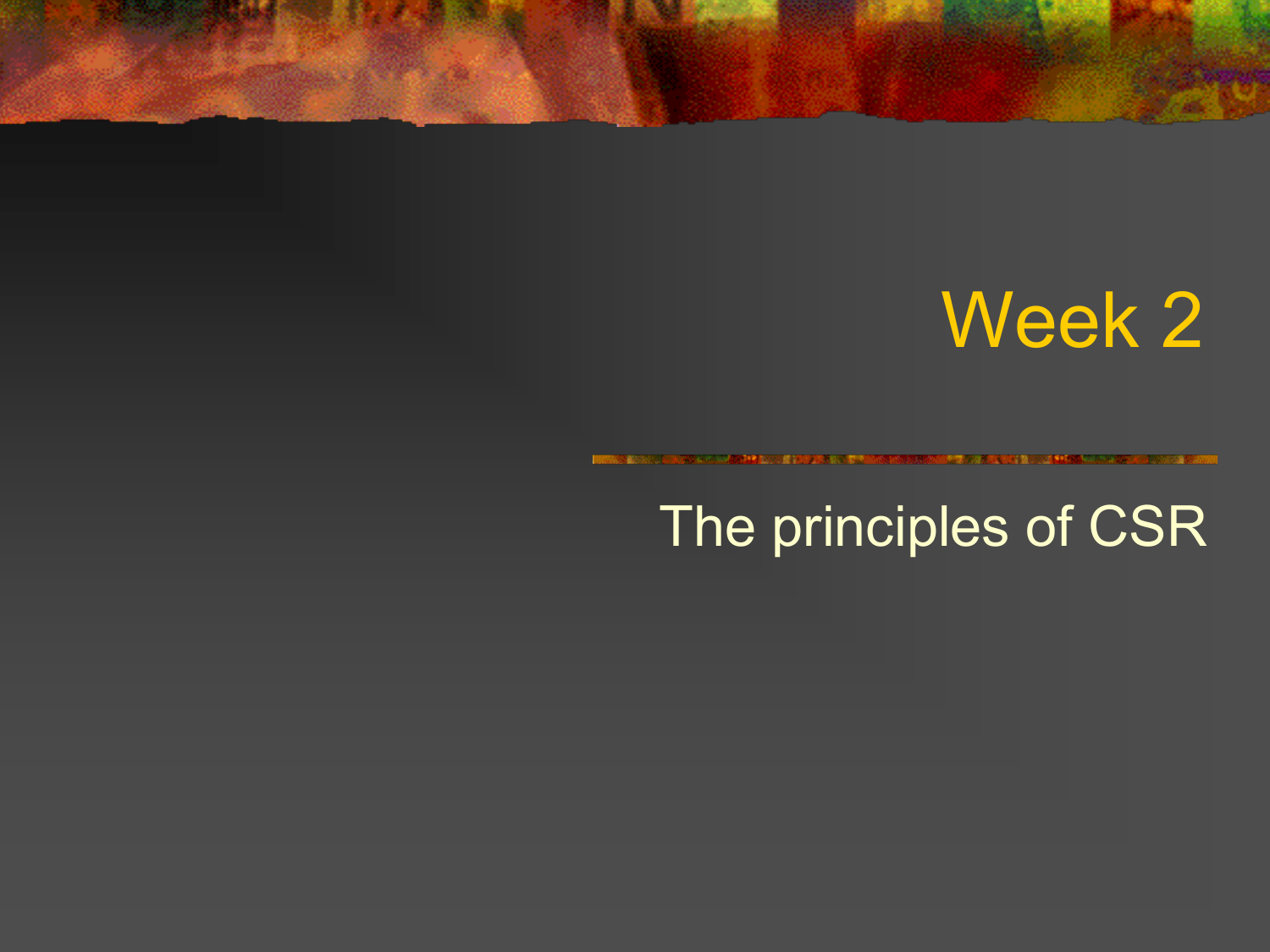 Week 2
The principles of CSR
'Our environmental performance throughout this year is described in
detail in this Environmental Review. The following are key
achievements of which we are particularly proud.
 Best ever compliance with drinking water quality standards at
98.9%
 Avoided a hosepipe ban and maintained drinking water supplies
to customers despite extreme summer drought and harsh winter
 Certificate of Endorsement for contribution to improvements in
the quality of the River Thames
 Significant improvement in sewage effluent consent compliance,
rising to 98.5%
 Best ever compliance with sewage biosolids recycling to
agricultural land
 100% compliance with sewage biosolids dispersal at sea
 Won eight environmental awards
 Achieved and exceeded policy target to improve energy
efficiency by 10% by 1996, against projected levels from 1992
baseline'
Thames Water Environmental Review 1996
A historiography of CSR

1970's


1980's


Stakeholder theory v shareholder value
1990's onwards


Employees; environment
Citizenship
2000's

sustainability
Ethics v rules





Regulation of corporations
Sanctions for misbehaviour
Or
Ethical understanding
Culture of responsibility
Network society

The global village




McLuhan, 1967
Collapse of the nation state
Rise of the MNC
IT changing power structures
The social context


Rights & responsibilities decoupled
A culture of greed




Risk & rewards decoupled
The consumer society
Globalisation (Americanisation) of culture
Semiotic society
The political context




The New Right
New Public Management
The End of History thesis
De-regulation
The economic context




The cult of shareholder value
Short-termism
The Free Market
Globalisation and the global corporation
Accounting




Value creation or expropriation
Profit
Short termism
Internal focus – for shareholders only
There is no reason to think that shareholders
are willing to tolerate an amount of corporate
non-profit activity which appreciably reduces
either dividends or the market performance of
the stock.
Hetherington (1973)
The principles of CSR





Accountability
Sustainability
Transparency
Disclosure
The Social Contract
Alternative principles of CSR

Enlightened self-interest


Utilitarianism
Citizenship

Being in society
Some questions
1.
2.
3.
4.
What is socially responsible behaviour?
How can we define CSR?
Can CSR be applied to non profitseeking organisations?
Is CSR in opposition to financial
success?
Accountability





Concerned with an organisation recognising that
its actions affect the external environment
Implies the assuming of responsibility for the
effects of those actions
Implies a reporting of to all parties affected
Implies a reporting to external stakeholders
Implies a recognition that the organisation is part
of a wider societal network
Characteristics of accountability




Understandability to all parties concerned
Relevance to the users of the information
provided
Reliability in terms of accuracy of measurement,
representation of impact and freedom from bias
Comparability, which implies consistency, both
over time and between different organisations
Transparency



The reporting of the external impact of the
actions of the organisation can be ascertained
from that organisation's reporting
Pertinent facts are not disguised within that
reporting
Of particular importance to external users of
such information
Some more questions
1.
2.
3.
4.
How to we decide if any action is socially
responsible?
How do we measure CSR?
Do we need to regulate corporations to
ensure CSR?
Can we devise a framework for CSR?