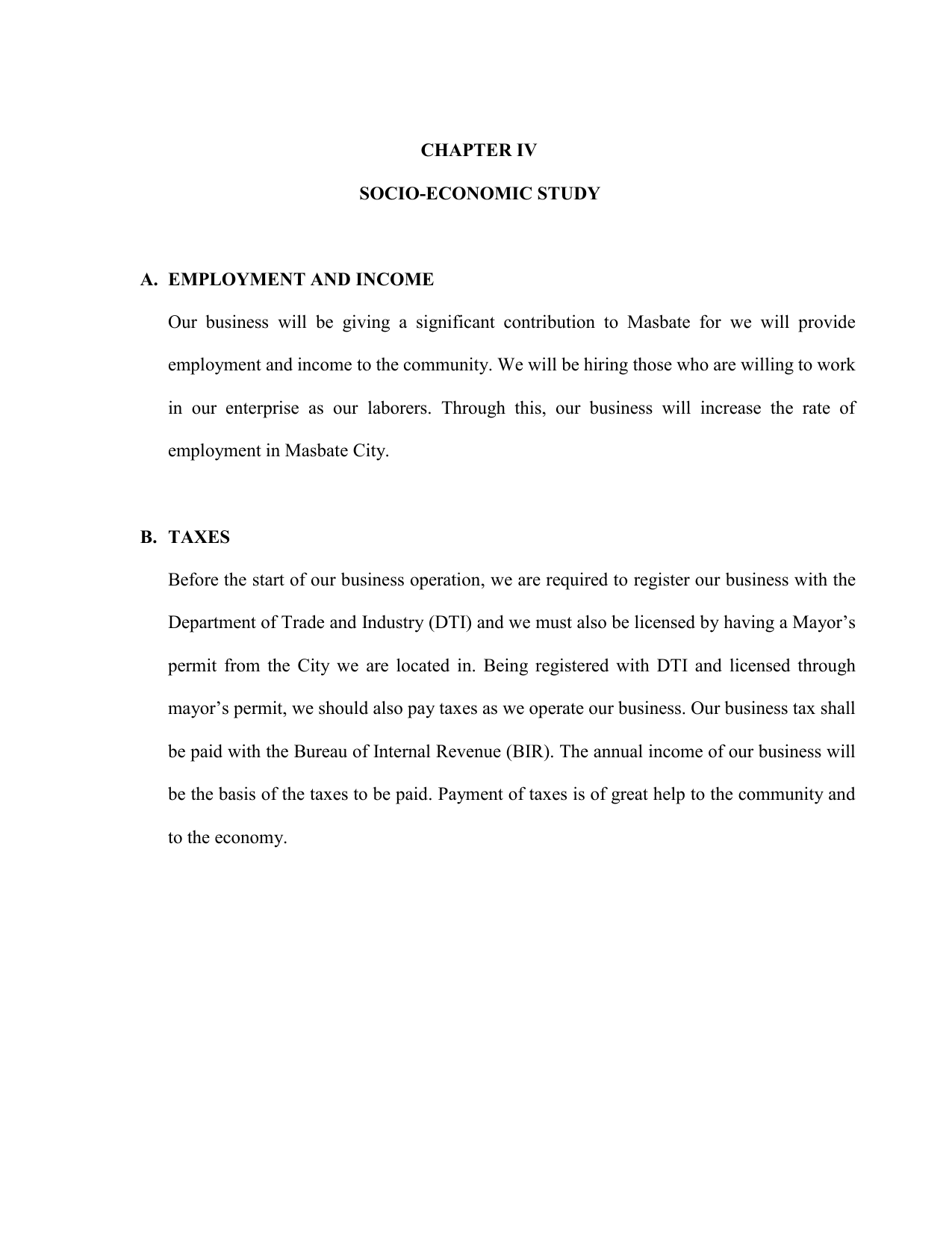 CHAPTER IV
SOCIO-ECONOMIC STUDY
A. EMPLOYMENT AND INCOME
Our business will be giving a significant contribution to Masbate for we will provide
employment and income to the community. We will be hiring those who are willing to work
in our enterprise as our laborers. Through this, our business will increase the rate of
employment in Masbate City.
B. TAXES
Before the start of our business operation, we are required to register our business with the
Department of Trade and Industry (DTI) and we must also be licensed by having a Mayor's
permit from the City we are located in. Being registered with DTI and licensed through
mayor's permit, we should also pay taxes as we operate our business. Our business tax shall
be paid with the Bureau of Internal Revenue (BIR). The annual income of our business will
be the basis of the taxes to be paid. Payment of taxes is of great help to the community and
to the economy.
C. SUPPLY OF COMMODITIES
The demand for our product in the market will be sustained and supplied by the daily
production of our Calamansi Candy. This supply of commodities will help the society for
we will give them an affordable and unique candy that they want. Moreover, the supply of
commodities is based on the analysis of demand-supply we conducted within the location
of our business.
D. DEMAND FOR MATERIALS
The raw materials necessary in the operation of our business are already available in the
market just within the city of Masbate. Direct and indirect materials will be bought in
supermarket and other equipment and tools will be purchased in department stores and
some will be ordered online like Lazada and Shopee.