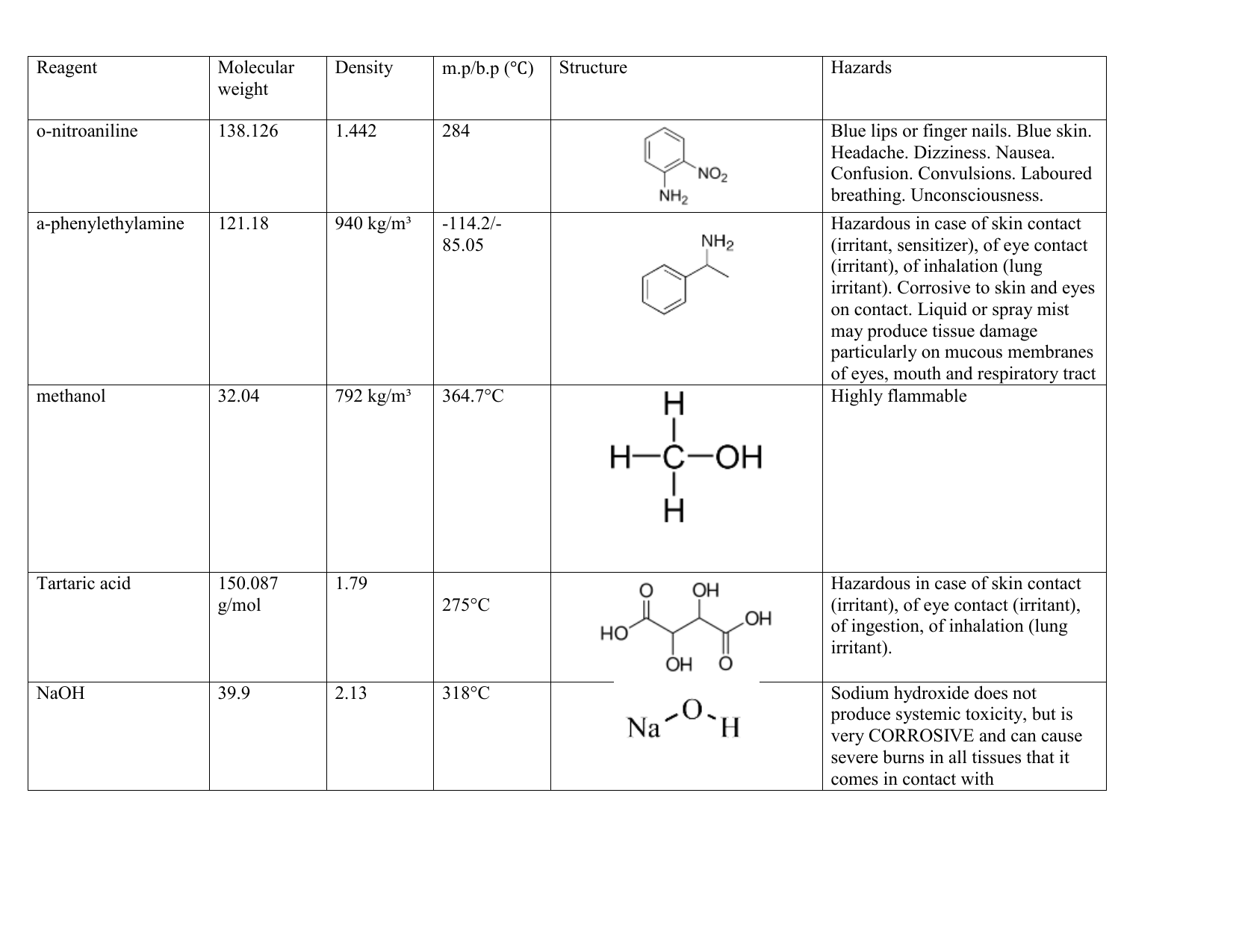 Reagent
Molecular
weight
Density
m.p/b.p (°C)
o-nitroaniline
138.126
1.442
284
Blue lips or finger nails. Blue skin.
Headache. Dizziness. Nausea.
Confusion. Convulsions. Laboured
breathing. Unconsciousness.
a-phenylethylamine
121.18
940 kg/m³
-114.2/85.05
methanol
32.04
792 kg/m³
364.7°C
Hazardous in case of skin contact
(irritant, sensitizer), of eye contact
(irritant), of inhalation (lung
irritant). Corrosive to skin and eyes
on contact. Liquid or spray mist
may produce tissue damage
particularly on mucous membranes
of eyes, mouth and respiratory tract
Highly flammable
Tartaric acid
150.087
g/mol
1.79
39.9
2.13
NaOH
275°C
318°C
Structure
Hazards
Hazardous in case of skin contact
(irritant), of eye contact (irritant),
of ingestion, of inhalation (lung
irritant).
Sodium hydroxide does not
produce systemic toxicity, but is
very CORROSIVE and can cause
severe burns in all tissues that it
comes in contact with
t-BuCl
92.6
840 kg/m3
51°C
Highly flammable liquid and
vapour.
Cyclohexanol
100.158
962 kg/m3
161.8°C
Contact can irritate and burn the
skin and eyes. * Breathing
Cyclohexanol can irritate the nose
and throat. * High exposure can
cause headache, nausea, vomiting,
dizziness and passing out.
1-bromobutane
132.02
1.27
101.4°C
Ingestion: May cause irritation of
the digestive tract. May cause
nausea and vomiting. May be
harmful if swallowed. Inhalation:
Causes respiratory tract irritation.
H2SO4
98.079
1.84
10°C
If sulfuric acid makes direct
contact with the eyes, it can cause
permanent blindness. If ingested,
this chemical may cause internal
burns, irreversible organ damage,
and possibly death. Exposure to
sulfuric acid aerosols at high
concentrations leads to severe eye
and respiratory tract irritation and
tissue damage.