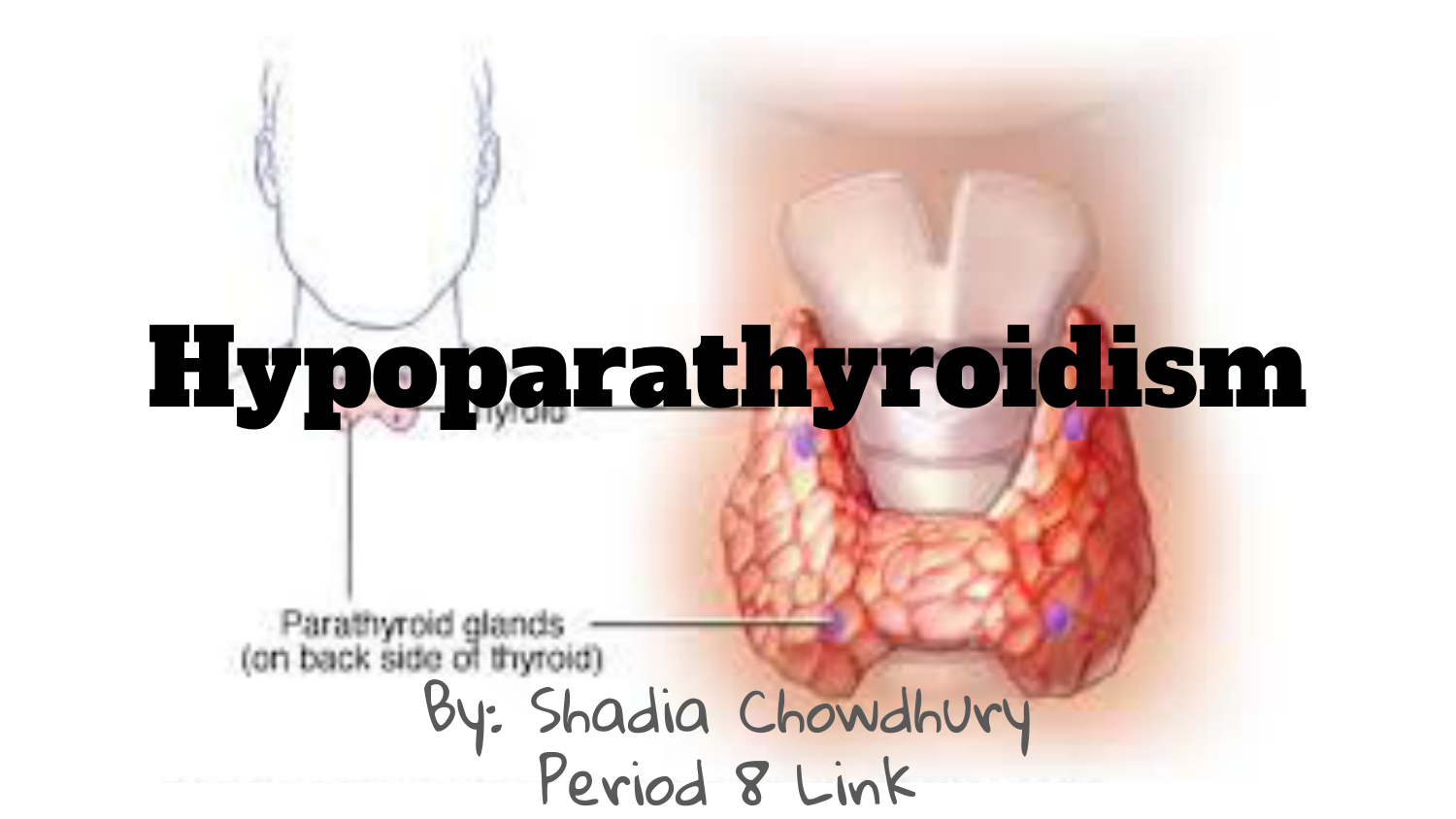 Hypoparathyroidism
By: Shadia Chowdhury
Period 8 Link
Parathyroid Hormone
When blood calcium
levels decrease he
parathyroid glands
make more PTH
causes the body
to release more
calcium into the
blood.
Produced in the parathyroid glands
Targets:
Bones, Kidneys, Small
Intestines
Regulates blood calcium levels
by adjusting level of PTH
released, which helps maintain
homeostasis
Causes
Caused by hyposecretion of PTH
-
Hyposecretion of PTH Caused by:
Post-surgical complications of damage to
parathyroid glands Autoimmune disease
Hereditary hypoparathyroidism,
Extensive cancer radiation treatment of your
face or neck,
Low levels of magnesium in your blood
Symptoms
●
●
●
paresthesia in fingertips, toes and lips
Muscle aches or cramps in legs, feet, abdomen or face
Twitching or spasms of muscles, particularly around the mouth, as well as
hands, arms and throat
●
●
Fatigue or weakness
Painful menstruation
Patchy hair loss
●
Dry, coarse skin
●
●
●
Brittle nails
Depression or anxiety
Treatment
● Oral calcium carbonate
tablets.
● Vitamin D.
● Parathyroid hormone (Natpara).
● Changes in diet: increased
calcium intake, decreased
phosphorus intake
● IV doses of calcium
Works Cited
"Hypoparathyroidism." Mayo Clinic, Mayo Foundation for Medical Education and Research, 23 Aug.
2018,
www.mayoclinic.org/diseases-conditions/hypoparathyroidism/diagnosis-treatment/drc-20355381.
"Hypoparathyroidism: MedlinePlus Medical Encyclopedia." MedlinePlus, U.S. National Library of Medicine,
medlineplus.gov/ency/article/000385.htm.
"Hypoparathyroidism." NORD (National Organization for Rare Disorders),
rarediseases.org/rare-diseases/hypoparathyroidism/.