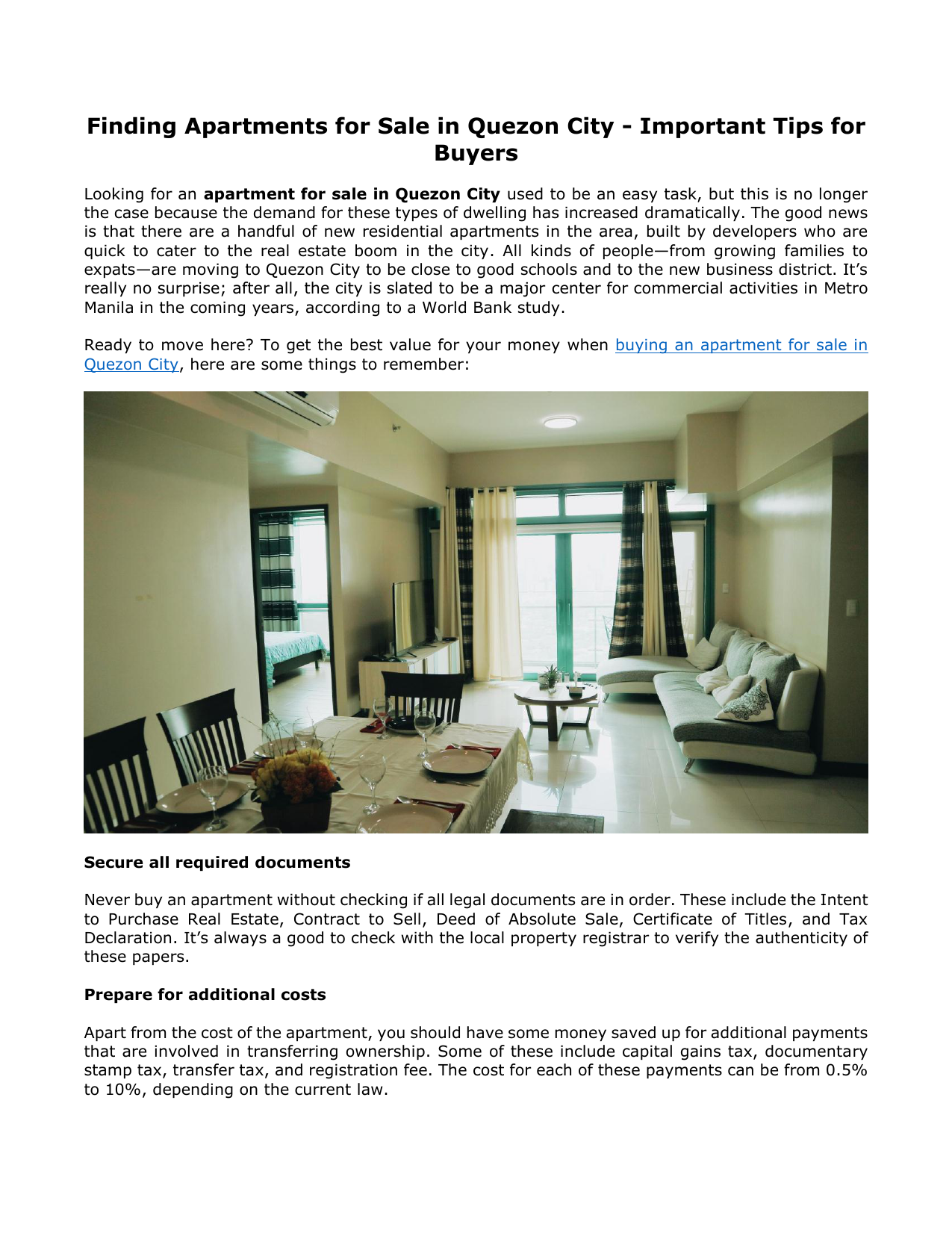 Finding Apartments for Sale in Quezon City - Important Tips for
Buyers
Looking for an apartment for sale in Quezon City used to be an easy task, but this is no longer
the case because the demand for these types of dwelling has increased dramatically. The good news
is that there are a handful of new residential apartments in the area, built by developers who are
quick to cater to the real estate boom in the city. All kinds of people—from growing families to
expats—are moving to Quezon City to be close to good schools and to the new business district. It's
really no surprise; after all, the city is slated to be a major center for commercial activities in Metro
Manila in the coming years, according to a World Bank study.
Ready to move here? To get the best value for your money when buying an apartment for sale in
Quezon City, here are some things to remember:
Secure all required documents
Never buy an apartment without checking if all legal documents are in order. These include the Intent
to Purchase Real Estate, Contract to Sell, Deed of Absolute Sale, Certificate of Titles, and Tax
Declaration. It's always a good to check with the local property registrar to verify the authenticity of
these papers.
Prepare for additional costs
Apart from the cost of the apartment, you should have some money saved up for additional payments
that are involved in transferring ownership. Some of these include capital gains tax, documentary
stamp tax, transfer tax, and registration fee. The cost for each of these payments can be from 0.5%
to 10%, depending on the current law.
Make your life easier with brokerage services
Because of the increase in the number of apartments for sale in Quezon City, brokerage services are
now being offered online to make life easier for investors and people looking for new homes. These
websites partner with well-known and trusted developers who are known to deliver sturdy buildings
and homes.
These websites are very easy to use; simply type the location in Quezon City where you want to
invest in property and find a list of relevant results. Adjust your filters based on the desired size,
price range, and other factors, and sort the selection according to price, property size, lost recent
listings, etc. You don't need to worry about anything when dealing with brokerage services because
all properties are pre-vetted. You can just relax and start preparing for a hassle-free move-in.