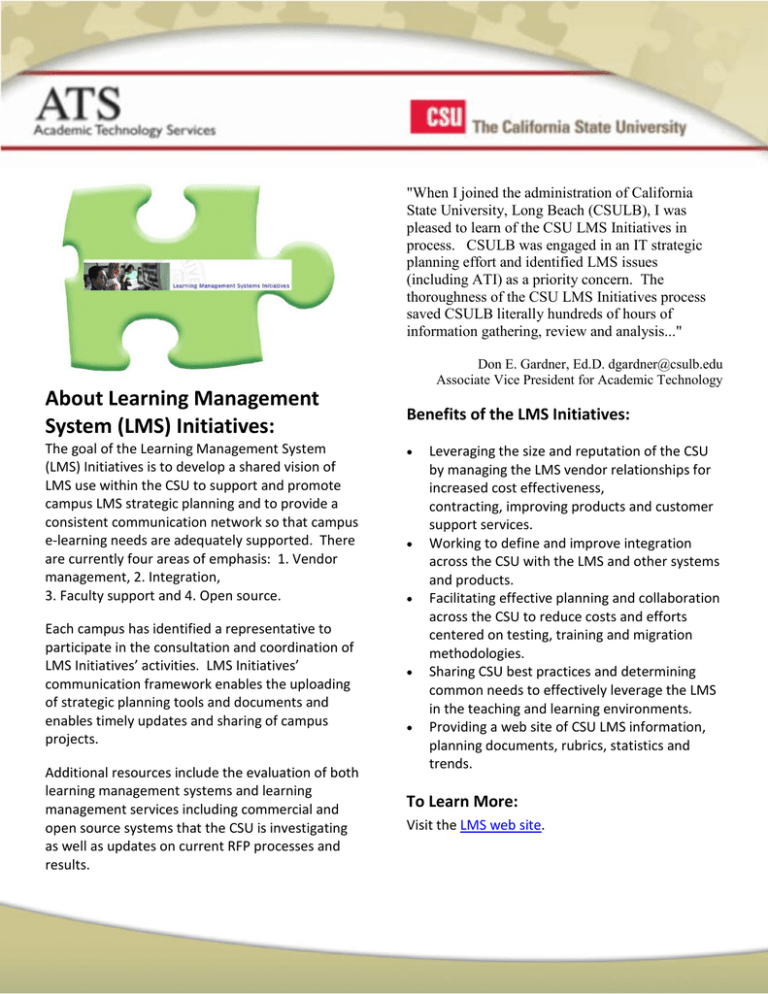 "When I joined the administration of California
State University, Long Beach (CSULB), I was
pleased to learn of the CSU LMS Initiatives in
process. CSULB was engaged in an IT strategic
planning effort and identified LMS issues
(including ATI) as a priority concern. The
thoroughness of the CSU LMS Initiatives process
saved CSULB literally hundreds of hours of
information gathering, review and analysis..."
About Learning Management
System (LMS) Initiatives:
The goal of the Learning Management System
(LMS) Initiatives is to develop a shared vision of
LMS use within the CSU to support and promote
campus LMS strategic planning and to provide a
consistent communication network so that campus
e-learning needs are adequately supported. There
are currently four areas of emphasis: 1. Vendor
management, 2. Integration,
3. Faculty support and 4. Open source.
Each campus has identified a representative to
participate in the consultation and coordination of
LMS Initiatives' activities. LMS Initiatives'
communication framework enables the uploading
of strategic planning tools and documents and
enables timely updates and sharing of campus
projects.
Additional resources include the evaluation of both
learning management systems and learning
management services including commercial and
open source systems that the CSU is investigating
as well as updates on current RFP processes and
results.
Don E. Gardner, Ed.D. dgardner@csulb.edu
Associate Vice President for Academic Technology
Benefits of the LMS Initiatives:
•
•
•
•
•
Leveraging the size and reputation of the CSU
by managing the LMS vendor relationships for
increased cost effectiveness,
contracting, improving products and customer
support services.
Working to define and improve integration
across the CSU with the LMS and other systems
and products.
Facilitating effective planning and collaboration
across the CSU to reduce costs and efforts
centered on testing, training and migration
methodologies.
Sharing CSU best practices and determining
common needs to effectively leverage the LMS
in the teaching and learning environments.
Providing a web site of CSU LMS information,
planning documents, rubrics, statistics and
trends.
To Learn More:
Visit the LMS web site.