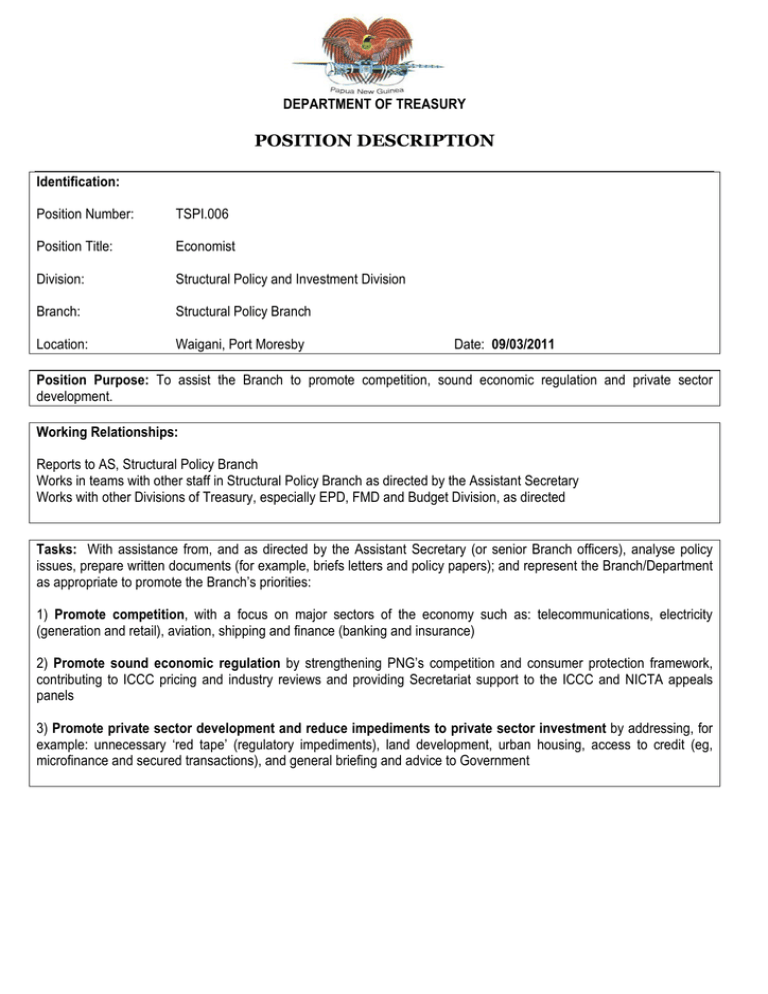 DEPARTMENT OF TREASURY
POSITION DESCRIPTION
Identification:
Position Number:
TSPI.006
Position Title:
Economist
Division:
Structural Policy and Investment Division
Branch:
Structural Policy Branch
Location:
Waigani, Port Moresby
Date: 09/03/2011
Position Purpose: To assist the Branch to promote competition, sound economic regulation and private sector
development.
Working Relationships:
Reports to AS, Structural Policy Branch
Works in teams with other staff in Structural Policy Branch as directed by the Assistant Secretary
Works with other Divisions of Treasury, especially EPD, FMD and Budget Division, as directed
Tasks: With assistance from, and as directed by the Assistant Secretary (or senior Branch officers), analyse policy
issues, prepare written documents (for example, briefs letters and policy papers); and represent the Branch/Department
as appropriate to promote the Branch's priorities:
1) Promote competition, with a focus on major sectors of the economy such as: telecommunications, electricity
(generation and retail), aviation, shipping and finance (banking and insurance)
2) Promote sound economic regulation by strengthening PNG's competition and consumer protection framework,
contributing to ICCC pricing and industry reviews and providing Secretariat support to the ICCC and NICTA appeals
panels
3) Promote private sector development and reduce impediments to private sector investment by addressing, for
example: unnecessary 'red tape' (regulatory impediments), land development, urban housing, access to credit (eg,
microfinance and secured transactions), and general briefing and advice to Government
Requirements:
(Skills, Knowledge, Experience and Qualification)
Essential
1. Qualifications: A degree in economics or a related discipline
2. Work experience: At least one year relevant work experience (for example, experience working on economic or
financial policy or analysis)
3. Written skills: Able to prepare good quality drafts of briefs and correspondences for superiors and stakeholders.
4. Policy analysis: Able to use economic principles to develop policy options and make appropriate recommendations
to superiors for consideration.
5. Teamwork: Able to work constructively with colleagues, respond in a timely manner to requests from colleagues and
supervisors as required, and share relevant information within the Division and the Department.
6. Meetings and stakeholder relationships: Able to organise meetings, draft meeting agendas, attend the meetings,
and prepare drafts of the meeting minutes or file notes. Also able to represent Division at internal meetings.
7. Workload and time management: Able to work on identified priorities, meet deadlines of these set priorities, and
manage multiple tasks with these competing set priorities.