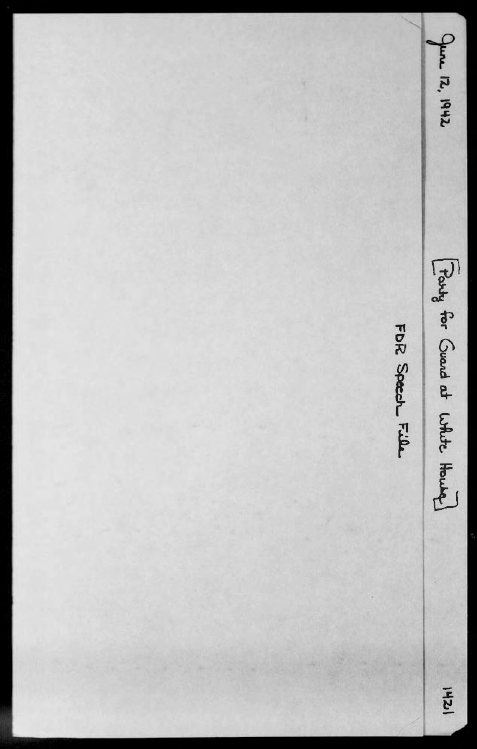 .....
~
~
f
rr
C1
f ~
L
I
lNIOII!AL GR!t!!'IRG
!!rl'n:IED BY 'l'BB PRE3ID!!f'!'
J"RCCl TH1 90tml PORI'lCO Of 'I'!B 'JH1T3 HOtJSZ ,
A!t A GAR.IIII:l PARl'f FOR mB
J.Ie:l GOARD ON Dt1l'Y AT 'l'KI 'tR:rt'll: HOt:BX
ro:m 12,
I u
1942, 4 . 00 P .w••
'tery glad to weloOGe all
lin. Rooaevelt.
z•• .T.
ot you here t oday , an4 ao 1a
lfe ba.,. . .eo aocu ot you outei de t ho renee, and we aM
glad to bave :rou 1na1de tbe renee • • . .11.
Toll are a .,abol , tble aall SJ'OUP. ot a p-eat
otti eert and
lDn
or tbe
~
leeat a little .ON excitlJl& .
troa·t.
•:aor
thouM.Dda or
11ho ar-e aw.r41ns the Nation ' • C.pltal .
I
I whh t.,_t. I bad dlty a little DMHJ' the
And yet eo&ebo4y baa t o d.o thle ldDd or work .
You &D4 I uoa.a
A.D4 ao I want to eongretul at e you on a very neeeaaary part or
t~
wer, oa do1D& a teak with tru. ettlcleDey .
U u , bl.lt in the loll8
I"UD
vice •• aQIII.et blDg tbu I
'lie IIJIJ.y be here tor a long
we are golac t o look back on thla period ot aer-
tttl~
ud I
bo~
we catL all reel proud or.
A.nd ao l't baa bHn &ood to aee f.J\l ,
I wiah I could oou dow
a.ad baTe a aa.adwicb and a eot't drink wttb JOU , but 1 have got. to p t. beck
to work .
}'G.~
ZP.E PRESS
I HJ.tEDIJ.U RELEASE
JUNE
1~. 194~
In!"or:Ml ,-rf'f'ltlnr, exten4f'd by tt'• Pre.tden.t !roc W
South Port.tco o! the Vt.l·-• HO\lt• lit O..r4en p,._rty !or Arm.y Oul'rd
011 dul;7 Itt t:.e Vl'.he F.wte.
I am very glad to weloo!'re all of you here t oday , and ao
11 ura. Roosevelt .
.'re have seen acme of you outside the fence, and
1
we are glad to have you lns.S de the tenoe as well .
You are a eymbol, thia amall group , or a great maey
thouaande of officers and men or the Umy who are guar ding the
Na t.ion' s CApital.
I t h ink that perhapa aom..e ot you wiab that rou
a18)lt have duty that le a t leaat a little more exc1t1na.
that I had duty a little nearer tbe front.
do thla kind of work .
A.D.d yet
I wllh
ao~~:.ebodr
bsa to
You and I 8.110ng others.
And eo I want to congratulate you on e •er7 neceaaary
pert of the war , on doing a task with true efficiency .
We m1.1 be
her e tor a long time, but in the long r un we are going to look back
I
on thia peri od of eer•ice ae aomethina that I think endAhope we can
all reel proud or.
ADd ao it baa been eood to t ee you .
I whh I could coce
do..-n and ha•e a sandwich and a aort drink with you , but I ba•• got
to get back to work.
t.._
b7
U. ,.,..,!dell !1"011
IAto.-1 CJ"Mt.il¥'
nt~r~toM
""'· P.oo~..,.lt. .
1" have 111m ll!M or )'OU out-
01011Ut l'vrUco or l:hl .."d. tA Jiol.11 a\. GardiM Par tv toT
..rq Uat'd. on t!l.>t.,. 1t. Ul• ..,.,itA tto.e .
and 10 b
lidl t.n.
r~r~eo~ ,
UJd . . a.re r.hd to !'Ia" )'Ou t ... tdl t.hl
fii.CI&IWGll ,
lou are a a)'nbol , W1 aall crour, ot a ve•t.
~
t.bo,.-.c# Qt
C"U' 11nr
Qrf'ic~rao ~
w :...u""''' C.,lW .
or 101 .s.m uu.
Ult.ll noTI
,..,..er \be
~I.J'
•-~
aTt:
u...t 11 • 1..- •
~irlt'
tl .. to 4o 1hla kind
a Ult rlth t.nae etneiancy.
be lmn ror • lon~ Un., b.t. lr t.h• l ore Nn • • 11'1
fl'ln• to look bllc:k Oll v.t• fl(:r10C:
L\col l t.!•l:W .X: I
ho~
ot ..me• 11 ao•thil"f:
... c:•. a:J fe-el
fl'"~
...nd SCI 1t. hU U..11 t'OOd to U• JOII •
eo\ll.d
11.o
.i. •11h l o.t. 1 b&.<. tut)' a UtLll
Md ,.t.
ff'Qr;t.
~
I \111M !.hat. .. me.- -
:"0'01 .u,t~ tu. ... &~\7
t:::r.o!iU~ .
ury Pfil"t of the " ' r • on
1..
.., of t.l!•
coa~ &Wl UIG
n. ... •
at,
I -.:1m I
1 ...c.ld.dl and a eon 4r1nil: wtt.b
THE WHITE HOUSE
I ..
"'rJ'
il Ill'I . ROOIH'Il\o
"
are &1&4 to
l).ad to nlo•• all or rou hare toda.7, IJld 110
We
D••• rou
b&'fl llltl
• oae
ot JOU OU\Ii4e the faDOI •
&D.d
ittdde \be tenoe •• well.
Tou are • l)'abol, tbh aall aroup. ot a ar•t a&DT
tboueanda ot ottioer• u.d UD ot tbe Az.:r 11ho are suar41nc; tbe
Nation•• O&pltal.
ai&bt
I think that
~rbape
eo.. ot JOV •1•b tbat TOU
n.•• d.utJ that ia at le&lt a little aore exoiti.D&.
tbat I bad dut7 a little DMrlr t.be troot.
do thll k1D4 ot work.
I wUb
ADd Jet IOMbo4J ba1 to
You and I a.oq other•.
ADd 10 I want to OQDCr&t\ll&tl JOU 011 a
DIOIIa&ry
'fii'J
1'e .., be
port ot tbe war , on do iDe a ta•k with woue .rrtoieoor.
hera tor a lone tl.u. but ln tM lone run •• are aotoa: to look baok
I
on tbte l)*rio4 ot eer•loe •• 1011et.btnc that I tbia.t: and" hope we oan.
all 1'11 1 proud ot.
A.D4 10 it bae been .,ad to ••• JOU.
I wieh I oo\llcl
oou
down aa.d bne a •andw1ob Md • 1o1't drink w1t.b 7ou, but I bne cot
to cet 'baok to work.