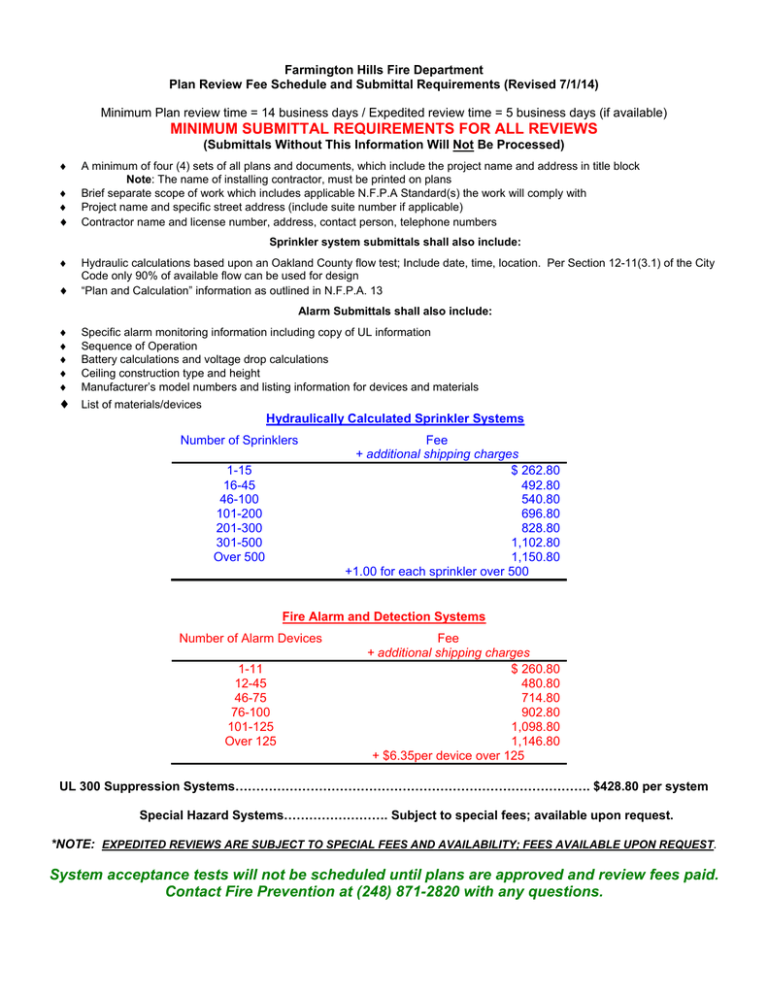 Farmington Hills Fire Department
Plan Review Fee Schedule and Submittal Requirements (Revised 7/1/14)
Minimum Plan review time = 14 business days / Expedited review time = 5 business days (if available)
MINIMUM SUBMITTAL REQUIREMENTS FOR ALL REVIEWS
(Submittals Without This Information Will Not Be Processed)
♦
♦
♦
♦
A minimum of four (4) sets of all plans and documents, which include the project name and address in title block
Note: The name of installing contractor, must be printed on plans
Brief separate scope of work which includes applicable N.F.P.A Standard(s) the work will comply with
Project name and specific street address (include suite number if applicable)
Contractor name and license number, address, contact person, telephone numbers
Sprinkler system submittals shall also include:
♦
♦
Hydraulic calculations based upon an Oakland County flow test; Include date, time, location. Per Section 12-11(3.1) of the City
Code only 90% of available flow can be used for design
"Plan and Calculation" information as outlined in N.F.P.A. 13
Alarm Submittals shall also include:
♦
♦
♦
♦
♦
♦
Specific alarm monitoring information including copy of UL information
Sequence of Operation
Battery calculations and voltage drop calculations
Ceiling construction type and height
Manufacturer's model numbers and listing information for devices and materials
List of materials/devices
Hydraulically Calculated Sprinkler Systems
Number of Sprinklers
1-15
16-45
46-100
101-200
201-300
301-500
Over 500
Fee
+ additional shipping charges
$ 262.80
492.80
540.80
696.80
828.80
1,102.80
1,150.80
+1.00 for each sprinkler over 500
Fire Alarm and Detection Systems
Number of Alarm Devices
1-11
12-45
46-75
76-100
101-125
Over 125
Fee
+ additional shipping charges
$ 260.80
480.80
714.80
902.80
1,098.80
1,146.80
+ $6.35per device over 125
UL 300 Suppression Systems…………………………………………………………………………. $428.80 per system
Special Hazard Systems……………………. Subject to special fees; available upon request.
*NOTE: EXPEDITED REVIEWS ARE SUBJECT TO SPECIAL FEES AND AVAILABILITY; FEES AVAILABLE UPON REQUEST.
System acceptance tests will not be scheduled until plans are approved and review fees paid.
Contact Fire Prevention at (248) 871-2820 with any questions.