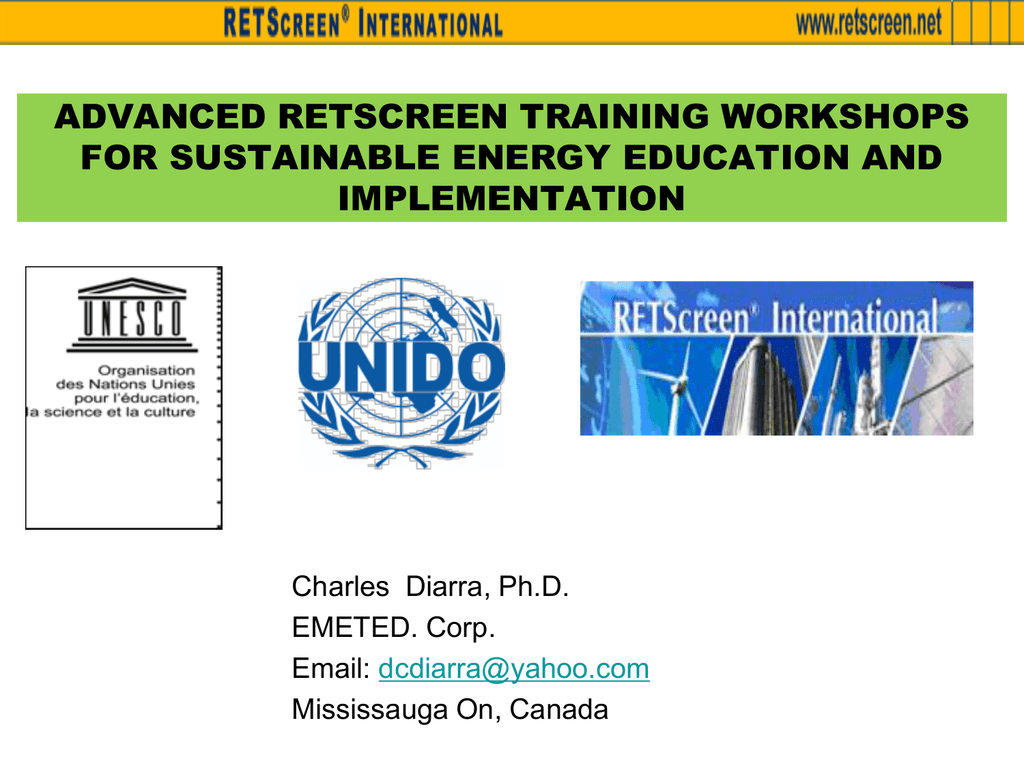 ADVANCED RETSCREEN TRAINING WORKSHOPS
FOR SUSTAINABLE ENERGY EDUCATION AND
IMPLEMENTATION
Charles Diarra, Ph.D.
EMETED. Corp.
Email: [email protected]
Mississauga On, Canada
Introduction
 Recognizing that the supply of a skilled workforce is a
critical element in the transfer of technology and due to the
enormous needs for institutional and human resource
development,
 UNESCO launched Renewable Energy Education and
Training Program as an instrument to help the international
community address this issue
 To help rural communities to remove barriers to the
diffusion, distribution, and development of renewable energy
technologies.
 Promote Capacity building, training and education
 Enhance Energy efficiency programs
THE
Context
• About 1.4 billion people do not have access
to grid connected electricity.
• The potential of renewable energy is
generally greater than the demand in most
countries around the world, particularly in
developing countries
• The intergovernmental Panel of Experts
(Abou Dhabi, UAE, 2011), indicated that less
than 2.5% of the available renewable energy
technologies are exploited in the world
OBJECTIVES
 Promote institutional and human capacity building
to reflect the needs for education for professionals
at different levels of responsibility
 Strengthen national
competencies by favoring
exchange of knowledge and
best practices;
 Enhancing the use and
application of renewable
Participants learning to use sizing software to
energy sources.
determine the exact energy needed for a given
project,
during
a
one-day
practical
 Develop a network of
session at this year's solar school
train-the trainers
Main activities
 Organization of training programs at different levels, including:
• Continuing training for professionals:
(decision and policy makers,
researchers, engineers,
university teachers, technicians)
 Design and field implementation
of training tools and learning-teaching materials;
 Promotion of national/regional training
Practical training to assess
solar radiation and simulate a
solar installation. This session
centres of excellence at the regional level
was organized at the CDER in
• Setting of standards and definition of energy Morocco during the 2001
summer school
http://portal.unesco.org/scienc
• training curricula
e/en/files/4137/10980872981S
olar_School
Participants learning to use sizing software to determine the exact energy
needed for a given project, during a one-day practical
session at this year's solar school
2. RETSCREEN SOFTWARE
 RETScreen Clean Energy Project Analysis Software is a
unique decision support tool
 Developed with the contribution of numerous experts from
government, industry, and academia.
 The software can be used worldwide to evaluate the energy
production and savings, costs, emission reductions,
financial viability and risk for various types of Renewableenergy and Energy-efficient Technologies.
 The software (available in multiple languages) also includes
product, project, hydrology and climate databases
 A detailed user manual, and a case study based
college/university-level training course
2.1 OBJECTIVES OF THE TRAINING
 The overall objective of the RET Screen
workshop is to build up a regional train-the-trainers
network on RE&EE project appraisal in the region.
 The RETScreen evaluation tool will be one tool
apart of others being applied by the network (e.g.
HOMER etc.)
 The specific objective of the workshop is to
provide training on financial RE&EE project
analysis by applying the RETScreen Software Tool
 To ensure high-quality training and follow-up
support for the participants.
2.2 Beneficiaries
• Direct beneficiaries and participants of
the workshops are RE&EE training
institutes from all ECOWAS countries, the
National Focal Institutions NFIs), staff and
private sector experts.
• The training include a certification exam in
the use of RETScreen.
2.3 DEFINITION
Energy Efficiency
• Using less energy resources to meet
the same energy needs
Clean Energy
Technologies
Renewable Energy
•
Using non-depleting natural resources to
meet energy needs
 How much do these studies typically
cost?
Super Insulated Passive Solar
Home
Photo
: Jerry Shaw
© Ministre de Ressources naturelles Canada 2001 – 2004.