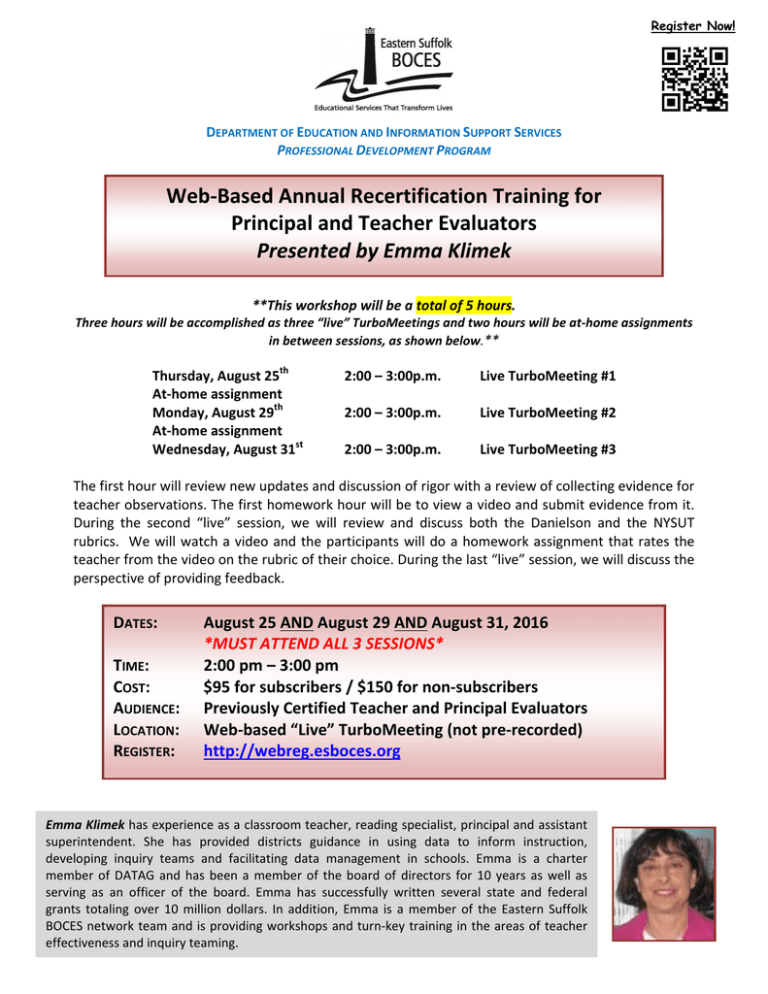 Register Now!
DEPARTMENT OF EDUCATION AND INFORMATION SUPPORT SERVICES PROFESSIONAL DEVELOPMENT PROGRAM Web‐Based Annual Recertification Training for Principal and Teacher Evaluators Presented by Emma Klimek **This workshop will be a total of 5 hours. Three hours will be accomplished as three "live" TurboMeetings and two hours will be at‐home assignments in between sessions, as shown below.** Thursday, August 25th At‐home assignment Monday, August 29th At‐home assignment Wednesday, August 31st 2:00 – 3:00p.m. Live TurboMeeting #1 2:00 – 3:00p.m. Live TurboMeeting #2 2:00 – 3:00p.m. Live TurboMeeting #3 The first hour will review new updates and discussion of rigor with a review of collecting evidence for teacher observations. The first homework hour will be to view a video and submit evidence from it. During the second "live" session, we will review and discuss both the Danielson and the NYSUT rubrics. We will watch a video and the participants will do a homework assignment that rates the teacher from the video on the rubric of their choice. During the last "live" session, we will discuss the perspective of providing feedback. DATES: August 25 AND August 29 AND August 31, 2016 *MUST ATTEND ALL 3 SESSIONS* 2:00 pm – 3:00 pm TIME: $95 for subscribers / $150 for non‐subscribers COST: AUDIENCE: Previously Certified Teacher and Principal Evaluators LOCATION: Web‐based "Live" TurboMeeting (not pre‐recorded) REGISTER: http://webreg.esboces.org
Emma Klimek has experience as a classroom teacher, reading specialist, principal and assistant provided districts guidance in using data to inform instruction, superintendent. She has developing inquiry teams and facilitating data management in schools. Emma is a charter member of DATAG and has been a member of the board of directors for 10 years as well as serving as an officer of the board. Emma has successfully written several state and federal grants totaling over 10 million dollars. In addition, Emma is a member of the Eastern Suffolk BOCES network team and is providing workshops and turn‐key training in the areas of teacher effectiveness and inquiry teaming.
Eastern Suffolk BOCES Professional Development
Web Registration Directions
**TO REGISTER FOR Eastern Suffolk BOCES WORKSHOPS,
REGISTER THROUGH THE ACTIVITY CATALOG**
Check with your district to see if you are a member of MyLearningPlan
For MyLearningPlan Member Districts AND NON-MyLearningPlan Member Districts :
To see courses and to register, please do the following:

















Go to the website: http://webreg.esboces.org
Under "Search Options" at the top center, select and check off from the drop down list the program
titled "Eastern Suffolk BOCES Professional Development Program" and click search;
Workshops will be listed in month and date order;
Select the title of the course you would like to enroll in;
Click the "enroll" button at the bottom of the page;
Select the correct login method that applies to you (1) registered user; (2) new user; (3)
MyLearningPlan.com user ;
After you choose your login method then Enter User Name & Password – select Log in;
Enter and Update your personal account registration information;
Click Update & Continue;
Select payment method;
Click on the checkbox to agree to the "Terms and Conditions" regarding registration
and/or cancellations – "Registration and/or cancellations are due 10 school days
prior to the event. The district will be billed unless cancellation is received."
Click Submit;
Select "Request Approval" on the following screen if you are a MyLearningPlan district
- If you are a MyLearningPlan District, and depending on your district, you will need to
fill out the next screen titled "Regional Provider Form" making sure to fill out all
pertinent information that they require; Make sure ALL information is filled out,
OTHERWISE A FORM ERROR WILL BE SEEN AND YOU WILL NOT BE FULLY
ENROLLED;
Click Submit once ALL fields are filled out
If you are NOT A MyLearningPlan district, print out the ENROLLMENT FORM and AFTER
RECEIVING ADMINISTRATIVE SIGNATURE on this form, fax back to 631-244-4216;
You will receive an e-mail once when you are fully registered;
Click "return to main" and then click "logout" to finish the process;
**PLEASE NOTE THAT SUBMITTING JUST AN INTERNAL CONFERENCE REQUEST
FORM DOES NOT REGISTER YOU FOR OUR WORKSHOPS/CONFERENCES –
IT MUST BE DONE THROUGH THE ESB REGIONAL CATALOG**
Eastern Suffolk BOCES does not discriminate against any employee, student, applicant for employment, or candidate for enrollment on the basis of sex, gender, race, color,
religion or creed, age, weight, national origin, marital status, disability, sexual orientation, military or veteran status, domestic violence victim status, genetic predisposition or
carrier status, or any other classification protected by Federal, State, or local law. Eastern Suffolk BOCES also provides equal access to the Boy Scouts and other designated
youth groups. Inquiries regarding the implementation of applicable laws should be directed to either of the Eastern Suffolk BOCES Civil Rights Compliance Officers: the
Assistant Superintendent for Human Resources, 201 Sunrise Highway, Patchogue, NY 11772, 631-687-3029, ComplianceOfficers@esboces.org; or the Associate
Superintendent for Educational Services, 201 Sunrise Highway, Patchogue, NY 11772, 631-687-3056, ComplianceOfficers@esboces.org. Inquiries may also be addressed to
the Office for Civil Rights at the US Department of Education, 32 Old Slip, 26th Floor, New York, NY 10005, 646-428-3800, OCR.NewYork@ed.gov.