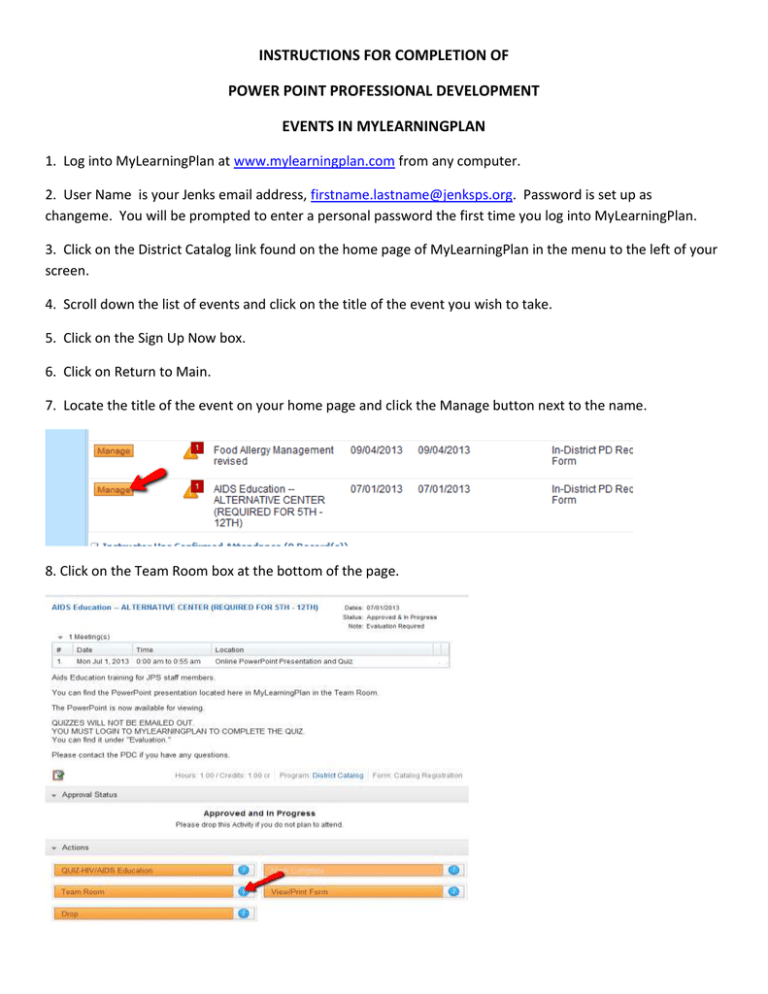 INSTRUCTIONS FOR COMPLETION OF
POWER POINT PROFESSIONAL DEVELOPMENT
EVENTS IN MYLEARNINGPLAN
1. Log into MyLearningPlan at www.mylearningplan.com from any computer.
2. User Name is your Jenks email address, firstname.lastname@jenksps.org. Password is set up as
changeme. You will be prompted to enter a personal password the first time you log into MyLearningPlan.
3. Click on the District Catalog link found on the home page of MyLearningPlan in the menu to the left of your
screen.
4. Scroll down the list of events and click on the title of the event you wish to take.
5. Click on the Sign Up Now box.
6. Click on Return to Main.
7. Locate the title of the event on your home page and click the Manage button next to the name.
8. Click on the Team Room box at the bottom of the page.
9. Click on the name of the power point under the Shared Files category heading. If there aren't any
power points listed under Shared Files, click on the gray arrow next to the Shared Files heading to
populate the list.
10. Open and view the Power Point presentation.
11. When you are ready to take the quiz, click the back button on the TeamRoom page.
12. Click on the Quiz/Evaluation/Questions box.
13. Answer all questions and Save.
14. Click the Mark Complete box. This will be available to click only when the quiz/evaluation form
has been completed and saved (see screen shot above)
15. Your work is complete. Approvals of power point professional development events are
completed approximately twice each month by the professional development department.