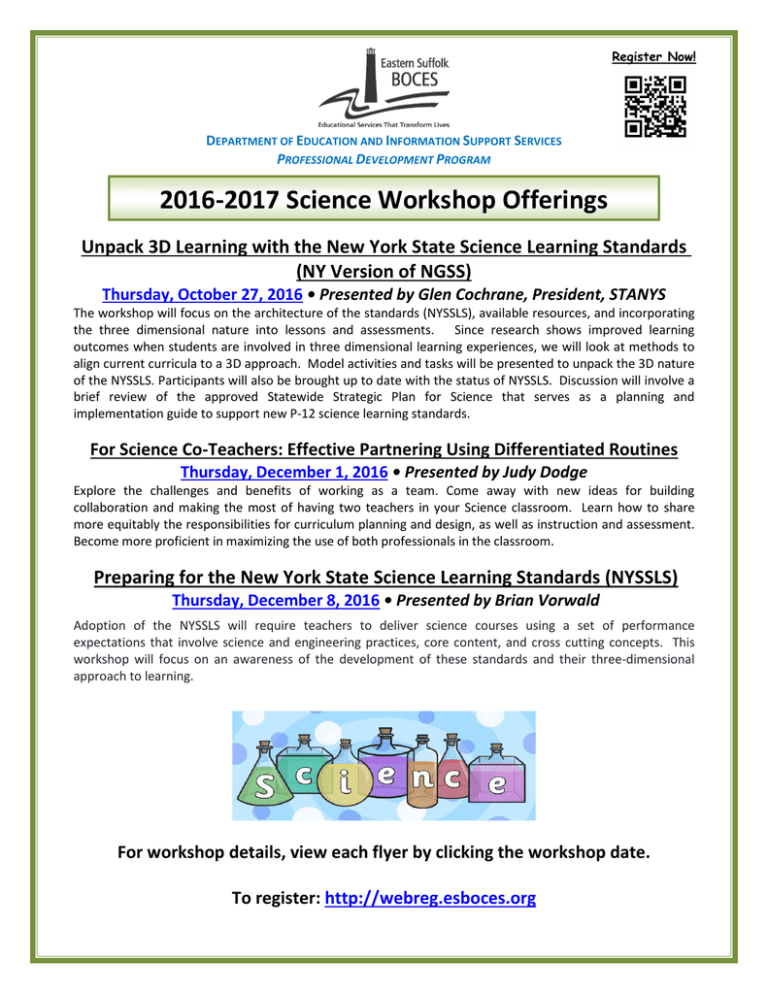 Register Now!
DEPARTMENT OF EDUCATION AND INFORMATION SUPPORT SERVICES
PROFESSIONAL DEVELOPMENT PROGRAM
2016-2017 Science Workshop Offerings
Unpack 3D Learning with the New York State Science Learning Standards
(NY Version of NGSS)
Thursday, October 27, 2016 • Presented by Glen Cochrane, President, STANYS
The workshop will focus on the architecture of the standards (NYSSLS), available resources, and incorporating
the three dimensional nature into lessons and assessments. Since research shows improved learning
outcomes when students are involved in three dimensional learning experiences, we will look at methods to
align current curricula to a 3D approach. Model activities and tasks will be presented to unpack the 3D nature
of the NYSSLS. Participants will also be brought up to date with the status of NYSSLS. Discussion will involve a
brief review of the approved Statewide Strategic Plan for Science that serves as a planning and
implementation guide to support new P-12 science learning standards.
For Science Co-Teachers: Effective Partnering Using Differentiated Routines
Thursday, December 1, 2016 • Presented by Judy Dodge
Explore the challenges and benefits of working as a team. Come away with new ideas for building
collaboration and making the most of having two teachers in your Science classroom. Learn how to share
more equitably the responsibilities for curriculum planning and design, as well as instruction and assessment.
Become more proficient in maximizing the use of both professionals in the classroom.
Preparing for the New York State Science Learning Standards (NYSSLS)
Thursday, December 8, 2016 • Presented by Brian Vorwald
Adoption of the NYSSLS will require teachers to deliver science courses using a set of performance
expectations that involve science and engineering practices, core content, and cross cutting concepts. This
workshop will focus on an awareness of the development of these standards and their three-dimensional
approach to learning.
For workshop details, view each flyer by clicking the workshop date.
To register: http://webreg.esboces.org
Eastern Suffolk BOCES Professional Development
Web Registration Directions
**TO REGISTER FOR Eastern Suffolk BOCES WORKSHOPS,
REGISTER THROUGH THE ACTIVITY CATALOG**
Check with your district to see if you are a member of MyLearningPlan
For MyLearningPlan Member Districts AND NON-MyLearningPlan Member Districts :
To see courses and to register, please do the following:

















Go to the website: http://webreg.esboces.org
Under "Search Options" at the top center, select and check off from the drop down list the program
titled "Eastern Suffolk BOCES Professional Development Program" and click search;
Workshops will be listed in month and date order;
Select the title of the course you would like to enroll in;
Click the "enroll" button at the bottom of the page;
Select the correct login method that applies to you (1) registered user; (2) new user; (3)
MyLearningPlan.com user ;
After you choose your login method then Enter User Name & Password – select Log in;
Enter and Update your personal account registration information;
Click Update & Continue;
Select payment method;
Click on the checkbox to agree to the "Terms and Conditions" regarding registration
and/or cancellations – "Registration and/or cancellations are due 10 school days
prior to the event. The district will be billed unless cancellation is received."
Click Submit;
Select "Request Approval" on the following screen if you are a MyLearningPlan district
- If you are a MyLearningPlan District, and depending on your district, you will need to
fill out the next screen titled "Regional Provider Form" making sure to fill out all
pertinent information that they require; Make sure ALL information is filled out,
OTHERWISE A FORM ERROR WILL BE SEEN AND YOU WILL NOT BE FULLY
ENROLLED;
Click Submit once ALL fields are filled out
If you are NOT A MyLearningPlan district, print out the ENROLLMENT FORM and AFTER
RECEIVING ADMINISTRATIVE SIGNATURE on this form, fax back to 631-244-4216;
You will receive an e-mail once when you are fully registered;
Click "return to main" and then click "logout" to finish the process;
**PLEASE NOTE THAT SUBMITTING JUST AN INTERNAL CONFERENCE REQUEST
FORM DOES NOT REGISTER YOU FOR OUR WORKSHOPS/CONFERENCES –
IT MUST BE DONE THROUGH THE ESB REGIONAL CATALOG**
Eastern Suffolk BOCES does not discriminate against any employee, student, applicant for employment, or candidate for enrollment on the basis of sex, gender, race, color,
religion or creed, age, weight, national origin, marital status, disability, sexual orientation, military or veteran status, domestic violence victim status, genetic predisposition or
carrier status, or any other classification protected by Federal, State, or local law. Eastern Suffolk BOCES also provides equal access to the Boy Scouts and other designated
youth groups. Inquiries regarding the implementation of applicable laws should be directed to either of the Eastern Suffolk BOCES Civil Rights Compliance Officers: the
Assistant Superintendent for Human Resources, 201 Sunrise Highway, Patchogue, NY 11772, 631-687-3029, ComplianceOfficers@esboces.org; or the Associate
Superintendent for Educational Services, 201 Sunrise Highway, Patchogue, NY 11772, 631-687-3056, ComplianceOfficers@esboces.org. Inquiries may also be addressed to
the Office for Civil Rights at the US Department of Education, 32 Old Slip, 26th Floor, New York, NY 10005, 646-428-3800, OCR.NewYork@ed.gov.