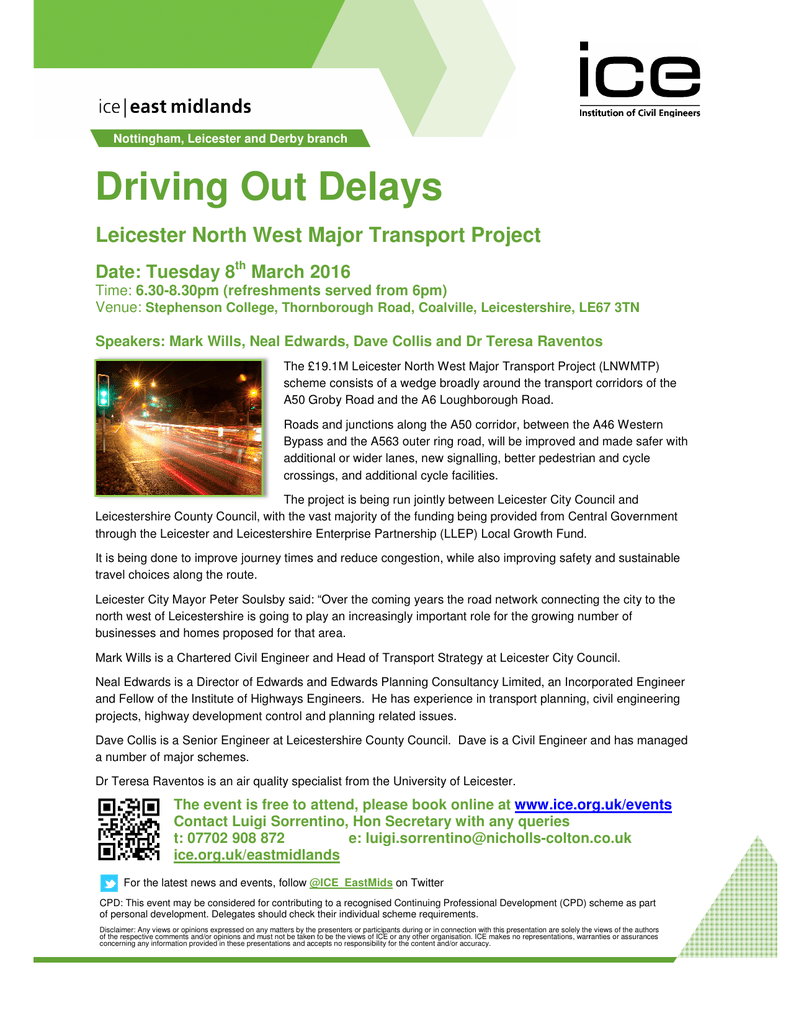 Nottingham, Leicester and Derby branch
Driving Out Delays
Leicester North West Major Transport Project
Date: Tuesday 8th March 2016
Time: 6.30-8.30pm
8.30pm (refreshments served from 6pm)
Venue: Stephenson College, Thornborough Road, Coalville, Leicestershire, LE67 3TN
Speakers: Mark Wills, Neal Edwards
Edwards, Dave Collis and Dr Teresa Raventos
The £19.1M Leicester North West Major Transport
Transport Project (LNWMTP)
scheme consists of a wedge broadly around the transport corridors of the
A50 Groby Road and the A6 Loughborough Road.
Roads and junctions along the A50 corridor, between the A46 Western
Bypass and the A563 outer ring road, will be improved and made safer with
additional
ditional or wider lanes, new signalling, better pedestrian and cycle
crossings, and additional cycle facilities.
The project is being run jointly between Leicester City Council and
Leicestershire County Council, with the vast majority of the funding being provided from Central Government
through the Leicester and Leicestershire Enterprise Partnership (LLEP) Local Growth Fund.
It is being done to improve journey times and reduce congestion, while also improving safety and sustainable
travel choices along the route.
Leicester City Mayor Peter Soulsby said: "Over the coming years the road network connecting the city to the
north west of Leicestershire is going to play an increasingly important role for the growing number of
businesses and homes proposed for that
at area.
Mark Wills is a Chartered Civil Engineer and Head of Transport Strategy at Leicester City Council
Council.
Neal Edwards is a Director of Edwards and Edwards Planning Consultancy Limited, an Incorporated Engineer
and Fellow of the Institute of Highways Engineers. He has experience in transport planning, civil
c engineering
projects, highway development control and planning related issues.
Dave Collis is a Senior Engineer at Leicestershire County Council. Dave is a Civil Engineer and has managed
a number of major schemes.
Dr Teresa Raventos is an air quality specialist from the University of Leicester.
The event is free to attend, please book online at www.ice.org.uk/events
Contact Luigi Sorrentino
Sorrentino, Hon Secretary with any queries
t: 07702 908 872
e: [email protected]
colton.co.uk
ice.org.uk/eastmidlands
For the latest news and events, follow @ICE_EastMids on Twitter
CPD: This event may be considered for contributing to a recognised Continuing Professional Development (CPD) scheme as part
of personal development. Delegates should check their individual scheme requirements.
Disclaimer: Any views or opinions expressed on any matters by the presenters or participants during or in connection with thi
this
s presentation are solely the views of the autho
authors
of the respective comments and/or opinions and must not be taken to be the views of ICE or any other organisation. ICE makes no representations, warranties or assurances
concerning any information provided in these presentations and accepts no responsib
responsibility for the content and/or accuracy.