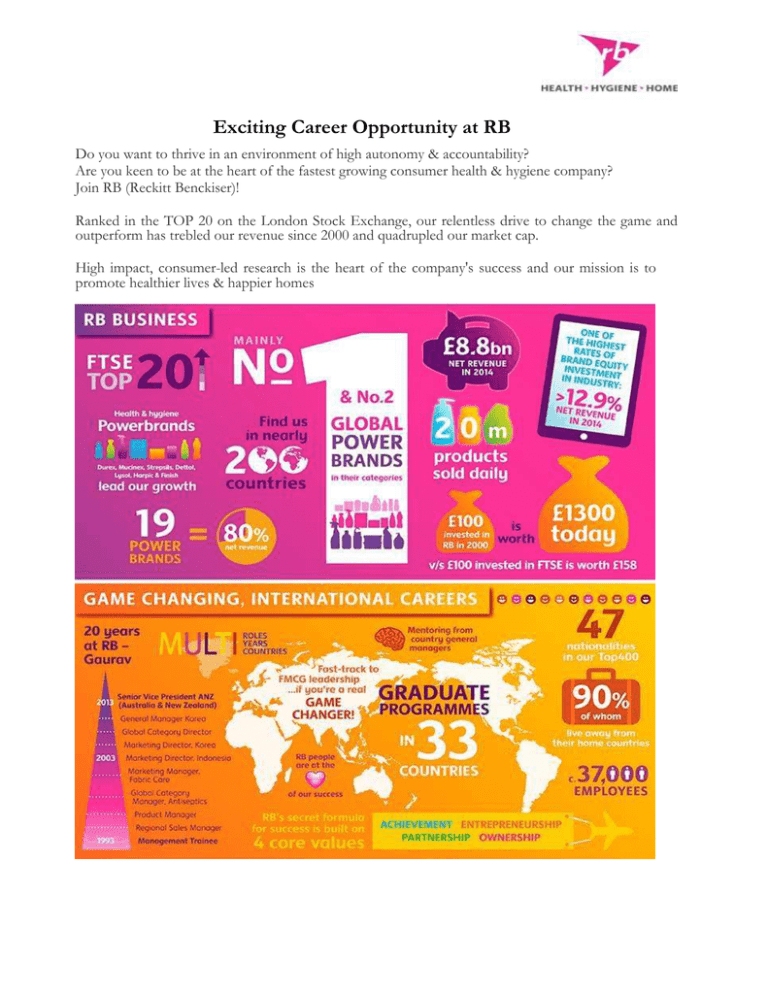 Exciting Career Opportunity at RB
Do you want to thrive in an environment of high autonomy & accountability?
Are you keen to be at the heart of the fastest growing consumer health & hygiene company?
Join RB (Reckitt Benckiser)!
Ranked in the TOP 20 on the London Stock Exchange, our relentless drive to change the game and
outperform has trebled our revenue since 2000 and quadrupled our market cap.
High impact, consumer-led research is the heart of the company's success and our mission is to
promote healthier lives & happier homes
RB IN KENYA: Heritage in Kenya with market leading brands in the categories we play in Dettol,
Mortein, Jik, Harpic, Durex, Strepsils, Airwick, Veet.
The opportunity: Join the Management Trainee Program at RB Kenya, with immediate responsibility
from day 1 and a future career in Sales and Marketing:
The Initial Role: Management Trainee in Trade Marketing within Sales function. Trade Marketing is the
critical link between Marketing (Brand/Consumer focused) and Sales (Customer Focused). Trade
Marketers focus on Shoppers and Categories. The primary objective of the Trade Marketing Team is to
build the RB Category growth strategy and define the go-to-market strategy across the 4Ps, informed and
led by shopper and trade insights.
Responsibilities:
Lead 4Ps analysis and review process by understanding business objectives and translating them into a
4Ps roadmap for Sales execution
Understand category performance and initiate recommendations to improve category/RB
performance in retailers via promotions, placement, pricing opportunities
Analytical input to drive Go To Market performance – In-store execution, Distribution, Coverage,
Competitive benchmarking Initiate and evaluate the optimisation of trade spending in relation to
customer net revenue
Understand customer/channel/store performance and how to improve allocation of resources to
optimise returns
Requirements
• Academic qualification – Graduated in 2015 or 2014 in a commercial subject, with 2nd Upper
and above
• Demonstrate a passion to learn in the FMCG & Retail industries
• Leadership skills- Club leadership, team leadership, e.t.c
• Advanced usage of Excel & PowerPoint
• Apply by going to www.rb.com, click on graduates and interns by 24
September 2015
When the page comes up, click on apply now, the role is Trade Marketing
Graduate Kenya.