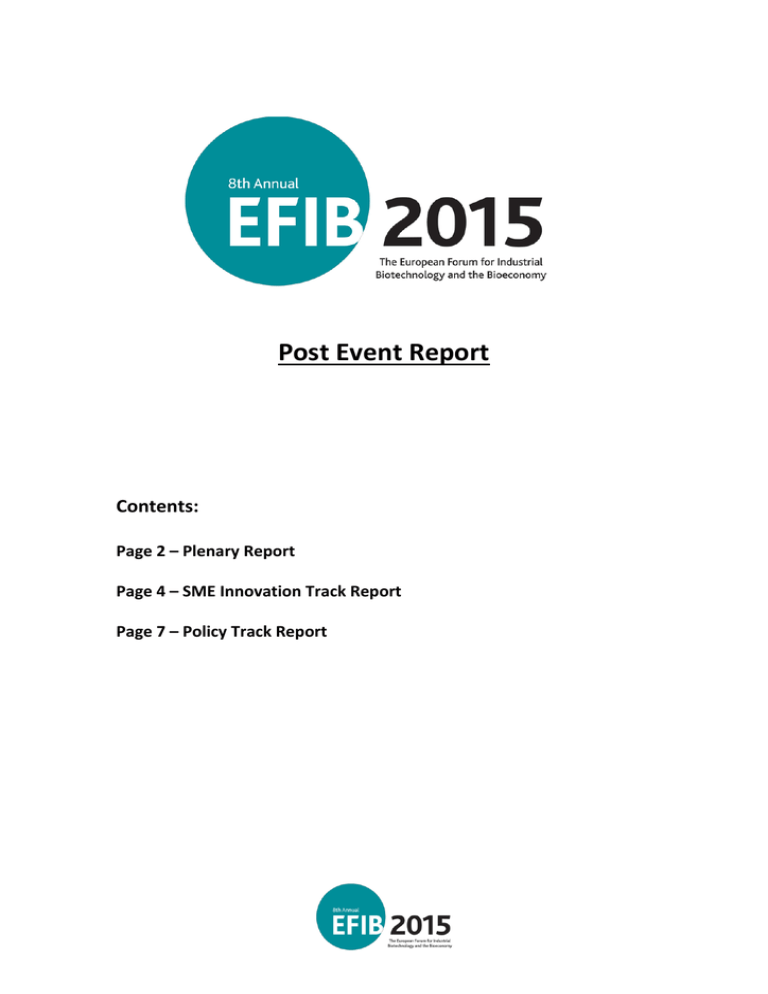 Post Event Report
Contents:
Page 2 – Plenary Report
Page 4 – SME Innovation Track Report
Page 7 – Policy Track Report
Plenary Report:
> Opening plenary session 1: New business models for Industrial Biotech – attracting
investments and enabling the EU bioeconomy
The opening session of the conference began with an introduction by Nathalie Moll, EuropaBio's
Secretary General who set the scene for EFIB 2015. She highlighted that, with the European
Commission's bioeconomy investment summit, the new circular economy package and the COP 21
climate conference in Paris all on the agenda for the coming months, this year's EFIB could not come
at a more auspicious time.
The first keynote speaker, Reinhard Büscher of DG GROW, spoke on the role of the bioeconomy
within the Commission's jobs & growth agenda, noting that the bioeconomy is not only key in the
transition to a low-carbon economy in Europe – one of the main long-term objectives of the current
Commission – but also in bringing more cohesion to Europe through rejuvenation of rural regions.
"The bioeconomy, which helps create new jobs and stimulates investment, needs to become part of a
broader industrial fabric," said Mr Büscher, "it not only has clear links to the circular economy, but
also to the regional development and cluster agendas." "In order for the bioeconomy to reach its full
potential we need new investments in research and development as well as in large scale facilities",
he continued, "but we also need new forms of industrial symbiosis. That means novel relationships
between sectors that might have previously not worked with one another". The creation of new
markets for bio-based products was brought up in this context, noting that while there is definitely
scope for green public procurement for bio-based products, any such regulation would have to be
preceded by clear sustainability criteria, which would have to cover the sourcing of feedstock,
production and end-of-life of products.
Joining the bioeconomy debate from a national perspective was ambassador and deputy permanent
representative of Finland, Marianne Huusko-Lamponen, who presented on the state of play and the
future ambitions of Finland with regards to the country's bioeconomy strategy. Already accounting
for almost 10% of the Finnish economic output, bioeconomy has not only been well anchored in the
national bioeconomy strategy adopted back in 2014, but was also identified as one of the five
strategic priorities of the new government. "With €300 million of public investment secured for the
coming three years, the country is at the forefront of developing a competitive business environment
and new opportunities for the bioeconomy, while securing a strong knowledge base and outstanding
sustainability credentials," said Ms Huusko-Lamponen.
The remainder of the session featured a presentation on the outlook of the world's second
generation biofuels market by Henrique Pacini from the UN intergovernmental body on trade and
development (UNCTAD), as well as presentations by CEOs Tjerk de Ruiter of Corbion and ilka Hämälä
of Metsä Fibre Ltd, who introduced their respective success stories and set out their company visions
for the future. Although representing very different business sectors in terms of profile – one
specialising in bioplastics and biochemicals, and the other principally active in pulp, paper, board and
tissue production, both of the final speakers underlined the need for the development of new
integrated biorefineries in Europe and for new collaborative ways of inter-sectoral activity in the
future.
> Opening plenary session 2: The bioeconomy, the biological motor for an EU circular
economy
The second plenary session was dedicated to the topic of the circular economy and the place of the
bioeconomy within it. Introducing the subject, Jocelyn Blériot of the Ellen MacArthur Foundation
noted that the linear economy model in which we "take, make and dispose" is no longer viable and,
bearing in mind the finite nature of our stocks, the circular economy model presents the pathway to a
more resource efficient economy. "The circular economy is restorative and regenerative by design,"
said Mr Blériot, "and devised to optimise resource yields by circulating products, components and
materials at the highest utility at all times, revealing and designing out negative externalities."
"Material, therefore, should be defined by where it ends up rather than where it comes from", he
added, "so as to preserve and enhance our natural capital."
Putting the theory into practice, Simon Hoffmeyer Boas of the Carlsberg group presented his
company's vision for a more sustainable and circular future. Having acknowledged the fact that nearly
half of the company's CO2 footprint comes from packaging, Carlsberg has recently teamed up with
ecoXpac to develop and roll out a fully bio-based and biodegradable wood fibre bottle. "This is not
only about finding the right material, but also about developing new infrastructure partnerships and
engaging our consumers, which will not be achieved by simple preaching" said Mr Boas. "We need to
create better materials, engage consumers, get innovations to the markets, partner up and multiply
our efforts," he added.
The panel discussion saw speakers turn to the upcoming circular economy package and the hurdles
that need to be overcome. The speakers acknowledged the need to approach the circular economy in
a holistic way, find new business models and increase the longevity of products. When asked to name
measures that could be added to the upcoming circular economy package to help achieve these aims,
panellists singled out possible tax breaks that would shift taxation from labour towards materials,
targets for reusability and repairability, opening of the eco-design directive to bio-based products and
measures to ensure full organic waste collection across Europe. Broadly agreeing with the need to
better communicate the benefits of the circular economy to the public, the speakers also highlighted
that the circular economy is about much more than just waste, and that the bioeconomy has a key
role to play in a successful transition.
> Closing plenary session 1: Developing bioeconomy strategies, mitigating climate change
and moving towards 2020
The closing plenary of the conference discussed the grand societal challenges facing the world today,
focusing in particular on the potential for the bioeconomy to contribute to climate change mitigation
efforts and spur innovation in clean and sustainable technologies. Stephan Tanda, Managing Board
Member of Royal DSM and chair of the Industrial Biotech council at EuropaBio, kicked off the session
by drawing attention to the emerging megatrends that shape the future direction of the world's
economy – from demographic changes to resource scarcity through to climate change. The plenary
then comprised two keynote speeches as well as a panel discussion.
Offering a global brand-owner's perspective, the first presentation came from Nalleke van der Puil of
the LEGO Group, who spoke about the future aspirations of the well-known toy manufacturer.
Striving to "inspire and develop the builders of tomorrow", LEGO has set a double sustainability goal –
to source 100% of energy needs from renewable sources by 2020 and to move to 100% sustainable
raw materials in manufacturing and packaging by 2030. On the latter front, the company has recently
announced its decision to invest 1 billion Danish kroner into research and development of new
sustainable materials. Our spirit is "only the best is good enough," said Ms van der Puil, "and we will
not compromise on product safety, quality or durability", noting that bio-based materials quite
naturally form part of the company's vision of the future.
In the second keynote speech, Daniel Calleja Crespo, Director-General at DG Environment, spoke of
the challenges and opportunities for the bio-based industries in the upcoming circular economy
package. Beginning by noting that the past year had been an important one for sustainable
development on the global stage, with new Sustainable Development Goals having been agreed back
in September and the new climate agreement being expected later this year, Mr Crespo contended
that the old linear economy model that we had seen develop in Europe was no longer viable. "The
move to a circular model, which is driven by the scarcity of existing natural resources in Europe,
presents great opportunities for our continent", said Mr Crespo, "it has potential of creating 2 million
new jobs by 2030 and bringing savings of over 600 billion euros, all while reducing our greenhouse
gas emissions by 2 to 4 percent". This could not only lead to a renaissance of the European industry,
but also give us a first mover advantage, thus benefitting consumers and businesses alike. The role of
the bioeconomy will be key in delivering these goals, especially when it comes to ensuring the reuse
of biowaste in the economy, added Mr Crespo. With significant amounts of biowaste still buried in
landfills at the moment, Europe has an untapped potential to both deliver significant environmental
benefits and increase competitiveness of our industries. Biowaste is a feedstock for the bioeconomy
and this is increasingly being realised. The circular economy package, which is expected to be tabled
by the Commission on 2 December, will thus address questions related to its landfilling, collection and
recovery.
Roger Kilburn, CEO of Scottish Industrial Biotech Association IBioIC, then presented Glasgow as EFIB's
host city next year and extended a warm invitation to delegates to join him there on 16-18 October
2016. Taking place at the heart of the Scotland's industrial central belt – home to the country's first
biorefinery since 2015 – the next year's edition is set to welcome over 700 professionals active in the
bio-based sphere for three days of topical presentations, workshops and 1-to-1 meetings. More
information about the event is available on http://www.efibforum.com/.
The closing panel debate, moderated by Ian Hudson, President for Europe Region at DuPont and
EuropaBio Board Member, focused on the potential of industrial biotechnology to help address one of
the most pressing challenges ahead – climate change. While most agreed that the bioeconomy has a
central role to play in climate mitigation and that, with bold action in defossilising our societies, it is
still possible to keep up to the 2°C target, the panellists also drew attention to some of the main
hurdles that hamper the development and innovation in the bio-based sector. The insufficient
predictability of the regulatory framework in Europe was highlighted in this context, as was the need
for the bio-based industry to step up its game in communicating its climate benefits and the creation
of a level playing field with traditional fossil fuel industries. "Industrial biotechnology, a driving force
of the bioeconomy that turns today's waste into tomorrow's products, quite naturally struggles to
compete with the industries that, annually, receive subsidies in their hundreds of billions", said
Waldemar Kütt of DG Research & Innovation. New markets should be created for bio-based
products, contended the panellists, together with product standards that would facilitate market
access. "Carbon pricing mechanisms are important in this respect," added Martin Porter of the
European Climate Foundation, "not only should they stimulate innovation , but also create a longterm framework, leading to the emergence of new business models and a much needed change in
people's mindsets."
The session was concluded with the presentation of the John Sime Award, which this year was
awarded to Marcel van Berkel, CCO of GFBiochemicals – for its first-of-a-kind technology enabling
production of bio-based levulinic acid at a commercial scale.
With thanks to contributing authors:
Dirk Carrez, Executive Director, Bio-based Industries Consortium & Managing Director, Clever Consult
James Cogan, Senior Consultant and Branch Manager, PNO Consultants
Joanna Dupont-Inglis, Director for Industrial Biotechnology, EuropaBio
Claire Gray, Project Coordinator, EuropaBio
Filippo Giancarlo Martinelli, Grants and Innovation Consultant, PNO Consultants
Ernestas Oldyrevas, Trainee, Industrial Biotechnology, EuropaBio
Kathryn Sheridan, CEO, Sustainability Consult
SME innovation track report
The first of the innovation track sessions was dedicated to the highly innovative SMEs, which,
according to session chair, Carmine Marzano of the European Commission's DG RTD, are the
backbone of the European economy. She emphasised that innovation in bio-based chemicals and
materials is of vital importance and that it has to lead to bio-based developing unique or better
functionalities compared to fossil-based alternatives. Ms Marzano also underlined the importance of
ensuring that these innovations could be scaled up after reaching maturity. Presentations during the
session came from six innovative SMEs – Metabolic Explorer, AVA Biochem, Syngulon, Ingenza,
Novomer and Biorem Engineering.
Metabolic Explorer, a French green chemistry company active in the development of bio-based
chemicals using industrial biotechnology since 1999, were the first ones to present. Having so far
focused on 3 key chemicals – PDO, MDG and L-Methionine – the company, with support from the BBI
JU, is now working on developing a low-cost bio-based methionine product using 2G technology.
Their presentation was followed by AVA Biochem, who presented on their pioneering work
developing bio-based 5-HMF. The chemical could be used as a replacement for PET or formaldehyde,
and also has potential to be used as a basis for a wide range of applications, including thermoresistant resins, adhesives and infusible and insoluble fibres.
The third presenters, Syngulon, spoke of their work developing a genetic firewall – a system which
uses secreted bacteriocins to kill bacteria around the modified bacterium through the inclusion of an
immunity gene which ensures that the modified bacterium is not killed. This gene can be switched on
and off, allowing control of modified bacteria and preventing escape of genetic material. The
technology is believed to be able to help transfer fermentation technology from a batch process to a
continuous process, thus improving yields and economics of the fermentation processes.
The next presentation came from Ingenza, who use synthetic biology techniques to improve protein
performance and develop new products, in an aim to bring increased predictability and overcome
persistent limitation associated with iterative and empirical processes for microbial strain
improvement. This was followed by a presentation by Novomer, who introduced their technology to
produce polyurethane polymers from epoxides and CO2. The resulting polyurethane polymers can be
used for a wide range of applications, including coatings, sealants, adhesives and elastomers. The last
presentation came from Biorem Engineering, and focused on soil remediation and cleaning
disinfection technologies using a bio-based bimetallic catalyst.
> Biomaterial innovations in consumer goods – showcasing IB as a commercial reality
This session, moderated by Kathryn Sheridan from leading bioeconomy communications agency
Sustainability Consult, brought together consumer brand Jaguar Landrover with chemical producers
AkzoNobel and Covestro, and bio start-ups BioAmber, Pharmafilter and Bioserie.
AkzoNobel spoke about traceability and sustainability, and forecasted that environmental
externalities will increasingly be factored into production costs. In its bio-based strategy, the
company is working on leading the deployment of bio-based chemicals and has made a shortlist of
impactful materials, essentially 50 key building blocks, to identify where they could play a leading
role.
For Jaguar Landrover, the main themes were confidence building and finding solutions. "If the future
is electric vehicles, 87% of the environmental impact would be in the materials, assuming a
decarbonised electricity grid," said Sustainability Manager Ian Ellison, "bio-based materials are
therefore of interest as a way to reduce that impact. Making bio-based a commercial reality requires
a high level of innovation - product innovation and value chain innovation, and communications," he
added.
Bioserie provided a practical case study of making baby products, such as toys, from bioplastics,
noting that designing with biomaterials is "more of an art than a science." CEO Kaya Kaplancali said
that "100% bio-based can be a challenge", and pointed out that large amount of terminology used in
marketing more sustainable products can be "too complicated and pretentious" for the consumer.
"The customer does not understand and does not care", he said, claiming there was "far too much
greenwashing in the consumer space." He finished by calling on the audience to inspire consumers
and to participate in a circular economy.
Pharmafilter shared the company's inspiring journey making a closed loop system for hospital waste
products, including developing single use biodegradable items like bedpans. The Pharmafilter units
were commercialised 3.5 years ago and would reach break-even within 5 years. "We have to build
the whole business case around waste, wastewater and biodegradables," said Peter Kelly,
International Director. The company is looking at locally-available second generation feedstocks like
lactose whey, potato peelings and brewers' spent grain.
In the final presentation of the session, BioAmber shared the stage with Covestro to present on their
partnership in bio-based waterborne polyurethanes for textile applications using BioAmber's succinic
acid. "Performance leads, sustainability follows," said BioAmber's Chief Commercial Officer Babette
Pettersen, presenting the joint project on artificial leather.
> New processes showcase
The session comprised six presentations in total from highly innovative companies and clusters –
Novasep, Plaxica, IAR, Global Bioenergies, Stora Enso and Bio-based Delta.
Presenting first, Novasep spoke of their cost-effective and innovative desalting solutions for
fermentation processes, which cover technologies such as membrane filtration, ion exchange,
continuous chromatography and electrodialysis. Their presentation was followed by Plaxica, who
introduced their newly developed Plaxica Versalac® technology, which helps extract the currently
underutilised hemicellulose content of biomass and convert it into lactic acid. In addition, their
Optipure® technology can also separate isomers of lactic acid and provide a low cost gateway to D
lactic acid, thus enabling a cost-competitive way of production PLA with improved material
properties.
The third presentation came from IAR & ARD, who spoke of metabolic engineering and its application
in optimising or creating new metabolic pathways within cells to increase the production of different
products, and addressed the many complementarities that exist between metabolic and process
engineering. This was followed by a presentation by Global Bioenergies, who introduced their
pioneering work in developing metabolic pathways for the direct production of light olefins, such as
isobutene, butadiene and propylene, from renewable raw materials. The process has entered
industrial pilot phase in Pomacle, France, and another pilot plant is planned to open in Leuna,
Germany.
Traditionally a paper and board business and an actor in the biomaterials sphere since 2012, Stora
Enso presented on their extraction and separation technology which separates high-purity xylose
sugar stream, lignin and glucose. The company aims to preserve and maximise properties of cellulosic
fibres, which amount to some 50% of the incoming raw material, and use the rest for green energy
production. The session was closed by Bio-based Delta, who introduced their plans for a large-scale
biorefinery in South-Western Netherlands. Given the name of a 'redifinery', it will convert
lignocellulose into second generation sugars and subsequently into bio-based chemical building
blocks.
> New materials showcase
"Bio-based products are often perceived to have lower performance compared to fossil alternatives,"
said Carmen de Vicente Coll of DG RTD when opening the session, "but new developments in
materials technology are challenging this assumption." The session saw five innovative materials and
related technologies presented, developed by VITO, Centexbel, Verdezyne, GFBiochemicals and
Deinove.
Presenting first, VITO introduced their work on lignin depolymerisation and their membrane
technology which can offer great potential for separating biomass components, thus enhancing the
quality of different fractions and consequently their potential applications. Their presentation was
followed by Centexbel, who introduced their latest project developing composite reinforced PLA
materials that have forty times the strength of injection-moulded PLA. Speaking third were a
company called Verdezyne, who presented their yeast-based conversion technology which uses the
co-products from fatty acid production to produce the chemical building blocks adipic acid, sebacic
acid as well as bio-based dodecanedioic acid (DDDA). The company is set to open a commercial scale
bio-based DDDA plant in Malaysia in late 2017.
Speaking next were GFBiochemicals, who presented their pioneering work in the production of
levulinic acid at a commercial scale directly from 2G biomass. This platform chemical can be used in a
wide range of different applications, including coatings, resins and plasticisers. The fifth and last
presentation of the session came from Deinove, a French company that uses their proprietary
Deinococcus bacteria that are both thermophillic and stable in a project with Abengoa to convert 2G
feedstocks to ethanol. In addition, the company has also teamed up with Tyson to identify routes to
convert tobacco to bioenergy and their Deinococcus platform is also being exploited to develop
routes to carotenoids and muconic acid amongst other interesting materials.
Policy Track Report
> Creating markets for bio-based products
This market-oriented session addressed policy measures such as standards and labelling of bio-based
products, feedstock sustainability certification, and green public procurement, amongst other
measures, as ways to help boost the market uptake of bio-based products in Europe.
Opening the session, Alberto Satangostino of McKinsey noted that bio-based markets will take time
to emerge. "Bioeconomy development will be a marathon and not a sprint," he said, "similarly to
other innovative sectors such as wind or solar power which took a decade or more to take off". "A
number of investment, regulatory and technological issues will need to be addressed before Europe
can reap the full benefits of this promising sector, but when a certain set of prerequisites converge
we will definitely see a hockey stick growth effect," predicted Mr Satangostino.
"To get wide diffusion and economy of scale of bioproducts that are in competition with oil based
products, the industry will need long-term, supportive market making measures and a clear policy
framework up to 2030," said Piero Cavigliasso of Biochemtex. "The fact that we do not know what will
happen after 2020 is a crucial problem for investors," he added. A notable example of a supportive
policy measure – public procurement – was discussed at greater length by the speakers. "Currently
investigated by the European Commission's Expert Group on Bio-based Products, green public
procurement holds great potential for regional and rural development and has a tremendous
potential to shift the market," argued James Cogan of PNO. "Accounting for up to 20% of current GDP
in Europe, public procurement could be a great way to open up markets for bio-based products," he
added.
To put the idea into perspective, the session included a presentation by Marie Wheat of the US
Department of Agriculture (USDA), who introduced the US BioPreferred Program and answered a
number of participants' questions on its functioning and impact. Composed of two major components
– voluntary labelling initiative and mandatory federal purchasing requirement for federal agencies
and federal contractors – the programme has helped contribute towards $369 billion being added to
the US economy in 2013 and 4 million jobs being created through direct, indirect, and induced
contributions. "The two elements of the BioPreferred Program, both creating the programme and the
label, work hand in hand," said Ms Wheat, "greatly boosting the contribution of bio-based industries
to the US economy and sustainable development."
> Ensuring sufficient and competitive feedstock supply in Europe
The session focused on the ways in which Europe could ensure sufficient and competitive supply of
sustainable feedstock for the development of the bioeconomy. Noting that the price of feedstock
accounts for, on average, 40% of the price in bio-based chemicals production, and sometimes rises to
as much as 80% of the price, the speakers acknowledged the importance of a supportive policy
framework and the potentially positive impact of the expiry of the EU sugar quotas regime in 2017.
The panellists were in agreement that the problem rests not with the lack of biomass in Europe, but
rather in the regulatory framework and other associated issues, such as the price of energy. "Biobased companies will only invest in Europe if they are sure they will have access to secure supply of
renewable raw materials. Having the right legal and regulatory framework is therefore essential," said
Calliope Panoutsou, Senior Research Fellow at the Imperial College London. The need for increased
public and private investments were stressed in this context, as was the increasing need to have
cross-sectoral synergies in biorefining activities. The concept of an integrated biorefinery, it was
argued, presents a breakaway from the previous ways of working, moving towards a more
collaborative approach, from working in silos to working together.
Offering an institutional point of view, Virginie Rimbert of DG AGRI drew attention to the European
support mechanisms that exist related to better mobilisation of biomass streams in Europe. These
include the rural development support measures of the Common Agricultural Policy, the European
Innovation Partnership 'Agricultural Productivity and Sustainability', as well as research funding that is
available through the Horizon 2020 programme, all of which are aimed, in one way or another,
towards contributing to the increased cooperation in the agricultural sector and improved logistics in
the bioeconomy.
> Financing the European bioeconomy
Taking place prior to the European Commission's Bioeconomy Investment Summit, this third policy
session was dedicated to the issues faced by the bio-based industries that relate to financing.
It kicked off with a presentation by entrepreneur and venture capitalist Gunter Festel, CEO of Festel
Capital, who set the scene for subsequent discussions. He noted that commercial development in the
field in Europe is mainly driven by multinational enterprises, whereas SMEs and spin-offs mostly
contribute to the technological development and technology transfer. "Venture capital has grown
increasingly important for this latter segment of the bio-based economy, and the rising contributions
into the sector indicate that biofuels and biochemicals are seen as an attractive investment
opportunity for venture capitalists. More technological investments by angel investors are needed in
the EU, however, to improve the start-up foundation rate," he said, "and focused, coordinated
governmental programmes could play an important role in attracting angel investors' interest in
early-stage technology." A new European early stage technology investment fund was brought up in
this context, which could strengthen the European Bioeconomy scene by focusing on private investors
and their operational involvement in the start-up foundation and building-up process and by having
industrial and financial investors participate on an equal footing.
In addition to venture capital and private bank investment, the subsequent discussions saw several
initiatives presented by the panellists, including Horizon 2020 and the BBI JU, the newly set-up publicprivate partnership between the European Commission and the industry which is set to invest some
€3.7 billion in research, demonstration and flagship projects. Panellists also debated the role of the
European Structural and Investment Funds, EIB's InnovFin initiative, which consists of a series of
integrated and complementary financing tools and advisory services offered by the EIB, and other EIB
financing tools available for risky but strategically important investments in supporting the European
Bioeconomy.
A study on access to finance for bio-based industries is currently being undertaken by the EIB, which
is aimed at gathering information about financing conditions for bio-based industries and the
bioeconomy, formulating policy options and evaluating the potential need for a dedicated risk finance
instrument(s) at the EU and/or national level to sustain and enhance investments in this promising
sector. The results of the study will be published within the first quarter of 2016.
> Is the chemical industry catching up with bio-based?
The transformative nature of the bioeconomy and its strong impact on the chemical industry were
the subject of the last thematic session.
Acknowledging that in addition to the mere adoption of new feedstock, the emergence of the
bioeconomy can lead to entirely new value chains, products with new or enhanced functionalities,
new markets and new business models, panellists shared optimistic perspectives of the chemical
industry making a shift towards bio-based, but also expressed concerns about a number of existing
hurdles. They discussed the motivations for considering bio-based feedstock, including potential new
properties of materials, improved competitiveness, strong consumer demand and the long-term
sustainability objectives offered by the rise of the bioeconomy, stressing the need for rational choice
of raw materials and their smart use as a key factor for better resource and energy efficiency.
Seeing bioeconomy as an option for the chemical industry to reach its sustainability objectives, the
panellists spoke of the need to foster industrial symbiosis and to combine different technologies in a
sustainable way. An integrated biorefinery, which requires multiple partners and might involve a
combination of chemical and biotechnological processes, was discussed as an example of such
industrial symbiosis. For these new or unconventional partnerships to be able to emerge, cultural
barriers will need to be overcome and new skills will need to be developed, including through working
across different disciplines. The chemical industry, meanwhile, will need to learn to work closer with
its upstream partners in the bio-based value chains, argued the speakers.
Considering upstream aspects of the bio-based value chain, raw material availability and feedstock
price were seen as major drivers that directly influence the development of new bio-based products,
as were the rising consumer needs. The need for transparency and increased acceptance of bio-based
products by society were emphasised in this context, which could, it was argued, partly be achieved
by product labelling as well as by increased communication to the society at large about the benefits
of bio-based products and materials.