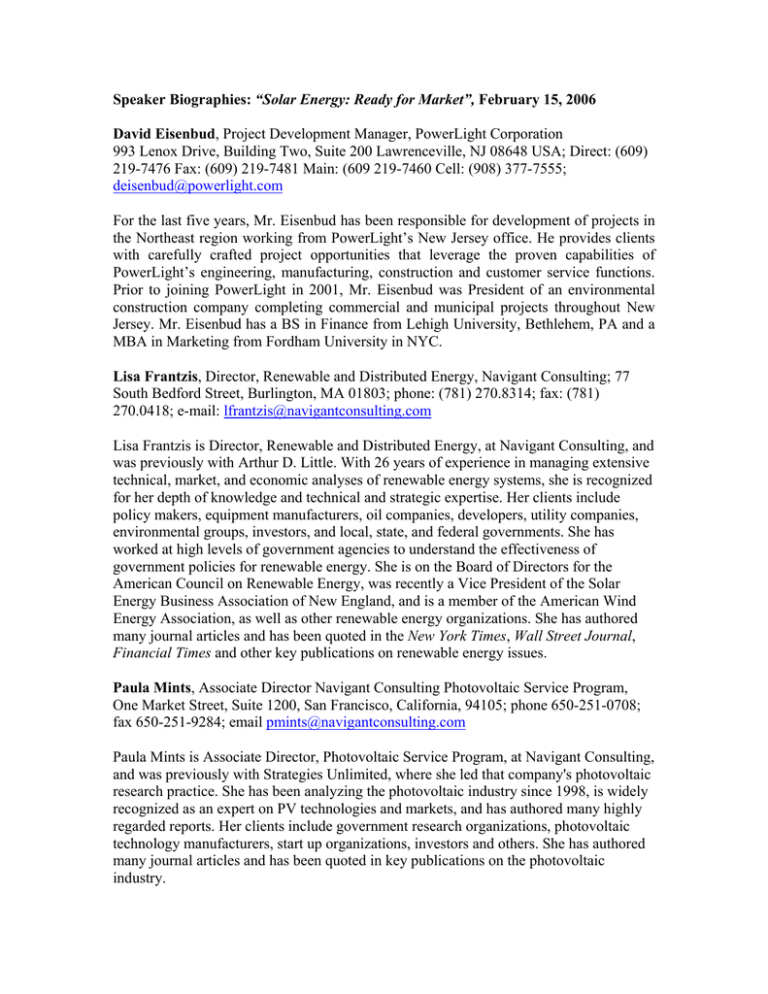 Speaker Biographies: "Solar Energy: Ready for Market", February 15, 2006
David Eisenbud, Project Development Manager, PowerLight Corporation
993 Lenox Drive, Building Two, Suite 200 Lawrenceville, NJ 08648 USA; Direct: (609)
219-7476 Fax: (609) 219-7481 Main: (609 219-7460 Cell: (908) 377-7555;
[email protected]
For the last five years, Mr. Eisenbud has been responsible for development of projects in
the Northeast region working from PowerLight's New Jersey office. He provides clients
with carefully crafted project opportunities that leverage the proven capabilities of
PowerLight's engineering, manufacturing, construction and customer service functions.
Prior to joining PowerLight in 2001, Mr. Eisenbud was President of an environmental
construction company completing commercial and municipal projects throughout New
Jersey. Mr. Eisenbud has a BS in Finance from Lehigh University, Bethlehem, PA and a
MBA in Marketing from Fordham University in NYC.
Lisa Frantzis, Director, Renewable and Distributed Energy, Navigant Consulting; 77
South Bedford Street, Burlington, MA 01803; phone: (781) 270.8314; fax: (781)
270.0418; e-mail: [email protected]
Lisa Frantzis is Director, Renewable and Distributed Energy, at Navigant Consulting, and
was previously with Arthur D. Little. With 26 years of experience in managing extensive
technical, market, and economic analyses of renewable energy systems, she is recognized
for her depth of knowledge and technical and strategic expertise. Her clients include
policy makers, equipment manufacturers, oil companies, developers, utility companies,
environmental groups, investors, and local, state, and federal governments. She has
worked at high levels of government agencies to understand the effectiveness of
government policies for renewable energy. She is on the Board of Directors for the
American Council on Renewable Energy, was recently a Vice President of the Solar
Energy Business Association of New England, and is a member of the American Wind
Energy Association, as well as other renewable energy organizations. She has authored
many journal articles and has been quoted in the New York Times, Wall Street Journal,
Financial Times and other key publications on renewable energy issues.
Paula Mints, Associate Director Navigant Consulting Photovoltaic Service Program,
One Market Street, Suite 1200, San Francisco, California, 94105; phone 650-251-0708;
fax 650-251-9284; email [email protected]
Paula Mints is Associate Director, Photovoltaic Service Program, at Navigant Consulting,
and was previously with Strategies Unlimited, where she led that company's photovoltaic
research practice. She has been analyzing the photovoltaic industry since 1998, is widely
recognized as an expert on PV technologies and markets, and has authored many highly
regarded reports. Her clients include government research organizations, photovoltaic
technology manufacturers, start up organizations, investors and others. She has authored
many journal articles and has been quoted in key publications on the photovoltaic
industry.
Rhone Resch, President Solar Energy Industries Association, 805 15th St., NW, Suite
510, Washington, D.C., 20005; phone 202-682-0558; fax 202-682-0559; email
[email protected]
Rhone Resch has 15 years of experience working closely with both the federal
government and industry to develop and implement clean energy solutions. He currently
serves as the President of the Solar Energy Industries Association (SEIA). SEIA is the
national trade association of the solar energy industry, representing all segments of the
solar energy industry, from solar thermal to photovoltaics to concentrating solar power.
SEIA members include manufacturers, distributors, contractors, installers, architects,
consultants, marketers and utilities. SEIA, as the voice of solar energy in the United
States, is responsible for all market analysis and lobbying on behalf of the solar industry
with Congress and the Administration, and was responsible for the creation of the
residential and commercial tax credits in the 2005 Energy Policy Act. SEIA also
orchestrates public campaigns working with the media to help shape public support for
solar energy. Rhone has served as Program Manager at the EPA's Climate Protection
Division in the Office of Air and Radiation, where he developed and implemented energy
efficiency programs to reduce greenhouse gas emissions and hazardous air pollutants
from the petroleum industry and is Chairman of the Western Governors Association Solar
Energy Task Force.
Edna Sussman, Hoguet Newman & Regal LLP, 10 East 40th Street, New York, NY
10016; Tel 212-689-8808; Email: [email protected]
Edna Sussman, of Counsel to Hoguet Newman & Regal LLP in New York City, has had
extensive experience representing clients and in domestic and international litigation. She
is active as a neutral serving frequently as both an arbitrator and a mediator. Ms. Sussman
was previously a litigation partner at White & Case, LLP and serves on numerous
arbitration and mediation panels. Ms. Sussman's area of concentration has been in
complex commercial litigation arising out of disputes concerning environmental matters,
contracts, securities, financing transactions, mergers and acquisitions, bankruptcy, and
transnational litigation. Ms. Sussman is currently chairing a Sustainability Planning Task
Force for the Westchester County Legislature. She is also currently a vice-chair of the
Renewable Energy Resources Committee of the American Bar Association's SEER
Section and chairing a Subcommittee on Emissions Trading for the International Dispute
Resolution Committee of the Association of the Bar of the City of New York. Ms.
Sussman received her B.A. from Barnard College and her J.D. from Columbia Law
School.
Wm. W. Westerfield, III, Of Counsel, Stoel Rives, LLP; 770 L Street, Suite 800,
Sacramento, CA 95814; phone: (916) 319-4749; fax: (916) 447-4781; email:
[email protected]
Mr. Westerfield works out of the Sacramento Office of Stoel Rives, LLP, where he is Of
Counsel to the firm. His practice focuses on energy issues arising from electric utility
regulation and the growing renewable energy market in California and the Western
United States. He practices mainly before the California Public Utilities Commission.
Previously, Mr. Westerfield was Senior Counsel to the California Energy Commission,
where he worked on power plant siting and renewable energy programs, and was
instrumental in founding the Western Renewable Energy Generation Information System
(WREGIS). Mr. Westerfield also served as a Trial Attorney for the Environmental
Enforcement Section of the U.S Department of Justice in Washington, D.C.
Fred Zalcman, Executive Director Pace Law School Energy Project, E-House, 78 North
Broadway, White Plains, New York 10603; Phone: 914- 422-4082; e-mail:
[email protected] ( New York City Local Speaker)
Fred Zalcman, the Executive Director of the Pace Energy Project, has been lead counsel
for New York's environmental community in a variety of proceedings before the New
York Public Service Commission. Mr. Zalcman has been the team leader on a number of
consensus building activities among environmental NGOs on restructuring policy and
among insurance companies on the benefits of sustainable energy investments. He
teaches energy and natural resource law at Pace Law School and has significant
experience in energy and environmental matters, both as an attorney and as a policy
analyst. Prior to joining Pace in 1994, he was head of the Strategic Planning Section of
the Illinois Department of Energy and Natural Resources where he was chiefly
responsible for the development of statewide policies and programs for electric and gas
integrated resource planning (IRP), energy conservation, renewable energy development,
competitive resource bidding, and power plant siting and certification. Most recently, Mr.
Zalcman has focused his efforts on removing economic and environmental regulatory
barriers to the development of emerging clean distributed generation technologies
through research, policy analysis, education and outreach, and regulatory intervention.