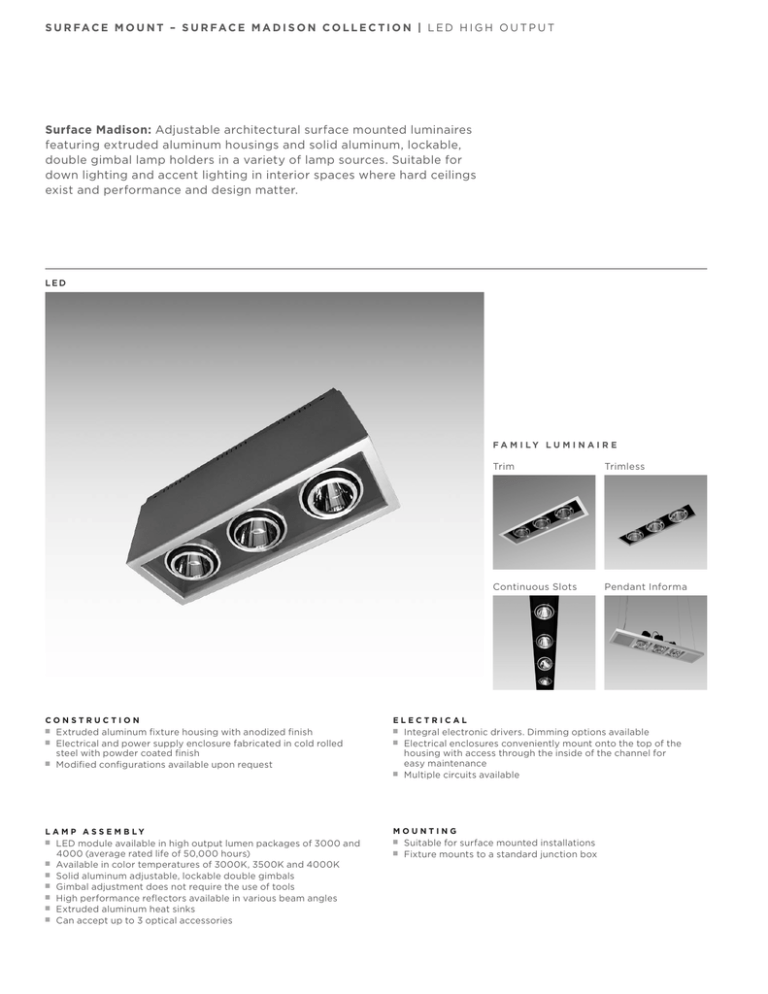 S U R FAC E M O U N T – S U R FAC E M A D I S O N CO L L E C T I O N | L E D H I G H O U T P U T
Surface Madison: Adjustable architectural surface mounted luminaires
featuring extruded aluminum housings and solid aluminum, lockable,
double gimbal lamp holders in a variety of lamp sources. Suitable for
down lighting and accent lighting in interior spaces where hard ceilings
exist and performance and design matter.
LED
FA M I LY L U M I N A I R E
CONSTRUCTION
■■
■■
■■
xtruded aluminum fixture housing with anodized finish
E
Electrical and power supply enclosure fabricated in cold rolled
steel with powder coated finish
Modified configurations available upon request
Trimless
Continuous Slots
Pendant Informa
ELECTRICAL
■■
■■
■■
Integral electronic drivers. Dimming options available
Electrical enclosures conveniently mount onto the top of the
housing with access through the inside of the channel for
easy maintenance
Multiple circuits available
L A M P A S S E M B LY
MOUNTING
LED module available in high output lumen packages of 3000 and 4000 (average rated life of 50,000 hours)
■■ Available in color temperatures of 3000K, 3500K and 4000K
■■ Solid aluminum adjustable, lockable double gimbals
■■ G imbal adjustment does not require the use of tools
■■ High performance reflectors available in various beam angles
■■ E xtruded aluminum heat sinks
■■ C an accept up to 3 optical accessories
■■
■■
Trim
■■
uitable for surface mounted installations
S
Fixture mounts to a standard junction box
PROJECT
T YPE
DATE
CATALOG #
M O U N T I N G D E TA I L
DOUBLE GIMBAL
OPTICAL
ACCESSORIES
35°
15°
45° x 45°
ADJUSTABLE
O R D E R I N G I N F O R M AT I O N
NUMBER
CAT. NO
WATTAGE
OF LAMPS
3G-SM
1LED - 1 LIGHT
2LED - 2 LIGHT
3LED - 3 LIGHT
45W - 3000 LUMENS
COLOR
TEMP
BEAM
ANGLE
VOLTAGE
DRIVER TYPE
GIMBAL FINISH
HOUSING INTERIOR/
EXTERIOR ADDITIONAL
30K - 3000K
20D - 20°
120 - 120V E - ELECTRONIC
SV - SILVER (STD)
CC - 2 CIRCUIT
277 - 277V DHL - DIMMING
BG - BLACK
BK - BLACK
OA - OPTICAL ACCESSORY
WG - WHITE
WH - WHITE
48W - 4000 LUMENS
35K - 3500K
40D - 40°
40K - 4000K 60D - 60 (LUTRON HI-LUME
3-WIRE®)
DHL2 - DIMMING
(LUTRON HI-LUME
ECO SYSTEM®)
NG - NATURAL
CF - CUSTOM
DIM - DIMMING
(0-10V)
3G-SM
ORDERING EXAMPLE
3G-SM2LED-45W-35K-40D-120-DHL-BG-BK
Copyright 2013. 3G Lighting Inc. Phone: 905-850-2305 Fax: 905-851-6490 Toll free: 888-448-0440
3G reserves the right to change, without notice, specifications or materials for product improvement. Specification sheets found at www.3glighting.com are the most recent versions.