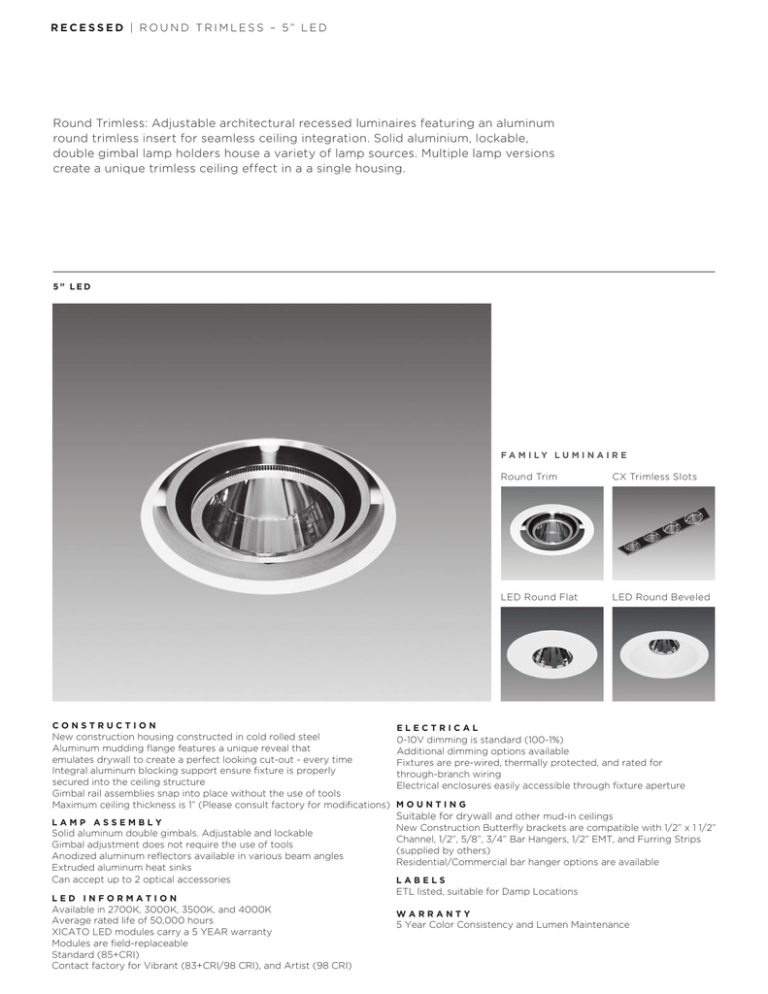 RECESSED | ROUND TRIMLESS – 5" LED
Round Trimless: Adjustable architectural recessed luminaires featuring an aluminum
round trimless insert for seamless ceiling integration. Solid aluminium, lockable,
double gimbal lamp holders house a variety of lamp sources. Multiple lamp versions
create a unique trimless ceiling effect in a a single housing.
5" LED
FA M I LY L U M I N A I R E
CONSTRUCTION
New construction housing constructed in cold rolled steel
Aluminum mudding flange features a unique reveal that
emulates drywall to create a perfect looking cut-out - every time
Integral aluminum blocking support ensure fixture is properly
secured into the ceiling structure
Gimbal rail assemblies snap into place without the use of tools
Maximum ceiling thickness is 1" (Please consult factory for modifications)
LAMP ASSEMBLY
Solid aluminum double gimbals. Adjustable and lockable
Gimbal adjustment does not require the use of tools
Anodized aluminum reflectors available in various beam angles
Extruded aluminum heat sinks
Can accept up to 2 optical accessories
LED INFORMATION
Available in 2700K, 3000K, 3500K, and 4000K
Average rated life of 50,000 hours
XICATO LED modules carry a 5 YEAR warranty
Modules are field-replaceable
Standard (85+CRI)
Contact factory for Vibrant (83+CRI/98 CRI), and Artist (98 CRI)
Round Trim CX Trimless Slots
LED Round Flat
LED Round Beveled
ELECTRICAL
0-10V dimming is standard (100-1%)
Additional dimming options available
Fixtures are pre-wired, thermally protected, and rated for
through-branch wiring
Electrical enclosures easily accessible through fixture aperture
MOUNTING
Suitable for drywall and other mud-in ceilings
New Construction Butterfly brackets are compatible with 1/2" x 1 1/2"
Channel, 1/2", 5/8", 3/4" Bar Hangers, 1/2" EMT, and Furring Strips
(supplied by others)
Residential/Commercial bar hanger options are available
LABELS
ETL listed, suitable for Damp Locations
WARRANTY
5 Year Color Consistency and Lumen Maintenance
PROJ EC T
T YPE
DATE
CATALOG #
T R I M L E S S D E TA I L
DOUBLE GIMBAL
OPTICAL
ACC E S S O R I E S
FIXTURE HOUSING
INTEGRAL BLOCKING
SUPPORT
DRYWALL SCREW
(BY OTHERS)
DRYWALL MATERIAL
45° x 45°
ADJUSTABLE
CEILING COMPOUND
PERFORATED MUDDING PLATE
O R D E R I N G I N FO R M AT I O N
CAT. NO
3G-RC1LED-5RD
WATTAGE
8W - 1000 LUMENS
COLOR
TEMP
BEAM
ANGLE
VOLTAGE
DRIVER TYPE
27K - 2700K
20D - 20°
120 - 120V
DIM - 0-10V (STD)
TRIMLESS
XTR - TRIMLESS
GIMBAL FINISH
NG - NATURAL (STD)
HOUSING
INTERIOR
BK - BLACK (STD)
(100-1%)
12W - 1300 LUMENS
30K - 3000K
40D - 40°
19W - 2000 LUMENS
35K - 3500K
60D - 60°
29W- 3000 LUMENS
40K - 4000K
277 - 277V
DHL - LUTRON
(ECO SYSTEM - 100-1%)
WH - WHITE
WG - WHITE
SV - SILVER
BHC - COMMERCIAL
BAR HANGERS
CF - CUSTOM
OA - OPTICAL
ACCESSORY
DALI - DALI
XTR
3G-RC1LED-5RD
ORDERING EXAMPLE
BHR - RESIDENTIAL
BAR HANGERS
BG - BLACK
(3-WIRE - 100-1%)
DHL2 - LUTRON
ADDITIONAL
3G-RC1LED-5RD-12W-30K-40D-120-DIM-XTR-NG-BK
Copyright 2014. 3G Lighting Inc. Phone: 905-850-2305 Fax: 905-851-6490 Toll free: 888-448-0440
3G reserves the right to change, without notice, specifications or materials for product improvement. Specification sheets found at www.3glighting.com are the most recent versions.