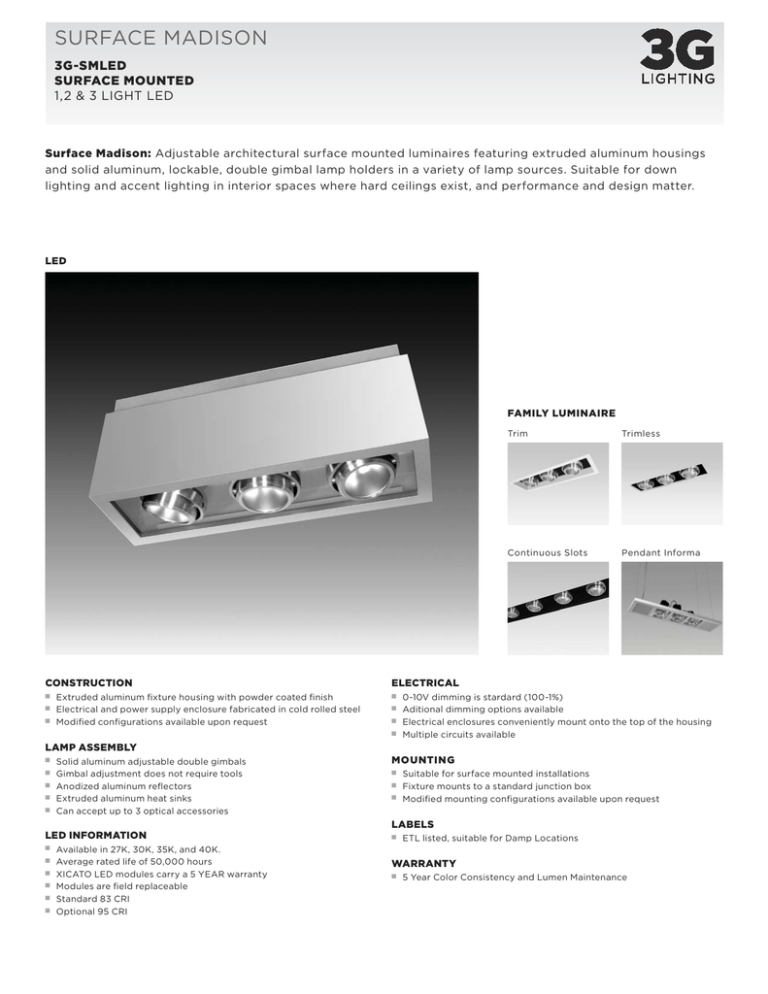 SURFACE MADISON
3G-SMLED
SURFACE MOUNTED
1,2 & 3 LIGHT LED
Surface Madison: Adjustable architectural surface mounted luminaires featuring extruded aluminum housings
and solid aluminum, lockable, double gimbal lamp holders in a variety of lamp sources. Suitable for down
lighting and accent lighting in interior spaces where hard ceilings exist, and performance and design matter.
LED
FAMILY LUMINAIRE
CONSTRUCTION
ELECTRICAL
Extruded aluminum fixture housing with powder coated finish
Electrical and power supply enclosure fabricated in cold rolled steel
Modified configurations available upon request
Trim
Trimless
Continuous Slots
Pendant Informa
0-10V dimming is stardard (100-1%)
Aditional dimming options available
Electrical enclosures conveniently mount onto the top of the housing
Multiple circuits available
LAMP ASSEMBLY
Solid aluminum adjustable double gimbals
Gimbal adjustment does not require tools
Anodized aluminum reflectors
Extruded aluminum heat sinks
Can accept up to 3 optical accessories
MOUNTING
Suitable for surface mounted installations
Fixture mounts to a standard junction box
Modified mounting configurations available upon request
LABELS
LED INFORMATION
Available in 27K, 30K, 35K, and 40K.
Average rated life of 50,000 hours
XICATO LED modules carry a 5 YEAR warranty
Modules are field replaceable
Standard 83 CRI
Optional 95 CRI
ETL listed, suitable for Damp Locations
WARRANTY
5 Year Color Consistency and Lumen Maintenance
SURFACE MOUNT – SURFACE MADISON COLLECTION | 1, 2 & 3 LIGHT LED
PROJECT
TYPE
DATE
1, 2 & 3 LIGHT
SURFACE
LED
CATALOG #
UP TO 2000lm
3000lm
UP TO 2000lm
LUMEN OUTPUT
10
13
20
30
13S9
20S9
WATTS (83 CRI)
9.4W
14W
22.3W
34W
18.3W
35.5W
WATTS (98 CRI)
13W
19W
30.5W
40W
28.2W
49.4W
3000lm - 83CRI only
MADE IN NORTH AMERICA
ARRA
COMPLIANT
ORDERING INFORMATION
CAT. NO
3G-SM
NUMBER OF LAMPS
LUMEN OUTPUT
PER FIXTURE HEAD
CRI
1LED - 1 LIGHT
10 - 1000 LUMENS
S - 83CRI (STANDARD)
2LED - 2 LIGHT
13 - 1300 LUMENS
A - 98 CR (ARTISTS)
3LED - 3 LIGHT
20 - 2000 LUMENS
30 - 3000 LUMENS
1
COLOR TEMP
BEAM ANGLE
VOLTAGE
120 - 120V
27K - 2700K
25D - 25°
30K - 3000K
40D - 40°
277 - 277V
PLEASE CONSULT
35K - 3500K
60D - 60°
347 - 277V
FACTORY FOR
40K - 4000K
1
(0-10V ONLY)
VIBRANCY OPTION
13S9 - 1300 LUMEN SPOT
10D - 10°
3G-SM
DRIVER
GIMBAL FINISH
HOUSING INTERIOR/EXTERIOR
OPTIONS
DIM
- 0-10V (100-1%) (STANDARD)
NG - NATURAL ALUMINUM (STANDARD)
BK - BLACK
OA
- OPTICAL ACCESSORY
DHL
- LUTRON (3 WIRE - 100-1%
WG - WHITE
WH - WHITE
NOTE: INTERIOR &
CC
- 2 CIRCUIT
DHL2 - LUTRON (ECO SYSTEM 100-1%)
BG - BLACK
SV - SILVER
EXTERIOR FINISHES
CDF - CONDUIT FEED
DALI - DALI (100-1%)
LE
CF - CUSTOM
MUST BE THE SAME
- FORWARD PHASE
ORDERING EXAMPLE
3G-SM1LED-13S-30K-40D-120-DIM-NG-BK
1The 3000lm Artist Series is not available in this form factor. Please select the High Output LED spec sheet for 3000lm Artist Series ordering codes and details.
Copyright 2016. 3G Lighting Inc. Phone: 905-850-2305 Fax: 905-851-6490 Toll free: 888-448-0440 | 3G reserves the right to change, without notice, specifications or materials for product improvement.