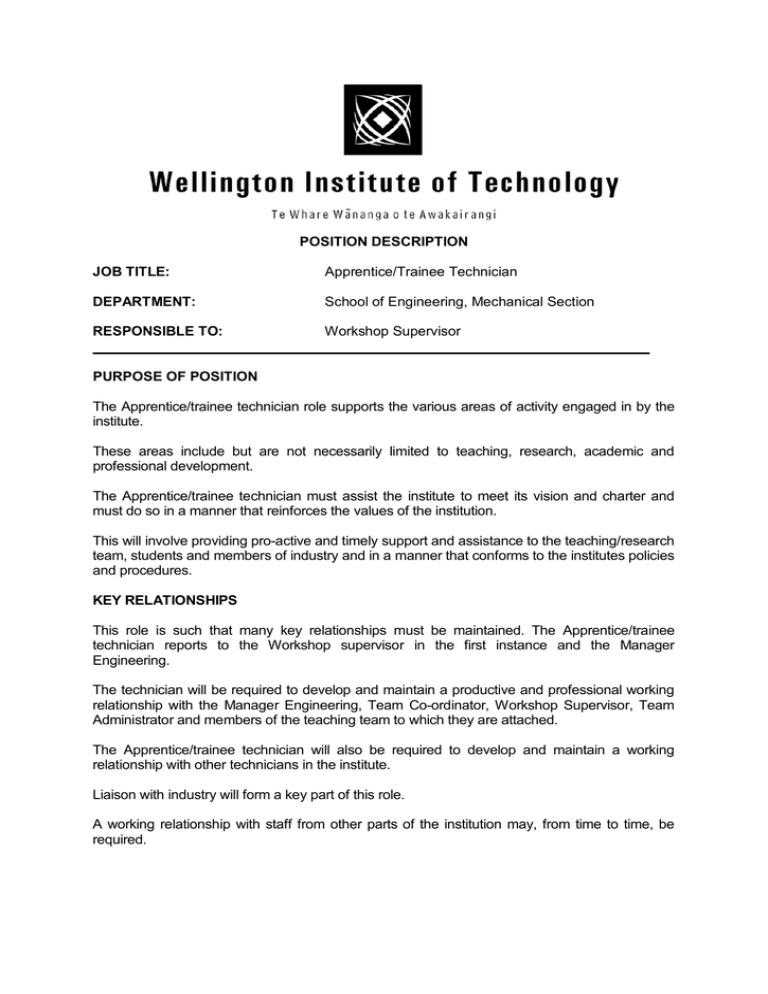 POSITION DESCRIPTION
JOB TITLE:
Apprentice/Trainee Technician
DEPARTMENT:
School of Engineering, Mechanical Section
RESPONSIBLE TO:
Workshop Supervisor
PURPOSE OF POSITION
The Apprentice/trainee technician role supports the various areas of activity engaged in by the
institute.
These areas include but are not necessarily limited to teaching, research, academic and
professional development.
The Apprentice/trainee technician must assist the institute to meet its vision and charter and
must do so in a manner that reinforces the values of the institution.
This will involve providing pro-active and timely support and assistance to the teaching/research
team, students and members of industry and in a manner that conforms to the institutes policies
and procedures.
KEY RELATIONSHIPS
This role is such that many key relationships must be maintained. The Apprentice/trainee
technician reports to the Workshop supervisor in the first instance and the Manager
Engineering.
The technician will be required to develop and maintain a productive and professional working
relationship with the Manager Engineering, Team Co-ordinator, Workshop Supervisor, Team
Administrator and members of the teaching team to which they are attached.
The Apprentice/trainee technician will also be required to develop and maintain a working
relationship with other technicians in the institute.
Liaison with industry will form a key part of this role.
A working relationship with staff from other parts of the institution may, from time to time, be
required.
KEY ACCOUNTABILITIES



















A knowledge of fitting, machining, fabrication and welding would be required
An ability to render assistance to the teaching team/research teams or outside industry in
the use of technologies at the institutions disposal
An ability to design, develop and manufacture teaching aids, test rigs and/or research rigs
and materials under supervision
Ability to develop and maintain the highest level of health and safety in the workplace
An ability to effectively use time and project management skills to achieve goals within
agreed timelines
Effective use of current technology including personal computer
An ability to understand and conform to all the institutes policy and procedures
Is able to contribute to the acquisition, maintenance, use and disposal of all equipment
and physical resources as instructed
An ability to communicate both orally and in writing commensurate with the position
All teaching resources, equipment, materials and supplies within the relevant teaching
area to be maintained at optimal levels.
All teaching resources and equipment to be maintained and repaired as required
Maintenance of stock records in a timely fashion
Maintenance of secure storage facilities for all stock and equipment items
Equipment, materials, teaching aids to be prepared and delivered in accordance with
instructions, including the manufacture of new equipment
New materials, teaching aids or resources to be designed and built according to agreed
and negotiated plans and/or requirements
Movement of equipment that is allocated to a specific area is appropriately recorded and
registered
Movement of furniture, equipment and machinery, in accordance with requests
Pack up, delivery, commission and breakdown and return any equipment that may be
required for marketing initiatives
Other tasks or duties as negotiated with Workshop Supervisor, Team Coordinator/Manager Engineering
PERSON SPECIFICATION
•
•
•
•
•
Completed year 1 of Certificate in Applied Mechanical Engineering and is currently enrolled
in year 2 of Certificate in Applied Mechanical Engineering.
An ability to update ones own knowledge and skills through the professional development
processes.
An ability to design, develop and manufacture teaching aids, test rigs and/or research rigs
and materials under supervision.
An ability to relate positively to all staff, students, employers and visitors.
Current motor vehicle drivers licence and current forklift drivers licence.