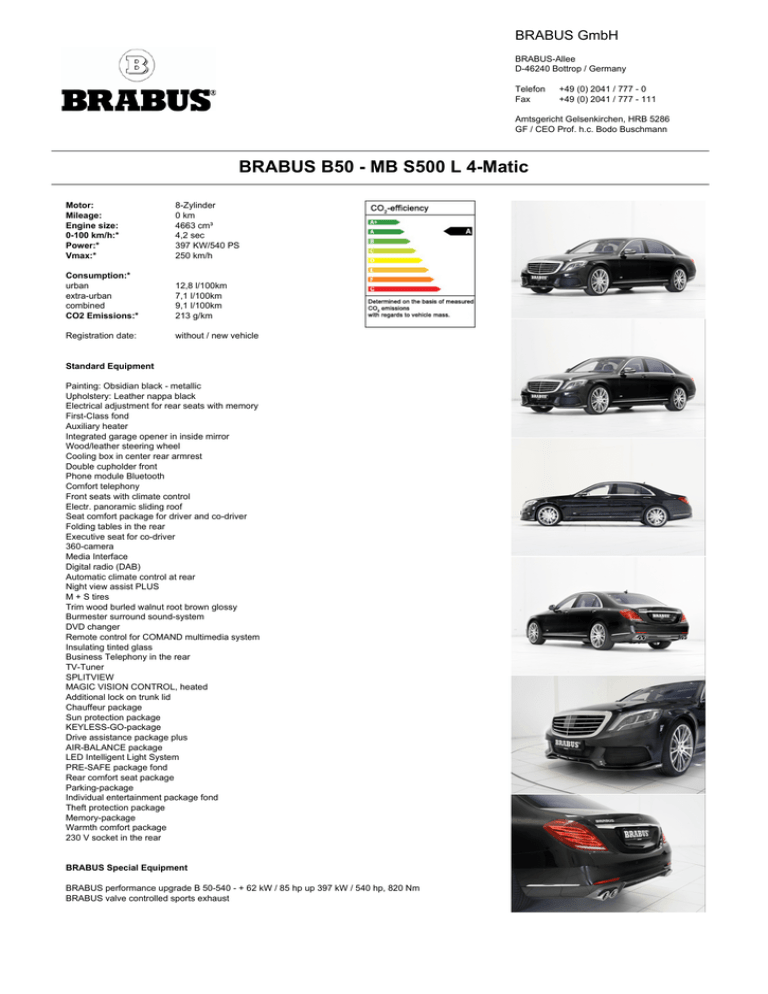 BRABUS GmbH
BRABUS-Allee
D-46240 Bottrop / Germany
Telefon
Fax
+49 (0) 2041 / 777 - 0
+49 (0) 2041 / 777 - 111
Amtsgericht Gelsenkirchen, HRB 5286
GF / CEO Prof. h.c. Bodo Buschmann
BRABUS B50 - MB S500 L 4-Matic
Motor:
Mileage:
Engine size:
0-100 km/h:*
Power:*
Vmax:*
8-Zylinder
0 km
4663 cm³
4,2 sec
397 KW/540 PS
250 km/h
Consumption:*
urban
extra-urban
combined
CO2 Emissions:*
12,8 l/100km
7,1 l/100km
9,1 l/100km
213 g/km
Registration date:
without / new vehicle
Standard Equipment
Painting: Obsidian black - metallic
Upholstery: Leather nappa black
Electrical adjustment for rear seats with memory
First-Class fond
Auxiliary heater
Integrated garage opener in inside mirror
Wood/leather steering wheel
Cooling box in center rear armrest
Double cupholder front
Phone module Bluetooth
Comfort telephony
Front seats with climate control
Electr. panoramic sliding roof
Seat comfort package for driver and co-driver
Folding tables in the rear
Executive seat for co-driver
360-camera
Media Interface
Digital radio (DAB)
Automatic climate control at rear
Night view assist PLUS
M + S tires
Trim wood burled walnut root brown glossy
Burmester surround sound-system
DVD changer
Remote control for COMAND multimedia system
Insulating tinted glass
Business Telephony in the rear
TV-Tuner
SPLITVIEW
MAGIC VISION CONTROL, heated
Additional lock on trunk lid
Chauffeur package
Sun protection package
KEYLESS-GO-package
Drive assistance package plus
AIR-BALANCE package
LED Intelligent Light System
PRE-SAFE package fond
Rear comfort seat package
Parking-package
Individual entertainment package fond
Theft protection package
Memory-package
Warmth comfort package
230 V socket in the rear
BRABUS Special Equipment
BRABUS performance upgrade B 50-540 - + 62 kW / 85 hp up 397 kW / 540 hp, 820 Nm
BRABUS valve controlled sports exhaust
BRABUS front bumper with Spoiler lip
BRABUS side skirts
BRABUS rear bumper insert
BRABUS Monoblock R light alloy wheel –forgend- front 9.0J x 21 H2 ET 29 -cross spoke designbrushed finish with tyres 255/35 R 21 and rear 10.5J x 21 H2 ET 38 with tyres 295/30 R 21
BRABUS Aluminium hubcaps –setBRABUS valve caps chrome –setBRABUS lowering kit
BRABUS door lock pins
BRABUS paddle pads
BRABUS entrance pancels for front and rear, illuminated
BRABUS floor mats, Velours black with BRABUS logo
former list price: 171.937,89 EUR
pictures similar!
Price**
on request
Vehicle ID No
094
*All listed performance figures are approximate values. They depend on vehicle-specific details such as the vehicle type, equipment, tare weight, rear-axle
ratio, wheel-tyre combinations, transmission type and aerodynamic equipment of the specific car. Figures about performance increases and/or performance
kits are to be understood as average values. Test-dependent divergences of +/- 5% are possible. Figures about the overall performance of changed factory
engines through performance increases and/or performance kits are based on the manufacturer's data listed in the vehicle regristration document. They can
vary by +/- 5%. BRABUS does not warrant any further reduced performance of factory engines. Specifications are subject to change without prior notice. These
values were determined using the prescribed measurement procedure (directive 80/1268/EEC in its currently valid version). The details are not based on a
single vehicle, and do not form a component of the offer, but serve only for purposes of comparison between different vehicle types.
**All prices are quoted ex works.