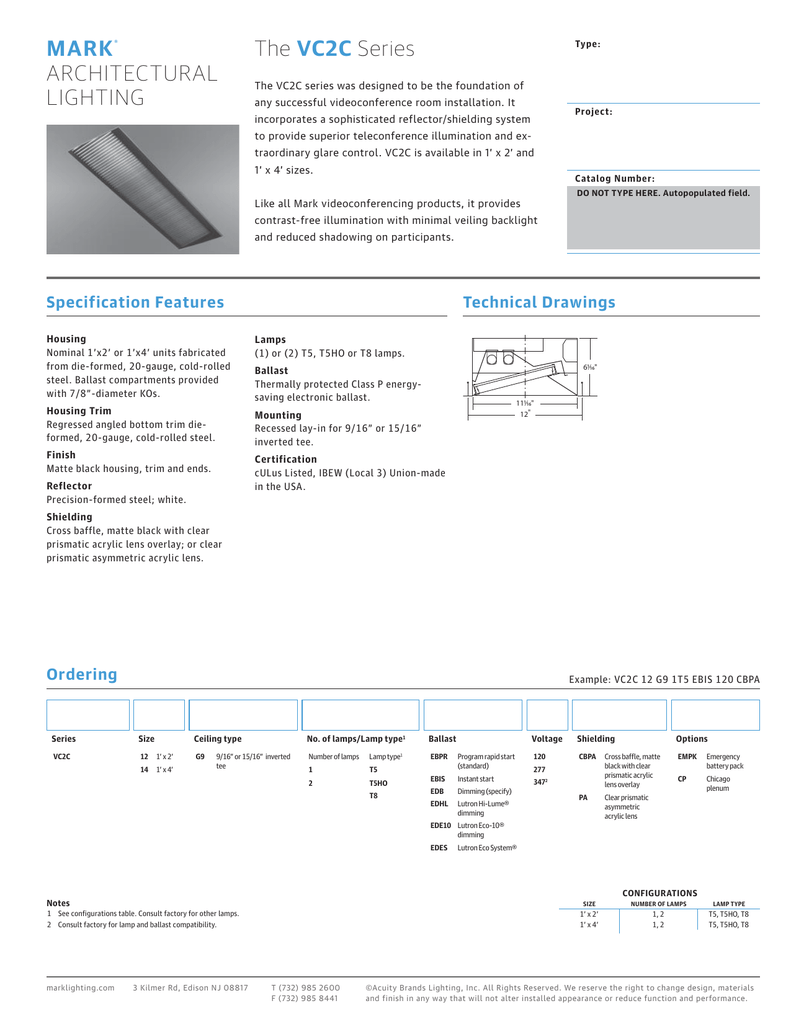 MARK
ARCHITECTURAL
LIGHTING
®
The VC2C Series
Type:
The VC2C series was designed to be the foundation of
any successful videoconference room installation. It
Project:
incorporates a sophisticated reflector/shielding system
to provide superior teleconference illumination and extraordinary glare control. VC2C is available in 1' x 2' and
1' x 4' sizes.
Catalog Number:
DO NOT TYPE HERE. Autopopulated field.
Like all Mark videoconferencing products, it provides
contrast-free illumination with minimal veiling backlight
and reduced shadowing on participants.
Specification Features
Technical Drawings
Housing
Nominal 1'x2' or 1'x4' units fabricated
from die-formed, 20-gauge, cold-rolled
steel. Ballast compartments provided
with 7/8"-diameter KOs.
Lamps
(1) or (2) T5, T5HO or T8 lamps.
Housing Trim
Regressed angled bottom trim dieformed, 20-gauge, cold-rolled steel.
Mounting
Recessed lay-in for 9/16" or 15/16"
inverted tee.
Finish
Matte black housing, trim and ends.
Certification
cULus Listed, IBEW (Local 3) Union-made
in the USA.
Reflector
Precision-formed steel; white.
61⁄16"
Ballast
Thermally protected Class P energysaving electronic ballast.
111⁄16"
12"
Shielding
Cross baffle, matte black with clear
prismatic acrylic lens overlay; or clear
prismatic asymmetric acrylic lens.
Ordering
Example: VC2C 12 G9 1T5 EBIS 120 CBPA
Series
Size
Ceiling type
No. of lamps/Lamp type1
VC2C
12 1' x 2'
G9
Number of lamps
Lamp type1
1
T5
2
T5HO
14
1' x 4'
9/16" or 15/16" inverted
tee
T8
Ballast
Voltage
Shielding
Options
Program rapid start
(standard)
120
CBPA
EMPK
Emergency
battery pack
EBIS
Instant start
3472
CP
EDB
Dimming (specify)
Cross baffle, matte
black with clear
prismatic acrylic
lens overlay
Chicago
plenum
EDHL
Lutron Hi-Lume®
dimming
PA
Clear prismatic
asymmetric
acrylic lens
EBPR
277
EDE10 Lutron Eco-10®
dimming
EDES
Lutron Eco System®
CONFIGURATIONS
Notes
1 See configurations table. Consult factory for other lamps.
2 Consult factory for lamp and ballast compatibility.
marklighting.com
3 Kilmer Rd, Edison NJ 08817
T (732) 985 2600
F (732) 985 8441
SIZE
NUMBER OF LAMPS
LAMP TYPE
1' x 2'
1' x 4'
1, 2
1, 2
T5, T5HO, T8
T5, T5HO, T8
©Acuity Brands Lighting, Inc. All Rights Reserved. We reserve the right to change design, materials
and finish in any way that will not alter installed appearance or reduce function and performance.