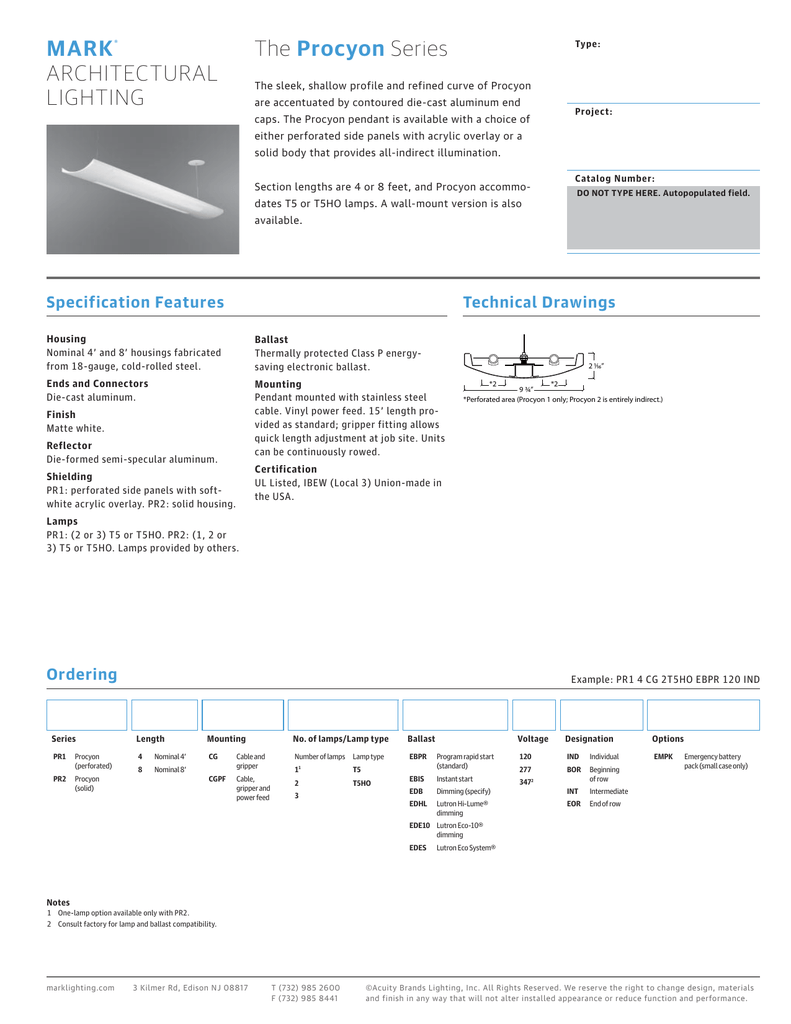 The Procyon Series
MARK
ARCHITECTURAL
LIGHTING
®
Type:
The sleek, shallow profile and refined curve of Procyon
are accentuated by contoured die-cast aluminum end
Project:
caps. The Procyon pendant is available with a choice of
either perforated side panels with acrylic overlay or a
solid body that provides all-indirect illumination.
Catalog Number:
Section lengths are 4 or 8 feet, and Procyon accommo-
DO NOT TYPE HERE. Autopopulated field.
dates T5 or T5HO lamps. A wall-mount version is also
available.
Specification Features
Technical Drawings
Housing
Nominal 4' and 8' housings fabricated
from 18-gauge, cold-rolled steel.
Ballast
Thermally protected Class P energysaving electronic ballast.
Ends and Connectors
Die-cast aluminum.
Mounting
Pendant mounted with stainless steel
cable. Vinyl power feed. 15' length provided as standard; gripper fitting allows
quick length adjustment at job site. Units
can be continuously rowed.
Finish
Matte white.
Reflector
Die-formed semi-specular aluminum.
2 1⁄16"
*2
*2
9 ¾"
*Perforated area (Procyon 1 only; Procyon 2 is entirely indirect.)
Certification
UL Listed, IBEW (Local 3) Union-made in
the USA.
Shielding
PR1: perforated side panels with softwhite acrylic overlay. PR2: solid housing.
Lamps
PR1: (2 or 3) T5 or T5HO. PR2: (1, 2 or
3) T5 or T5HO. Lamps provided by others.
Ordering
Example: PR1 4 CG 2T5HO EBPR 120 IND
Series
Length
Mounting
No. of lamps/Lamp type
Ballast
PR1
4
Nominal 4'
CG
Number of lamps Lamp type
EBPR
8
Nominal 8'
PR2
Procyon
(perforated)
Procyon
(solid)
CGPF
Cable and
gripper
Cable,
gripper and
power feed
11
T5
2
T5HO
3
Voltage
Designation
Options
Program rapid start
(standard)
120
IND
Individual
EMPK
277
BOR
EBIS
Instant start
3472
Beginning
of row
EDB
Dimming (specify)
INT
Intermediate
EDHL
Lutron Hi-Lume®
dimming
EOR
End of row
Emergency battery
pack (small case only)
EDE10 Lutron Eco-10®
dimming
EDES
Lutron Eco System®
Notes
1 One-lamp option available only with PR2.
2 Consult factory for lamp and ballast compatibility.
marklighting.com
3 Kilmer Rd, Edison NJ 08817
T (732) 985 2600
F (732) 985 8441
©Acuity Brands Lighting, Inc. All Rights Reserved. We reserve the right to change design, materials
and finish in any way that will not alter installed appearance or reduce function and performance.