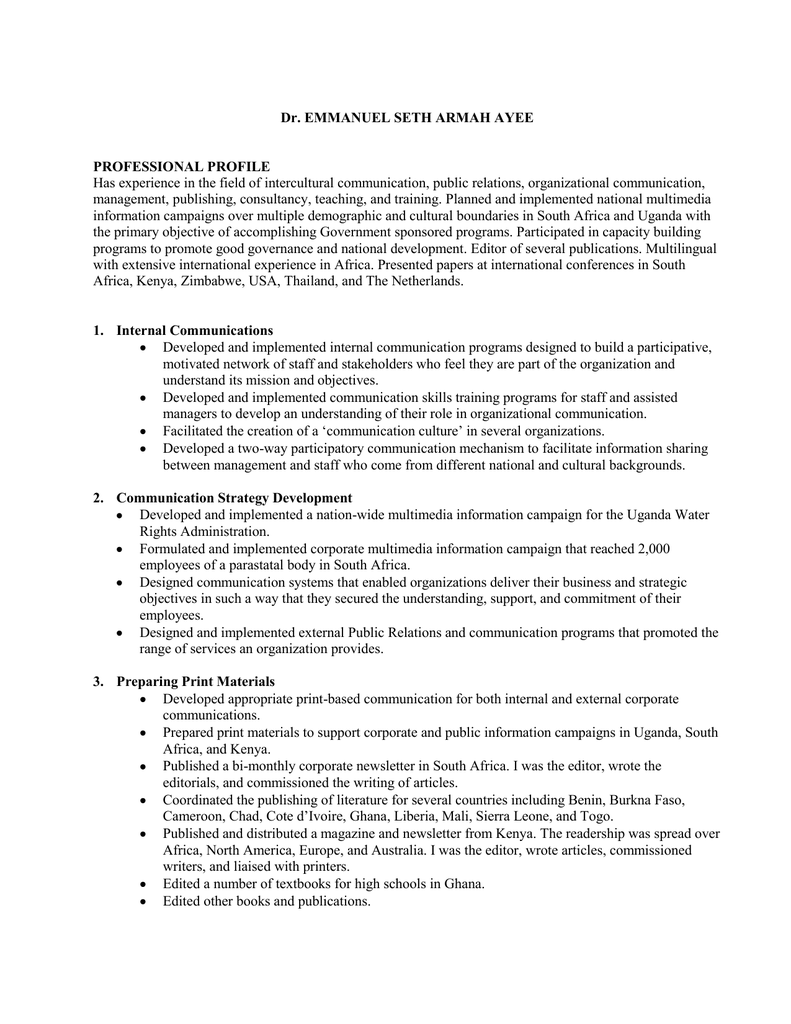 Dr. EMMANUEL SETH ARMAH AYEE
PROFESSIONAL PROFILE
Has experience in the field of intercultural communication, public relations, organizational communication,
management, publishing, consultancy, teaching, and training. Planned and implemented national multimedia
information campaigns over multiple demographic and cultural boundaries in South Africa and Uganda with
the primary objective of accomplishing Government sponsored programs. Participated in capacity building
programs to promote good governance and national development. Editor of several publications. Multilingual
with extensive international experience in Africa. Presented papers at international conferences in South
Africa, Kenya, Zimbabwe, USA, Thailand, and The Netherlands.
1. Internal Communications
Developed and implemented internal communication programs designed to build a participative,
motivated network of staff and stakeholders who feel they are part of the organization and
understand its mission and objectives.
Developed and implemented communication skills training programs for staff and assisted
managers to develop an understanding of their role in organizational communication.
Facilitated the creation of a "communication culture" in several organizations.
Developed a two-way participatory communication mechanism to facilitate information sharing
between management and staff who come from different national and cultural backgrounds.
2. Communication Strategy Development
Developed and implemented a nation-wide multimedia information campaign for the Uganda Water
Rights Administration.
Formulated and implemented corporate multimedia information campaign that reached 2,000
employees of a parastatal body in South Africa.
Designed communication systems that enabled organizations deliver their business and strategic
objectives in such a way that they secured the understanding, support, and commitment of their
employees.
Designed and implemented external Public Relations and communication programs that promoted the
range of services an organization provides.
3. Preparing Print Materials
Developed appropriate print-based communication for both internal and external corporate
communications.
Prepared print materials to support corporate and public information campaigns in Uganda, South
Africa, and Kenya.
Published a bi-monthly corporate newsletter in South Africa. I was the editor, wrote the
editorials, and commissioned the writing of articles.
Coordinated the publishing of literature for several countries including Benin, Burkna Faso,
Cameroon, Chad, Cote d"Ivoire, Ghana, Liberia, Mali, Sierra Leone, and Togo.
Published and distributed a magazine and newsletter from Kenya. The readership was spread over
Africa, North America, Europe, and Australia. I was the editor, wrote articles, commissioned
writers, and liaised with printers.
Edited a number of textbooks for high schools in Ghana.
Edited other books and publications.
Dr. Emmanuel Ayee Résumé
2
4. Management Skills and Training Experience
Managed Communication Departments by developing departmental performance objectives,
setting targets, and developing work programs.
Managed the performance of staff by establishing individual work programs, and identifying how
important outcomes could be recognized, achieved, and measured.
Has cross-cultural administrative and management experience in Ghana, Kenya, Uganda, and
South Africa.
Provided consultancy and training services in communications and human resources development
to various organizations in Ghana, Uganda, Kenya, and South Africa.
5. Strategic Planning and Organizational Awareness
Participated in strategic planning sessions.
Advised on appropriate communication and Public Relations responses to important people/issues
which impact and influence organizations.
Provided expert advice to divisional, district and departmental managers on the development and
implementation of communication strategies to support their respective programs and projects.
EDUCATION
Ph.D.
1989-1993--Communication. Potchefstroom University, South Africa
M.A.
1983-1985--Communication. Wheaton Graduate School of Communication, Wheaton,
Illinois, USA.
B.A.(Hons.)
1977-1982--Fine Art (Graphic Design). University of Science and Technology, Kumasi,
Ghana.
Pre-degree
1975-1977--English Literature and Fine Art. University of Science and Technology, Kumasi,
Ghana.
PROFESSIONAL ACTIVITIES
Memberships:
National Communication Association.
International Listening Association.
International Association for the Promotion of Christian Higher Education.
Center for the Promotion of Christian Higher Education in Africa.
Dr. Emmanuel Ayee Résumé
3
FACULTY DEVELOPMENT PROGRAMS, ETC.
Nominated in April 2008 for the 2007-2008 Excellence in Teaching Award at Geneva College.
Faculty Development Summer Institute: Active Learning & Teaching in University & College, Center for
Life-Long Learning, University of Prince Edward Island, Charlottetown, Prince Edward Island, Canada
(July 25-July 29, 2005).
Faculty Orientation Program at Dordt College (August – December 2002).
Core Course Mentoring Program (August – December 2003).
INTERNATIONAL TRAVELS
The Netherlands, Germany, Britain, Thailand, Ethiopia, Zimbabwe, Nigeria, Swaziland, South Africa, Kenya,
Togo, Cote d"Ivoire, Ghana, Uganda, United States, Canada.
EMPLOYMENT RECORD
JULY 2008 – PRESENT
ASSOCIATE PROFESSOR
REGENT UNIVERSITY, VIRGINIA BEACH, VA
Chair, Department of Communication, School of Undergraduate Studies and Professor of Communication
AUGUST 2007 TO MAY 2008
ASSOCIATE PROFESSOR
GENEVA COLLEGE, BEAVER FALLS, PA
Taught the following courses: Introduction to Public Relations, Advanced Public Relations, Principles of
Communication, Public Speaking, and Communication Workshop Facilitation.
AUGUST 2002 TO JULY 2007
ASSISTANT PROFESSOR
DORDT COLLEGE, SIOUX CENTER, IOWA
Taught the following courses: Public Relations, Organizational Communication, Cross-Cultural
Communication, Principles of Communication, Fundamentals of Speaking and Listening.
OCTOBER 2000 - JULY 2002
PUBLISHING EXECUTIVE
SEDCO PUBLISHING LTD, GHANA
Project Highlights: Planned, organized and monitored the writing, design and production of various Sedco
titles (e.g., novels, biographies) and Sedco FCUBE (Free Compulsory Universal Basic Education) titles.
Planned, organized and monitored the writing of various Longman FCUBE titles published in England.
Established priorities, supervised production schedules and reviewed plans and output of the editorial section,
typesetting and design studio. Developed and maintained professional contacts with writers, reviewers,
editors, and designers, publishers and illustrators. Edited and proofread manuscripts for publication. Chaired
weekly Editorial Review Committee meetings. Managed four staff members.
Dr. Emmanuel Ayee Résumé
4
FEBRUARY 2000 - JULY 2002
MANAGING DIRECTOR, AMSETH CONSULTANCY, GHANA
Provided leadership and managed the operations of the consultancy. Edited manuscripts for publication.
Generated consultancy, training, and research jobs.
JANUARY 1999 – JANUARY 2000
COUNTRY DIRECTOR, ORGANIZATION CAPACITY IMPROVEMENT CONSULTANTS INTL.,
GHANA
Project Highlights: Provided mentoring for 13 Organization Development Trainee Consultants (from Kenya,
Sudan, and Germany) undergoing a 4-modular OD Skills Training Program in Kenya. Edited company
publications. Co-researcher in evaluating a 3-year community based Age-Care training program for Help Age
organization in Ghana. Co-facilitator/trainer on the United States International Foundation for Election
Systems (IFES) Project for Enhancing Civil Society Effectiveness at the Local Level (ECSELL), a capacity
building program for leaders of District Assemblies and civil society organizations. Managed professional and
support staff. Involved in high-level discussions with Country Representatives, Government Officials, and
leaders of NGOs.
JULY 1998-SEPTEMBER 1998
NATIONAL MEDIA EXPERT (CONSULTANT)
FOOD AND AGRICULTURE ORGANIZATION OF THE UNITED NATIONS
Project Highlights: Developed an overall strategy and plan for sustained public information campaign for the
implementation of the Uganda Water Rights/Water Permits Administration. Prepared print materials for the
public awareness campaign. Developed a program for educational broadcasting on radio and television.
Involved in discussions, negotiation and planning with Government officials. Wrote a report for the FAO.
JANUARY 1998-JUNE 1998
COMMUNICATIONS AND MANAGEMENT CONSULTANT
NETWORK LIMITED, UGANDA
Project Highlights: Designed and carried out employee attitude surveys. Provided Customer Care Training for
Uganda Nile Bank, Uganda Allied Bank, and Uganda Total Oil Company. Principal Consultant for human
resource audit of Uganda Commercial Bank. Provided communication and human resource training to various
companies. Taught part-time courses at the Human Resources Development Institute in Kampala, Uganda.
NOVEMBER 1995-NOVEMBER 1996
PUBLISHING PROCESS MANAGER
Project Highlights: Published literature for several African countries including Ghana, Togo, Liberia, Burkina
Faso, Mali, Benin, and Central Africa Republic. Organized training workshops for Bible translators. Involved
in project planning, management, monitoring, and evaluation. Designed research and marketing strategies.
Coordinated the publishing process from initiation to launch of products, including the effective integration of
translation, production, distribution, research, and computer technology. Prepared and monitored program
budgets. Managed the publishing team.
APRIL 1991-JANUARY 1995
COMMUNICATION MANAGER/CONSULTANT
AGRICULTURAL CORPORATION OF SOUTH AFRICA
Dr. Emmanuel Ayee Résumé
5
Project Highlights: Publishing project management. Prepared manuscripts for production by marking up copy
for typesetting. Drew up publication schedules. Improved management and employee communication through
the introduction of team briefing system, video newsletters, bi-monthly newsletter and magazine, and
performance award schemes. Trained senior and middle management in how to effectively operate the team
briefing system. Through a public awareness information campaign, I helped to improve the awareness and
understanding of the aims and objectives of the organization amongst all employees and other stakeholders.
Managed staff from different ethnic and racial backgrounds. Edited and published various company
publications. Prepared and managed departmental and program budgets.
JANUARY 1986-MARCH 1989
PUBLICATIONS SECRETARY
ASSOCIATION OF EVANGELICALS OF AFRICA, KENYA
Project Highlights: Publishing project management. Coordinated the publishing program of the following
departments: Ethics, Society and Development; Discipleship and Leadership Training; Communication;
General Secretary"s department. Edited and wrote feature articles for Evangelical Ministries magazine and
Afroscope newsletter. Commissioned articles from writers in various parts of Africa. Liaised with designers,
layout artists, typesetters, and printers.
SEPTEMBER 1989-JANUARY 1991
ADJUNCT PROFESSOR
POTCHEFSTROOM UNIVERSITY, SOUTH AFRICA
Taught on a part-time basis whilst pursuing my doctoral studies.
SEPTEMBER 1983-JULY 1988
ADJUNCT PROFESSOR, DAYSTAR UNIVERSITY, NAIROBI, KENYA
Taught part-time courses.
OTHER RELEVANT EXPERIENCES
August 2006 to date
Coordinator of the Public Speaking and Listening course at
Dordt College, Sioux Center, Iowa.
August 2000-2004
Board Member, International Association for the Promotion of Christian
Higher Education (IAPCHE).
March 2001-December 2004
Secretary, Interim Council, Center for the Promotion of Christian Higher
Education in Africa.
2002 to present
Managing Editor, African Journal for Transformational Scholarship.
April 1990-March 1991
Involved in the planning of the Africa Regional Conference of the
International Association for the Promotion of Christian Higher Education.
First meeting was held in Harare, Zimbabwe in April 1990. I served as
Secretary to the Planning Committee.
1977-1980
Publicity Secretary, Inter-Hall Christian Fellowship, University of
Science and Technology, Kumasi, Ghana.
Dr. Emmanuel Ayee Résumé
1975-1980
6
Editor and Editor-in-Chief respectively of Trumpet magazine, a student
magazine that is the mouthpiece of evangelical students in all the universities
and other institutions of higher learning in Ghana.
REPORTS/PAPERS AND PUBLICATIONS
"Reconciling a Divided Nation: The Role of Listening in the Process of National Reconciliation and
Transformation in South Africa" in Listen and Make the Connection! Proceedings of the 28th Annual
Convention of the International Listening Association, Frankfurt, Germany, July 18-22, 2007,
edited by Margarete Imhof (2008), p.21-40. Germany: Der Andere Verlag.
"A Christian Perspective on Intercultural Communication". Pro Rege 34 (4), 1-9. June, 2007.
Wrote the preface to the following book When African and Western Cultures Meet: From Confrontation
to Appreciation, by Bennie van der Walt. Published in 2006 by the ICCA in South Africa.
Response to Dr. Elaine Botha"s Paper on "Discipling the Scholar and Teaching the Teacher." Delivered at
the Conference on Christianity and the Soul of the University, Session on The Struggle for the Heart of
the Professor, Baylor University, Waco, Texas. March 25-27, 2004.
"Let Us Go Up and Take Possession of the Land." Boston, Massachusetts. January 2000.
"Evaluation Report of the 3-Year Community Based Age Care Training Program." Co-authored with
lead researcher Alberta Ama Ayee. HelpAge, Accra, Ghana, April 1999.
"Uganda Water Rights Administration Advertising Campaign." FAO of the United Nations, Kampala,
Uganda. September 1998.
"Are You Ready to Conquer New Territories?" United Bible Societies Conference on Research,
Bangkok, Thailand. July 1996.
"The Church Must Beware of Dangers in Ancestor Cult." In Dimension. March 1995.
"Participatory Communication for Grassroots Development." Institute for Reformational Studies Study
Pamphlet No. 310, 10-27, October 1993.
"Intercultural Communication in a New South Africa: Personal Reflections." Fifteenth Annual Congress of
the Southern African Communication Association, University of the Orange Free State, Bloemfontein, South
Africa. September 23-25, 1992.
"Intercultural Communication in a New South Africa: Personal Reflections." The Human Sciences Research
Council Workshop on Intercultural Communication between Organizations and the Community. Pretoria,
South Africa. July 23, 1992.
"Towards Excellence Program – The AGRICOR Experience." Manpower Working Group, Mmabatho, South
Africa. February 1992.
"The Christian Under a Totalitarian Government." In Orientation No. 58, 59, 60. Dec.1990-June 1991.
"A Christian Impact on the (Secondary) Educational System in Kenya." In Orientation No 55, 56, 57.
December 1989-June 1990.
Dr. Emmanuel Ayee Résumé
7
"A General Survey of Christian Literature in Kenya." In Orientation No 52, 53, 54. December 1989-June 1990.
"The Status of Christianity in Africa." Cultural Diversity Conference. Nooitgedacht, South Africa. May 1989.
"How To Plan For Success." In Beyond. August 1987.
"An AEAM Success Story – Celebrating ACTEA"s (Accrediting Council for Theological Education in
Africa) Tenth Anniversary." In Evangelical Ministries. Vol. 5, No. 3, January-August 1987.
"A Dream Come True." In Evangelical Ministries. Vol. 5, No. 2, May-August 1986.
"Media and Church Partnership." In Evangelical Ministries. Vol. 5, No. 3, September-December 1986.
"Indigenous Missionary Work in Africa." In Evangelical Ministries. Vol. 4, No. 3, Sept-Dec 1985.
BOOK REVIEWS
Refereed the article "New World Journalism in Mauritius: The Credibility of Development News in the Third
World," by Allan W. Palmer. In Ecquid Novi. Vol. 12, No. 2 1991.
"On Being Human and Being a Christian in Africa: Communalism, Socialism, and Communism in a Struggle
for an African Anthropology," by B.J. van der Walt. Reviewed in Koers Vol. 5, No. 2 1990.
"Biblical Christianity in Africa," by Byang H. Kato. Reviewed in East Africa Journal of Evangelical
Theology Vol. 6, No. 1 1987.
"Africa: A Season of Hope." Edited by W. Dayton Roberts. Reviewed in Evangelical Ministries. Vol. 5, No. 1
January-April 1986.
EDITED THE FOLLOWING BOOKS AND MONOGRAPHS
Senior Secondary School Social Studies Bk 1, Co-edited with Alberta Ama Ayee. (Sedco Publishing Ltd.,
Accra, Ghana, 2002).
Senior Secondary School Social Studies Bk 2, Co-edited with Alberta Ama Ayee. (Sedco Publishing Ltd.,
Accra, Ghana, 2002).
Junior Secondary School Agricultural Science, Bks 1, 2, & 3 (Sedco Publishing Ltd., Accra, Ghana, 2002).
Following Jesus in a Rich/Poor Society. Nairobi, Kenya: AEA, 1989.
Following Jesus in a Pluralistic Society. Nairobi, Kenya: AEA, 1989.
Following Jesus in a Secularist Society. Nairobi, Kenya: AEA, 1989.
Following Jesus in a Segregational Society. Nairobi, Kenya: AEA, 1989.
Income Generating Projects and the Churches. Nairobi, Kenya: AEA, 1988.
Partnership in Development. Nairobi, Kenya: AEA, 1987.