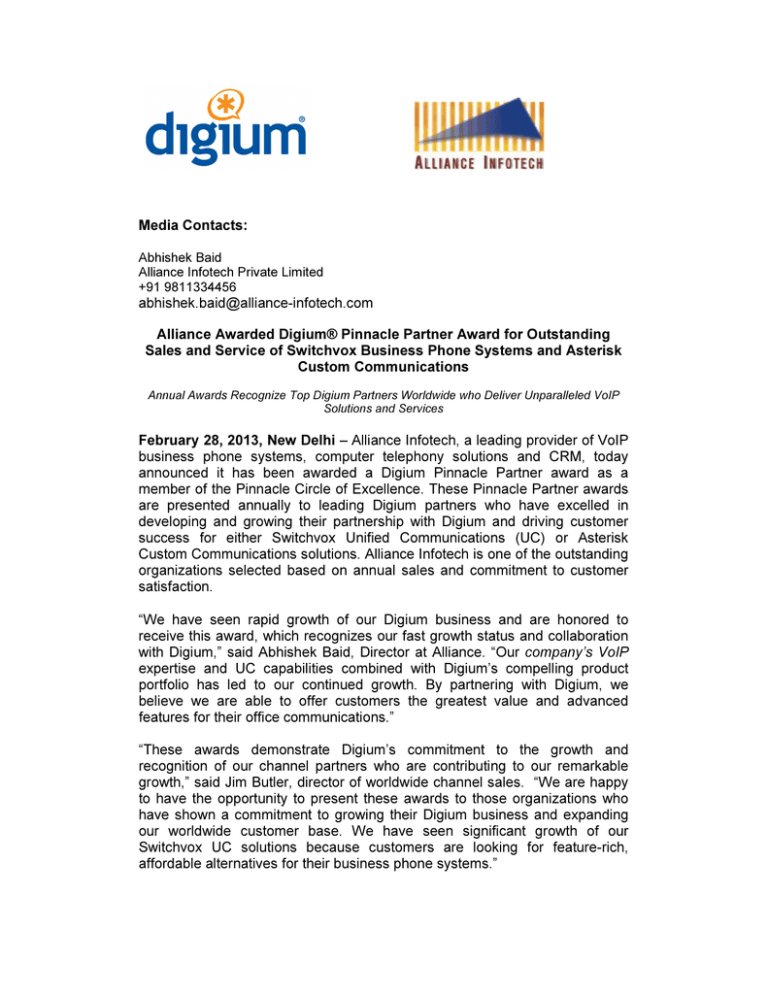 Media Contacts:
Abhishek Baid
Alliance Infotech Private Limited
+91 9811334456
abhishek.baid@alliance-infotech.com
Alliance Awarded Digium® Pinnacle Partner Award for Outstanding
Sales and Service of Switchvox Business Phone Systems and Asterisk
Custom Communications
Annual Awards Recognize Top Digium Partners Worldwide who Deliver Unparalleled VoIP
Solutions and Services
February 28, 2013, New Delhi – Alliance Infotech, a leading provider of VoIP
business phone systems, computer telephony solutions and CRM, today
announced it has been awarded a Digium Pinnacle Partner award as a
member of the Pinnacle Circle of Excellence. These Pinnacle Partner awards
are presented annually to leading Digium partners who have excelled in
developing and growing their partnership with Digium and driving customer
success for either Switchvox Unified Communications (UC) or Asterisk
Custom Communications solutions. Alliance Infotech is one of the outstanding
organizations selected based on annual sales and commitment to customer
satisfaction.
"We have seen rapid growth of our Digium business and are honored to
receive this award, which recognizes our fast growth status and collaboration
with Digium," said Abhishek Baid, Director at Alliance. "Our company's VoIP
expertise and UC capabilities combined with Digium's compelling product
portfolio has led to our continued growth. By partnering with Digium, we
believe we are able to offer customers the greatest value and advanced
features for their office communications."
"These awards demonstrate Digium's commitment to the growth and
recognition of our channel partners who are contributing to our remarkable
growth," said Jim Butler, director of worldwide channel sales. "We are happy
to have the opportunity to present these awards to those organizations who
have shown a commitment to growing their Digium business and expanding
our worldwide customer base. We have seen significant growth of our
Switchvox UC solutions because customers are looking for feature-rich,
affordable alternatives for their business phone systems."
CALL TO ACTION
For more information on how Alliance Infotech can help your business
improve its business communications, contact us for a free demo or
consultation. Learn more about our capabilities at www.alliance-infotech.com
or call +91 11 40517700.
About Alliance
Alliance Infotech is an ISO 9001:2008 certified Global IT Company and a leading provider of
enterprise grade computer telephony components and e-business infrastructure software and
a regular supplier of the critical building blocks to serve the converging Internet and
Telecommunication market segments.
About Digium
Digium®, Inc. provides Asterisk® software, telephony hardware and Switchvox business
phone systems that deliver enterprise-class Unified Communications (UC) at an affordable
price. Digium is the creator, primary developer and sponsor of the Asterisk project, the world's
most widely used open source communications software. Asterisk turns an ordinary computer
into a feature-rich communications server. A community of more than 80,000 developers and
users worldwide uses Asterisk to create VoIP communication solutions in more than 170
countries. Since 1999, Digium has empowered developers to create innovative
communications solutions based on open standards and open source software, providing an
alternative to proprietary phone systems. Digium's business communications products are
sold through a worldwide network of reseller partners. More information is available at
http://www.digium.com and http://www.asterisk.org.