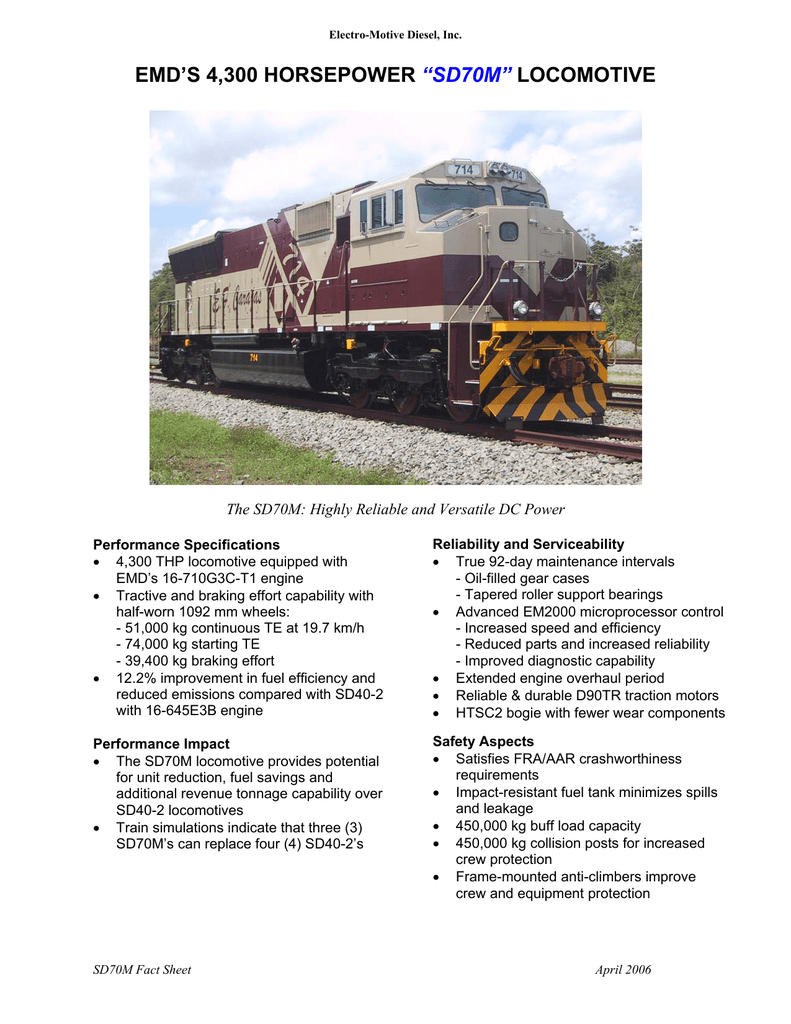 Electro-Motive Diesel, Inc.
EMD'S 4,300 HORSEPOWER "SD70M" LOCOMOTIVE
The SD70M: Highly Reliable and Versatile DC Power
Performance Specifications
• 4,300 THP locomotive equipped with
EMD's 16-710G3C-T1 engine
• Tractive and braking effort capability with
half-worn 1092 mm wheels:
- 51,000 kg continuous TE at 19.7 km/h
- 74,000 kg starting TE
- 39,400 kg braking effort
• 12.2% improvement in fuel efficiency and
reduced emissions compared with SD40-2
with 16-645E3B engine
Reliability and Serviceability
• True 92-day maintenance intervals
- Oil-filled gear cases
- Tapered roller support bearings
• Advanced EM2000 microprocessor control
- Increased speed and efficiency
- Reduced parts and increased reliability
- Improved diagnostic capability
• Extended engine overhaul period
• Reliable & durable D90TR traction motors
• HTSC2 bogie with fewer wear components
Performance Impact
• The SD70M locomotive provides potential
for unit reduction, fuel savings and
additional revenue tonnage capability over
SD40-2 locomotives
• Train simulations indicate that three (3)
SD70M's can replace four (4) SD40-2's
Safety Aspects
• Satisfies FRA/AAR crashworthiness
requirements
• Impact-resistant fuel tank minimizes spills
and leakage
• 450,000 kg buff load capacity
• 450,000 kg collision posts for increased
crew protection
• Frame-mounted anti-climbers improve
crew and equipment protection
SD70M Fact Sheet
April 2006
Electro-Motive Diesel, Inc.
EMD'S 4,300 HORSEPOWER "SD70M" LOCOMOTIVE
The "SD70M" General Outline: Basic Locomotive Features
BASIC FEATURES
Specifications
• Total weight on rails: 180,000 kg
• Height (top of rail to top of cooling fan):
4.76 meters
• Overall length: 22.05 meters
• Fuel capacity: 18,500 liters
• Lube oil capacity: 1,650 liters
• Cooling water capacity: 1,045 liters
HTSC2 Bogie
• 1,600 mm gauge bolsterless bogie
• Higher speed stability
• Reduced component wear extends bogie
overhaul intervals
• Enhanced adhesion over conventional 3axle trucks
• Optional HTCR bogie in 1,435 mm gauge
Engine
• 16-710G3C-T1
• High efficiency turbocharger
• Reduced emissions
EM2000 Advanced Computer
• Utilizes 32-bit microprocessor
• Reduction in modules and components
compared to 60-Series and Dash-2
• Improved reliability and performance
• Information can be downloaded to a laptop
computer
• Flexible and expandable to accommodate
future system enhancements
DC Traction Technology
• AR20/CA7 generator/alternator
• D90TR traction motors
- Seal tapered roller bearings
- D100 armature
- Oil-filled gear cases
- Eliminates wick lubricators
- Provisioned for speed sensor
• Traction motor management system
- Protects traction motors from abuse
Air System
• Integrated Knorr CCB-II single MU pipe air
brake system
• Direct-drive air compressor
SD70M Fact Sheet
Impact-Resistant Fuel Tank
• Increased tank skin thickness
• Redesigned end sheets to reduce peeling
potential in collisions
• Redesigned structure for increased tank
strength
• Optional electronic fuel gauge
April 2006
Electro-Motive Diesel, Inc.
EMD'S 4,300 HORSEPOWER "SD70M" LOCOMOTIVE
Cab Arrangement with Modified AAR Style Control Stand
BASIC AND OPTIONAL FEATURES
Cab Features
• Two (2) seat crew arrangement
• Air conditioning
• Air-operated windshield wipers
• Desk-style control console
Optional Crew Amenities
• Various cab seat selections
• Refrigerator/water cooler
• Toilet applications
• Cab appurtenances
• 115 volt AC electrical outlet
Other Optional Components
• Integrated distributed power
• Maximum life power assemblies
SD70M Fact Sheet
April 2006
For Further Information Contact
Electro-Motive Inquiry Group
Telephone: +1 (708) 387-5853
Fax: +1 (708) 387-5239
or
Visit our website
www.emdiesels.com
Important: A Word About This Brochure
EMD reserves the right to make changes to the
features and specifications noted within, at any time without notice.
_________
2006 Electro-Motive Diesel, Inc. All rights reserved. Neither this brochure, nor any part thereof,
may be printed without the express written consent of Electro-Motive Diesel, Inc.