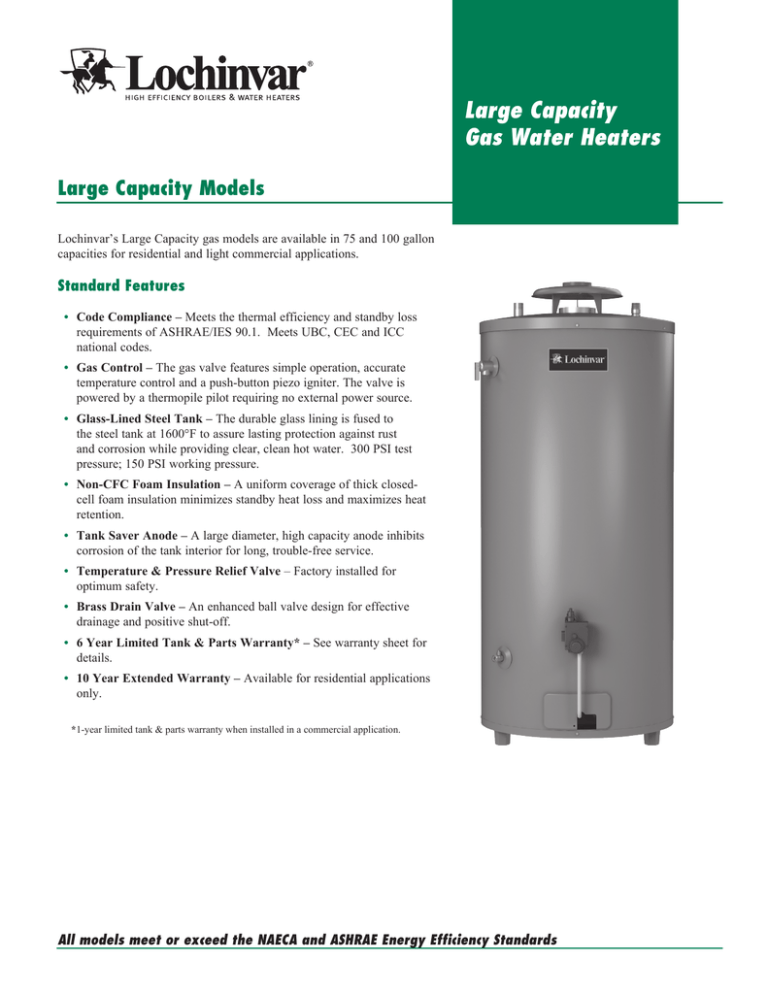 Large Capacity
Gas Water Heaters
Large Capacity Models
Lochinvar's Large Capacity gas models are available in 75 and 100 gallon
capacities for residential and light commercial applications.
Standard Features
• Code Compliance – Meets the thermal efficiency and standby loss
requirements of ASHRAE/IES 90.1. Meets UBC, CEC and ICC
national codes.
• Gas Control – The gas valve features simple operation, accurate
temperature control and a push-button piezo igniter. The valve is
powered by a thermopile pilot requiring no external power source.
• Glass-Lined Steel Tank – The durable glass lining is fused to
the steel tank at 1600°F to assure lasting protection against rust
and corrosion while providing clear, clean hot water. 300 PSI test
pressure; 150 PSI working pressure.
• Non-CFC Foam Insulation – A uniform coverage of thick closedcell foam insulation minimizes standby heat loss and maximizes heat
retention.
• Tank Saver Anode – A large diameter, high capacity anode inhibits
corrosion of the tank interior for long, trouble-free service.
• Temperature & Pressure Relief Valve – Factory installed for
optimum safety.
• Brass Drain Valve – An enhanced ball valve design for effective
drainage and positive shut-off.
• 6 Year Limited Tank & Parts Warranty* – See warranty sheet for
details.
• 10 Year Extended Warranty – Available for residential applications
only.
*1-year limited tank & parts warranty when installed in a commercial application.
All models meet or exceed the NAECA and ASHRAE Energy Efficiency Standards
Dimensions and Specifications:
TOP VIEW
F
FOR EASE IN ORDERING
BY MODEL NUMBER
T&P
VALVE
L
C
COLD
CONNECTION
HOT
CONNECTION
N
075 75
te
t Ra
Inpu
city
apa
on C
Gall
as
ral G
Natu
D
A
Tall
Gas
tial
den
Resi
B
T
This is a tall residential
natural gas 75 gallon
water heater with 75,100
Btu/Hr input rate.
HOT
E
FRONT VIEW
Nat. Gas LP Gas
ModelGal. Btu/HrBtu/Hr GPH @
Gas
Water
Vent
Ship.
Number Cap. InputInput 90°F Rise A
B
C
D
E
F Conn. Conn. Size
Wt.
Large Capacity Models
LTN075 75*
74
75,100 75,100
81
61"
26-1/2" 58-1/2" 50-1/4" 15-1/4"
16" 1/2"
1"
4"
275
LTN100 75
98
75,100 75,100
81
68-1/2" 27-3/4" 66-1/2" 57-1/2" 15-1/4"
16" 1/2"
1-1/4" 4"
350
Notes: In the model number, "N" indicates Natural gas; replace "N" with "L" to indicate L.P. gas models.
In the model number, change "L" to "X" for 10-year tank and 6-year parts warranty.
* Optional Side Tappings are available on the LTN07575 models only. Add "ST" to the end of the model number (Ex: LTN07575ST).
Certified for Potable Water and Space Heating Applications
This water heater is suitable for water heating and space
heating. Toxic chemicals, such as those used for boiler water
treatment shall NEVER be introduced into this system. This
water heater may NEVER be connected to any existing heating
system or components previously used with non-potable water
heating appliances.
Lochinvar, LLC
300 Maddox Simpson Parkway
Lebanon, Tennessee 37090
P: 615.889.8900 / F: 615.547.1000
Lochinvar.com
RLC-01
(New)
PDP-5M-5/15–Printed in U.S.A.