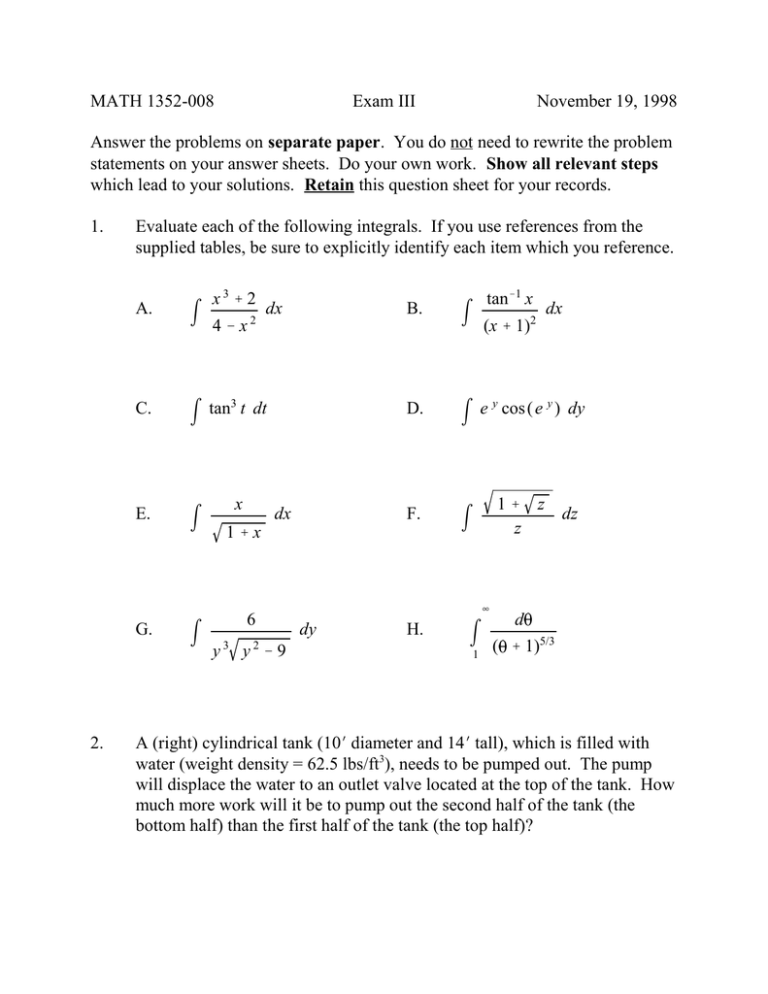 MATH 1352-008
Exam III
November 19, 1998
Answer the problems on separate paper. You do not need to rewrite the problem
statements on your answer sheets. Do your own work. Show all relevant steps
which lead to your solutions. Retain this question sheet for your records.
1.
Evaluate each of the following integrals. If you use references from the
supplied tables, be sure to explicitly identify each item which you reference.
m 4 & x2
C.
m
E.
G.
2.
x3 % 2
A.
tan3 t dt
x
m
dx
1%x
dx
6
m
y3 y2 & 9
tan&1 x
B.
m (x % 1)2
D.
m
F.
e y cos ( e y ) dy
1% z
dz
z
m
4
dy
H.
dx
d
m ( % 1)5/3
1
A (right) cylindrical tank (10N diameter and 14N tall), which is filled with
water (weight density = 62.5 lbs/ft3), needs to be pumped out. The pump
will displace the water to an outlet valve located at the top of the tank. How
much more work will it be to pump out the second half of the tank (the
bottom half) than the first half of the tank (the top half)?