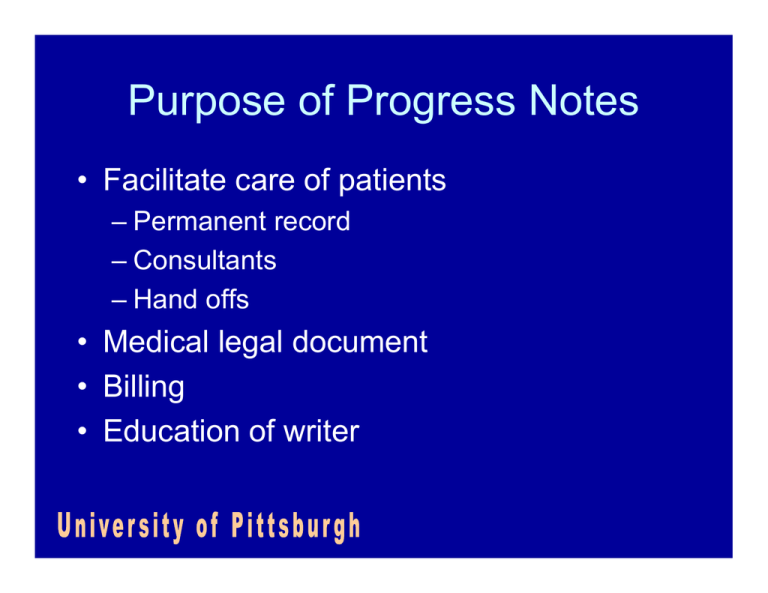 Purpose of Progress Notes
• Facilitate care of patients
– Permanent record
– Consultants
– Hand offs
• Medical legal document
• Billing
• Education of writer
Progress Notes - Issues
•
•
•
•
•
How long?
Meds?
Lab?
X-Rays?
When to be written?
Progress Note
• Summary statement
Progress Notes
• Summary statement
– Can be cut and pasted forward
– Significant updates and corrections
Progress Note
• Subjective
– Update of admission symptoms
– New symptoms or problem
• Objective
– Updated & directed physical exam
Impression and Plan
•
•
•
•
Don't repeat the summary statement
Problem based
List each problem separately
Most important problem should be first
Impression and Plan
• Each problem should include some
discussion
– Include synthesis of lab data and test results
– Consultant's recommendations
– Include your THINKING – WHY
Impression and Plan
• Should be NEW and UPDATED every day
• Most important part of the note
• Not necessary to include all stable
problems
• Disposition and prophylaxis always good
to include to keep you on track
Impression and Plan
•
•
•
•
•
Identify your plans
Be specific
Avoid "to consider"
Use if/then statements instead
Each problem should have a separate
plan
Impression and Plan
• Use your plan to communicate what you
need to know
• What questions do you need your
consultants to answer?
• What are you troubled by?
• Should be a working document!
Summary
• A good progress note is:
– Focused
– Targeted
– Well organized
– Specific
– Updated daily
– Has a plan
– User friendly!