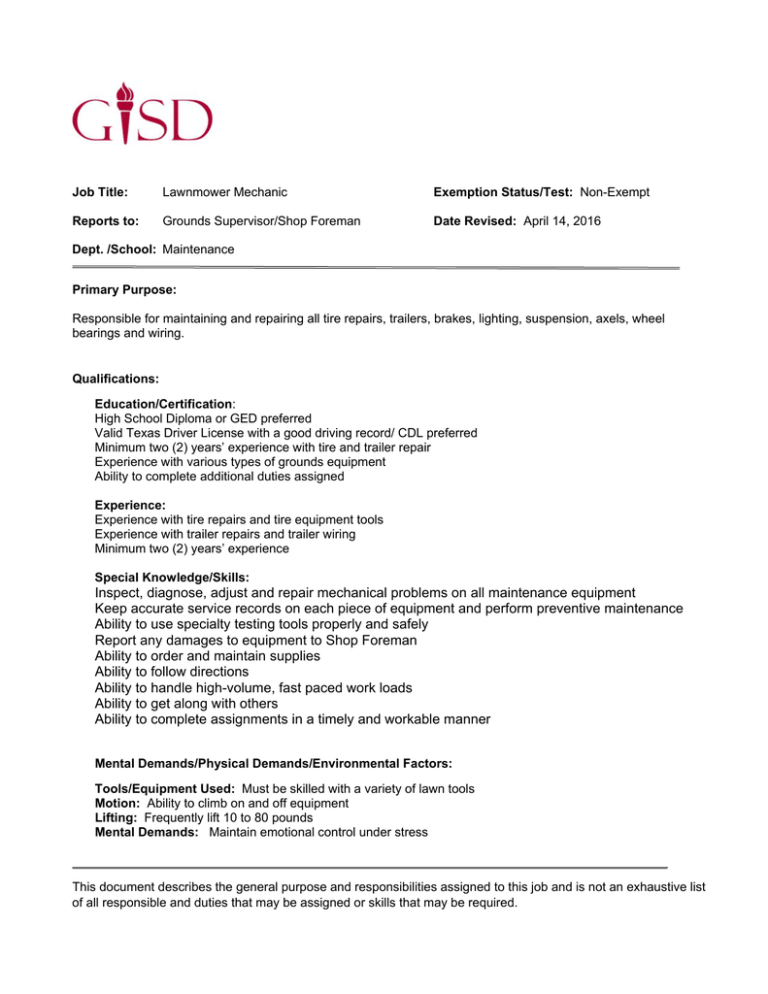 Job Title:
Lawnmower Mechanic
Exemption Status/Test: Non-Exempt
Reports to:
Grounds Supervisor/Shop Foreman
Date Revised: April 14, 2016
Dept. /School: Maintenance Primary Purpose:
Responsible for maintaining and repairing all tire repairs, trailers, brakes, lighting, suspension, axels, wheel
bearings and wiring.
Qualifications:
Education/Certification:
High School Diploma or GED preferred
Valid Texas Driver License with a good driving record/ CDL preferred
Minimum two (2) years' experience with tire and trailer repair
Experience with various types of grounds equipment
Ability to complete additional duties assigned
Experience:
Experience with tire repairs and tire equipment tools
Experience with trailer repairs and trailer wiring
Minimum two (2) years' experience
Special Knowledge/Skills:
Inspect, diagnose, adjust and repair mechanical problems on all maintenance equipment
Keep accurate service records on each piece of equipment and perform preventive maintenance
Ability to use specialty testing tools properly and safely
Report any damages to equipment to Shop Foreman
Ability to order and maintain supplies
Ability to follow directions
Ability to handle high-volume, fast paced work loads
Ability to get along with others
Ability to complete assignments in a timely and workable manner
Mental Demands/Physical Demands/Environmental Factors:
Tools/Equipment Used: Must be skilled with a variety of lawn tools
Motion: Ability to climb on and off equipment
Lifting: Frequently lift 10 to 80 pounds
Mental Demands: Maintain emotional control under stress
This document describes the general purpose and responsibilities assigned to this job and is not an exhaustive list
of all responsible and duties that may be assigned or skills that may be required.