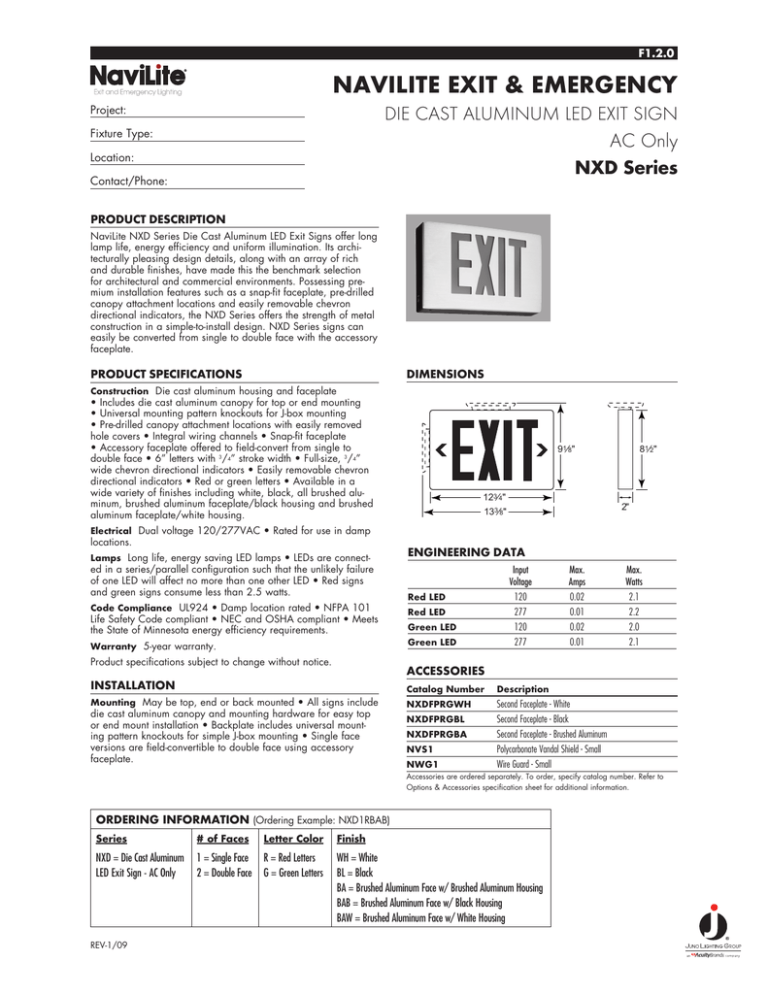 F1.2.0
NAVILITE EXIT & EMERGENCY
Project:
DIE CAST ALUMINUM LED EXIT SIGN
AC Only
NXD Series
Fixture Type:
Location:
Contact/Phone:
PRODUCT DESCRIPTION
NaviLite NXD Series Die Cast Aluminum LED Exit Signs offer long
lamp life, energy efficiency and uniform illumination. Its architecturally pleasing design details, along with an array of rich
and durable finishes, have made this the benchmark selection
for architectural and commercial environments. Possessing premium installation features such as a snap-fit faceplate, pre-drilled
canopy attachment locations and easily removable chevron
directional indicators, the NXD Series offers the strength of metal
construction in a simple-to-install design. NXD Series signs can
easily be converted from single to double face with the accessory
faceplate.
DIMENSIONS
PRODUCT SPECIFICATIONS
Construction Die cast aluminum housing and faceplate
• Includes die cast aluminum canopy for top or end mounting
• Universal mounting pattern knockouts for J-box mounting
• Pre-drilled canopy attachment locations with easily removed
hole covers • Integral wiring channels • Snap-fit faceplate
• Accessory faceplate offered to field-convert from single to
double face • 6" letters with 3/4" stroke width • Full-size, 3/4"
wide chevron directional indicators • Easily removable chevron
directional indicators • Red or green letters • Available in a
wide variety of finishes including white, black, all brushed aluminum, brushed aluminum faceplate/black housing and brushed
aluminum faceplate/white housing.
Electrical Dual voltage 120/277VAC • Rated for use in damp
locations.
Lamps Long life, energy saving LED lamps • LEDs are connected in a series/parallel configuration such that the unlikely failure
of one LED will affect no more than one other LED • Red signs
and green signs consume less than 2.5 watts.
Code Compliance UL924 • Damp location rated • NFPA 101
Life Safety Code compliant • NEC and OSHA compliant • Meets
the State of Minnesota energy efficiency requirements.
Warranty 5-year warranty.
Product specifications subject to change without notice.
81⁄2"
91⁄8"
123⁄4"
133⁄8"
2"
ENGINEERING DATA
Input
Max.
Max.
Voltage
Amps
Watts
Red LED120
0.022.1
Red LED277
0.012.2
Green LED
1200.02 2.0
Green LED
2770.01 2.1
ACCESSORIES
INSTALLATION
Mounting May be top, end or back mounted • All signs include
die cast aluminum canopy and mounting hardware for easy top
or end mount installation • Backplate includes universal mounting pattern knockouts for simple J-box mounting • Single face
versions are field-convertible to double face using accessory
faceplate.
Catalog Number
NXDFPRGWH
NXDFPRGBL
NXDFPRGBA
NVS1
NWG1
Description
Second Faceplate - White
Second Faceplate - Black
Second Faceplate - Brushed Aluminum
Polycarbonate Vandal Shield - Small
Wire Guard - Small
Accessories are ordered separately. To order, specify catalog number. Refer to
Options & Accessories specification sheet for additional information.
ORDERING INFORMATION (Ordering Example: NXD1RBAB)
Series
# of Faces
Letter Color
Finish
NXD = Die Cast Aluminum
LED Exit Sign - AC Only
1 = Single Face
2 = Double Face
R = Red Letters
G = Green Letters
WH = White
BL = Black
BA = Brushed Aluminum Face w/ Brushed Aluminum Housing
BAB = Brushed Aluminum Face w/ Black Housing
BAW = Brushed Aluminum Face w/ White Housing
REV-1/09
THIS SIDE INTENTIONALLY LEFT BLANK
1300 S. Wolf Road • Des Plaines, IL 60018 • Phone (847) 827-9880 • Fax (847) 827-2925
220 Chrysler Drive • Brampton, Ontario • Canada L6S 6B6 • Phone (905) 792-7335 • Fax (905) 792-0064
Visit us at www.junolightinggroup.com
Printed in U.S.A. ©2016 Acuity Brands Lighting, Inc.