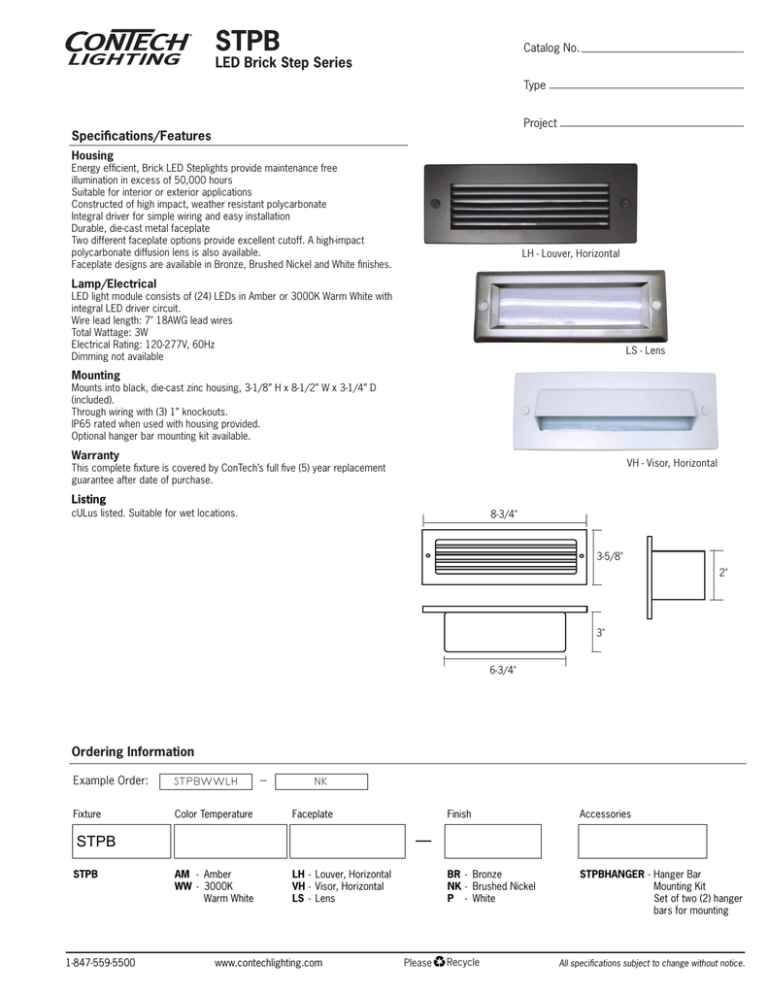 STPB
Catalog No.
LED Brick Step Series
Type
Project
Specifications/Features
Housing
Energy efficient, Brick LED Steplights provide maintenance free
illumination in excess of 50,000 hours
Suitable for interior or exterior applications
Constructed of high impact, weather resistant polycarbonate
Integral driver for simple wiring and easy installation
Durable, die-cast metal faceplate
Two different faceplate options provide excellent cutoff. A high-impact
polycarbonate diffusion lens is also available.
Faceplate designs are available in Bronze, Brushed Nickel and White finishes.
LH - Louver, Horizontal
Lamp/Electrical
LED light module consists of (24) LEDs in Amber or 3000K Warm White with
integral LED driver circuit.
Wire lead length: 7" 18AWG lead wires
Total Wattage: 3W
Electrical Rating: 120-277V, 60Hz
Dimming not available
LS - Lens
Mounting
Mounts into black, die-cast zinc housing, 3-1/8" H x 8-1/2" W x 3-1/4" D
(included).
Through wiring with (3) 1" knockouts.
IP65 rated when used with housing provided.
Optional hanger bar mounting kit available.
Warranty
VH - Visor, Horizontal
This complete fixture is covered by ConTech's full five (5) year replacement
guarantee after date of purchase.
Listing
cULus listed. Suitable for wet locations.
8-3/4"
3-5/8"
2"
3"
6-3/4"
Ordering Information
Example Order:
STPBWWLH
Fixture
Color Temperature
Faceplate
Finish
Accessories
AM - Amber
WW - 3000K
Warm White
LH - Louver, Horizontal
VH - Visor, Horizontal
LS - Lens
BR - Bronze
NK - Brushed Nickel
P - White
STPBHANGER - Hanger Bar
Mounting Kit
Set of two (2) hanger
bars for mounting
NK
STPB
STPB
1-847-559-5500
www.contechlighting.com
Please
Recycle
All specifications subject to change without notice.