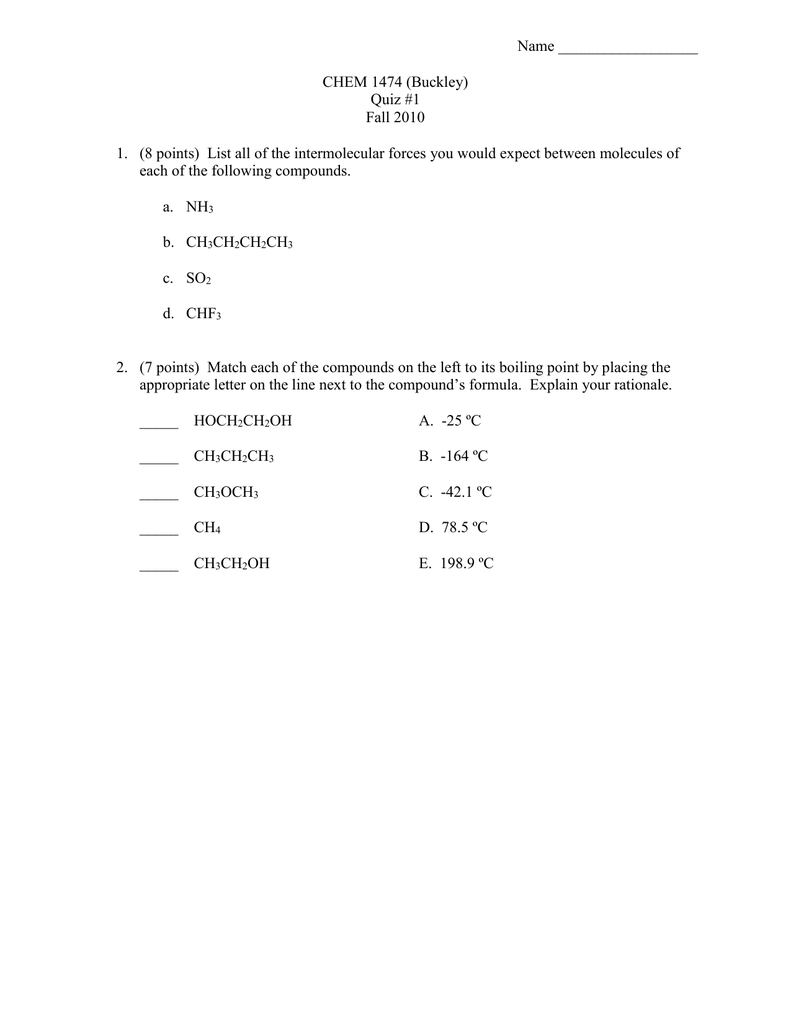 Name __________________
CHEM 1474 (Buckley)
Quiz #1
Fall 2010
1. (8 points) List all of the intermolecular forces you would expect between molecules of
each of the following compounds.
a. NH3
b. CH3CH2CH2CH3
c. SO2
d. CHF3
2. (7 points) Match each of the compounds on the left to its boiling point by placing the
appropriate letter on the line next to the compound's formula. Explain your rationale.
_____
HOCH2CH2OH
A. -25 ºC
_____
CH3CH2CH3
B. -164 ºC
_____
CH3OCH3
C. -42.1 ºC
_____
CH4
D. 78.5 ºC
_____
CH3CH2OH
E. 198.9 ºC
3. (6 points) Consider the following phase diagram.
A
B
C
D
a. State the phases that exist at points A, B, C, and D in the above diagram.
b. Describe the changes that would be expected as the system at A is brought to
point B, then to point C, and then to point D.
4. (4 points) Aluminum crystallizes in a face-centered cubic unit cell. The length of an
edge of the cell is 4.045 Å (1 Å = 10-10 m). Take the atomic mass of Al as 27 amu.
1 amu = 1.6606 × 10-24 g.
a. What is the volume of the cell in cubic centimeters?
b. How many aluminum atoms are in the unit cell?
c. What is the density of aluminum in g/cc?