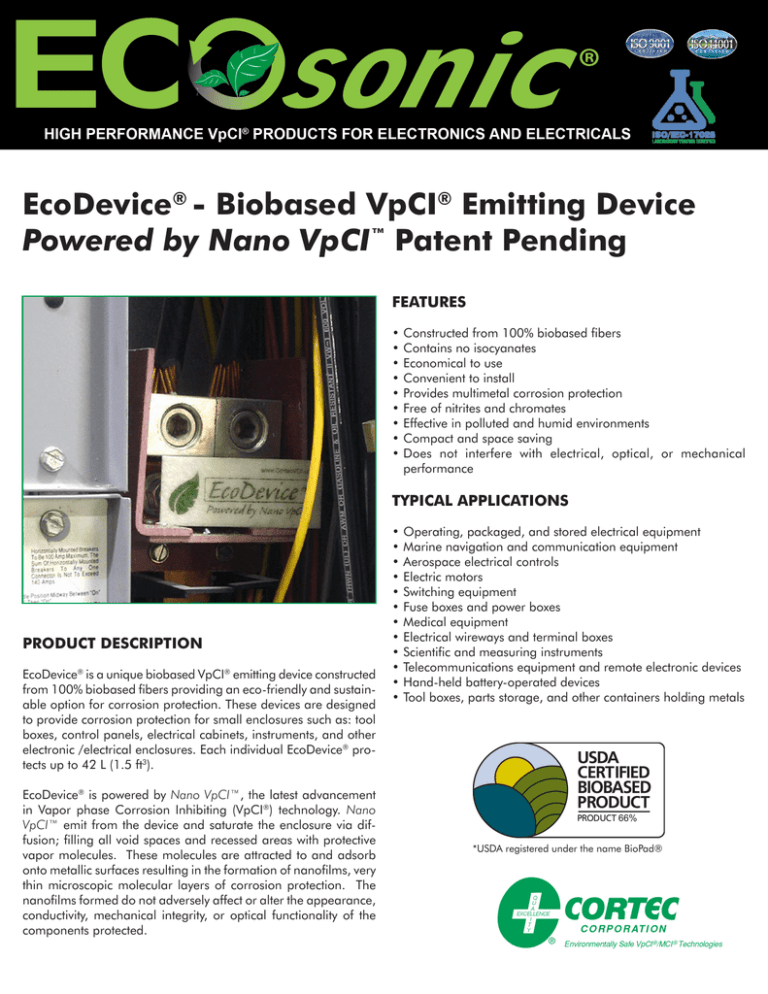 EcoDevice® - Biobased VpCI® Emitting Device
Powered by Nano VpCI™ Patent Pending
FEATURES
•Constructed from 100% biobased fibers
•Contains no isocyanates
•Economical to use
•Convenient to install
•Provides multimetal corrosion protection
•Free of nitrites and chromates
•Effective in polluted and humid environments
•Compact and space saving
•Does not interfere with electrical, optical, or mechanical
performance
TYPICAL APPLICATIONS
PRODUCT DESCRIPTION
EcoDevice® is a unique biobased VpCI® emitting device constructed
from 100% biobased fibers providing an eco-friendly and sustainable option for corrosion protection. These devices are designed
to provide corrosion protection for small enclosures such as: tool
boxes, control panels, electrical cabinets, instruments, and other
electronic /electrical enclosures. Each individual EcoDevice® protects up to 42 L (1.5 ft3).
EcoDevice® is powered by Nano VpCI™, the latest advancement
in Vapor phase Corrosion Inhibiting (VpCI®) technology. Nano
VpCI™ emit from the device and saturate the enclosure via diffusion; filling all void spaces and recessed areas with protective
vapor molecules. These molecules are attracted to and adsorb
onto metallic surfaces resulting in the formation of nanofilms, very
thin microscopic molecular layers of corrosion protection. The
nanofilms formed do not adversely affect or alter the appearance,
conductivity, mechanical integrity, or optical functionality of the
components protected.
•Operating, packaged, and stored electrical equipment
•Marine navigation and communication equipment
•Aerospace electrical controls
•Electric motors
•Switching equipment
•Fuse boxes and power boxes
•Medical equipment
•Electrical wireways and terminal boxes
•Scientific and measuring instruments
•Telecommunications equipment and remote electronic devices
•Hand-held battery-operated devices
•Tool boxes, parts storage, and other containers holding metals
*USDA registered under the name BioPad®
METHOD OF APPLICATION
EcoDevice® is simple and easy to install. The device should be
installed as early as possible, preferably during manufacturing
or assembly, to avoid the onset of corrosion. Simply select a
space within any enclosure where corrosion protection would
be beneficial. Verify that the surface on which the device will be
installed is clean and free of debris. Peel off the release liner from
the back of the device and affix it to the clean surface. For volumes
greater than 42 L (1.5 ft3) use more than one device or consult a
Cortec® representative for product recommendation. Each device
will provide corrosion protection up to 2 years from installation;
however, if the enclosure is not airtight or if the access doors are
opened frequently, replace the EcoDevice® more often
SPECIFICATIONS
Appearance: Off-white nonwoven device with adhesive backing
Standard size: 7.62 cm x 3.175 cm (3" x 1.25")
Packaging:
50 individually wrapped devices per carton
Protection:
42 L (1.5 ft3) per device
FOR INDUSTRIAL USE ONLY
KEEP OUT OF REACH OF CHILDREN
KEEP CONTAINER TIGHTLY CLOSED
NOT FOR INTERNAL CONSUMPTION
CONSULT SAFETY DATA SHEET FOR MORE
INFORMATION
LIMITED WARRANTY
All statements, technical information and recommendations contained herein are based on tests Cortec® Corporation
believes to be reliable, but the accuracy or completeness thereof is not guaranteed.
Cortec® Corporation warrants Cortec® products will be free from defects when shipped to customer. Cortec® Corporation's obligation under this warranty shall be limited to replacement of product that proves to be defective. To obtain
replacement product under this warranty, the customer must notify Cortec® Corporation of the claimed defect within six
months after shipment of product to customer. All freight charges for replacement products shall be paid by customer.
Cortec® Corporation shall have no liability for any injury, loss or damage arising out of the use of or the inability to
use the products.
BEFORE USING, USER SHALL DETERMINE THE SUITABILITY OF THE PRODUCT FOR ITS INTENDED USE,
AND USER ASSUMES ALL RISK AND LIABILITY WHATSOEVER IN CONNECTION THEREWITH. No representation
or recommendation not contained herein shall have any force or effect unless in a written document signed by an
officer of Cortec® Corporation.
THE FOREGOING WARRANTY IS EXCLUSIVE AND IN LIEU OF ALL OTHER WARRANTIES, EXPRESS, IMPLIED
OR STATUTORY, INCLUDING WITHOUT LIMITATION ANY IMPLIED WARRANTY OF MERCHANTABILITY OR
OF FITNESS FOR A PARTICULAR PURPOSE. IN NO CASE SHALL CORTEC® CORPORATION BE LIABLE FOR
INCIDENTAL OR CONSEQUENTIAL DAMAGES.
Distributed by:
Q
U
A
EXCELLENCE
I
T
Y
®
C O R P O R AT I O N
Environmentally Safe VpCI ®/MCI ® Technologies
4119 White Bear Parkway, St. Paul, MN 55110 USA
Phone (651) 429-1100, Fax (651) 429-1122
Toll Free (800) 4-CORTEC, E-mail info@cortecvci.com
Internet http://www.cortecvci.com
Printed on recycled paper
100% post consumer
Revised: 02/23/16. Supersedes: 01/15/16 ©Cortec Corporation 2002-2013 of Cortec Corporation.
All Rights Reserved. Copying of these materials in any form without the writted authorization of Cortec Corporation is strictly
prohibited. 2013, ©Cortec Corp. ISO accreditation applies to Cortec's processes only.