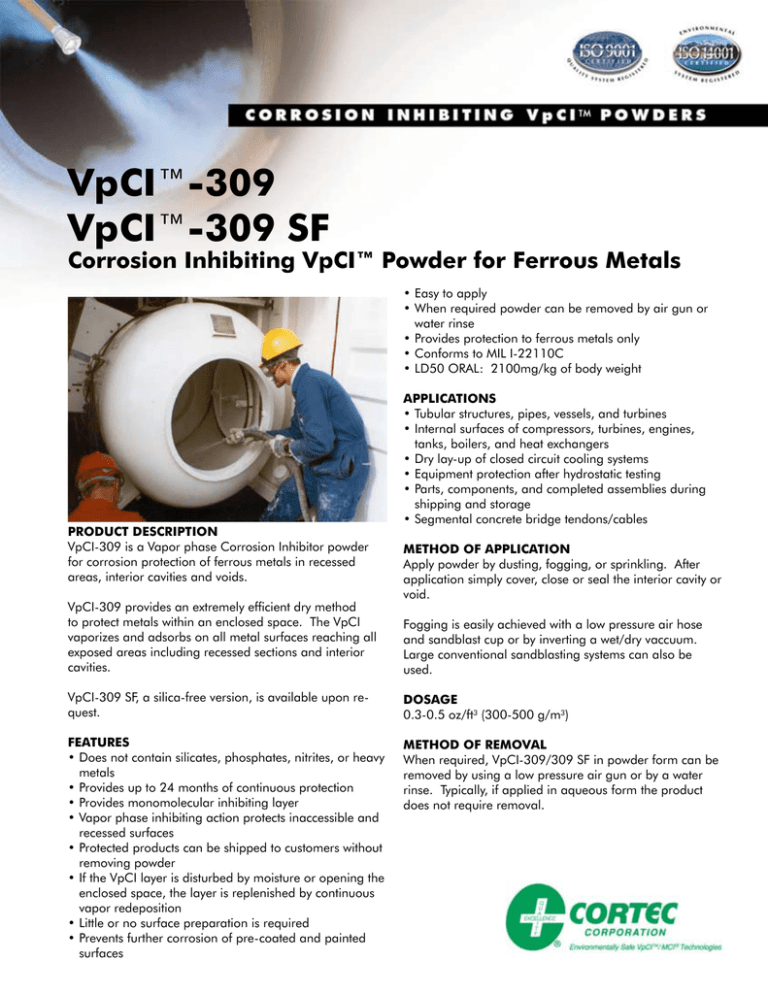 VpCI™-309
VpCI™-309 SF
Corrosion Inhibiting VpCI™ Powder for Ferrous Metals
•Easy to apply
•When required powder can be removed by air gun or
water rinse
•Provides protection to ferrous metals only
•Conforms to MIL I-22110C
•LD50 ORAL: 2100mg/kg of body weight
Product Description
VpCI-309 is a Vapor phase Corrosion Inhibitor powder
for corrosion protection of ferrous metals in recessed
areas, interior cavities and voids.
VpCI-309 provides an extremely efficient dry method
to protect metals within an enclosed space. The VpCI
vaporizes and adsorbs on all metal surfaces reaching all
exposed areas including recessed sections and interior
cavities.
APPLICATIONS
•Tubular structures, pipes, vessels, and turbines
•Internal surfaces of compressors, turbines, engines,
tanks, boilers, and heat exchangers
•Dry lay-up of closed circuit cooling systems
•Equipment protection after hydrostatic testing
•Parts, components, and completed assemblies during
shipping and storage
•Segmental concrete bridge tendons/cables
METHOD OF APPLICATION
Apply powder by dusting, fogging, or sprinkling. After
application simply cover, close or seal the interior cavity or
void.
Fogging is easily achieved with a low pressure air hose
and sandblast cup or by inverting a wet/dry vaccuum.
Large conventional sandblasting systems can also be
used.
VpCI-309 SF, a silica-free version, is available upon request.
DOSAGE
0.3-0.5 oz/ft3 (300-500 g/m3)
FEATURES
•Does not contain silicates, phosphates, nitrites, or heavy
metals
•Provides up to 24 months of continuous protection
•Provides monomolecular inhibiting layer
•Vapor phase inhibiting action protects inaccessible and
recessed surfaces
•Protected products can be shipped to customers without
removing powder
•If the VpCI layer is disturbed by moisture or opening the
enclosed space, the layer is replenished by continuous
vapor redeposition
•Little or no surface preparation is required
•Prevents further corrosion of pre-coated and painted
surfaces
METHOD OF REMOVAL
When required, VpCI-309/309 SF in powder form can be
removed by using a low pressure air gun or by a water
rinse. Typically, if applied in aqueous form the product
does not require removal.
PACKAGING AND STORAGE
VpCI-309 is available in 5 pound (2.3 kg), 50 pound
(23 kg), and 100 pound (45 kg) lined drums. Store in
a sealed container in a dry warehouse avoiding direct
exposure to sunlight, with temperature not exceeding
150°F (65°C). Shelf life is up to 24 months.
METALS PROTECTED
•Carbon steel
•Stainless steel
•Aluminum
• Powder is not soluble in hydrocarbon fluids. Rinse powder from vessels before adding hydrocarbon fluids.
TYPICAL PROPERTIES
VpCI-309
Appearance
White to off-white powder
pH
6.5-8 (1% aqueous)
Density
38-39 lb/ft3 (0.61-0.63 kg/L)
VpCI-309 SF
Appearance
pH
PRECAUTIONS
• Caking of powder may occur when it is exposed to
moisture and then dried. The likelihood of this is increased when powder is exposed to high heat and multiple wet/dry cycles. When powder gets caked, baked, and
hardened it requires removal by mechanical means or by
aggressive acid clean. To avoid caking of powder do not
over apply or unevenly disperse the dry powder.
• Powder should be removed from area; 5-10 inches each side of weld, before welding, or other high
temperature processing.
White to off-white powder
6.4-7.6 (1% aqueous)
FOR INDUSTRIAL USE ONLY
KEEP OUT OF REACH OF CHILDREN
KEEP CONTAINER TIGHTLY CLOSED
NOT FOR INTERNAL CONSUMPTION
CONSULT MATERIAL SAFETY DATA SHEET FOR MORE
INFORMATION
LIMITED WARRANTY
All statements, technical information and recommendations contained herein are based on tests Cortec Corporation
believes to be reliable, but the accuracy or completeness thereof is not guaranteed.
Cortec Corporation warrants Cortec® products will be free from defects when shipped to customer. Cortec
Corporation's obligation under this warranty shall be limited to replacement of product that proves to be defective.
To obtain replacement product under this warranty, the customer must notify Cortec Corporation of the claimed
defect within six months after shipment of product to customer. All freight charges for replacement products shall
be paid by customer.
Cortec Corporation shall have no liability for any injury, loss or damage arising out of the use of or the inability
to use the products.
BEFORE USING, USER SHALL DETERMINE THE SUITABILITY OF THE PRODUCT FOR ITS INTENDED
USE, AND USER ASSUMES ALL RISK AND LIABILITY WHATSOEVER IN CONNECTION THEREWITH. No
representation or recommendation not contained herein shall have any force or effect unless in a written document
signed by an officer of Cortec Corporation.
THE FOREGOING WARRANTY IS EXCLUSIVE AND IN LIEU OF ALL OTHER WARRANTIES, EXPRESS, IMPLIED
OR STATUTORY, INCLUDING WITHOUT LIMITATION ANY IMPLIED WARRANTY OF MERCHANTABILITY
OR OF FITNESS FOR A PARTICULAR PURPOSE. IN NO CASE SHALL CORTEC CORPORATION BE LIABLE
FOR INCIDENTAL OR CONSEQUENTIAL DAMAGES.
Distributed by:
™
4119 White Bear Parkway, St. Paul, MN 55110 USA
Phone (651) 429-1100, Fax (651) 429-1122
Toll Free (800) 4-CORTEC, E-mail info@cortecvci.com
Internet http://www.CortecVCI.com
printed on recycled paper
100% post consumer
Revised 4/8/08. Cortec Corporation 2001-2008. All rights reserved. Supersedes: 7/12/07.
VpCI™ is a trademark of Cortec Corporation.
© 2001-2008, Cortec Corporation. All Rights Reserved. Copying of these materials in any form
without the written authorization of Cortec Corporation is strictly prohibited.