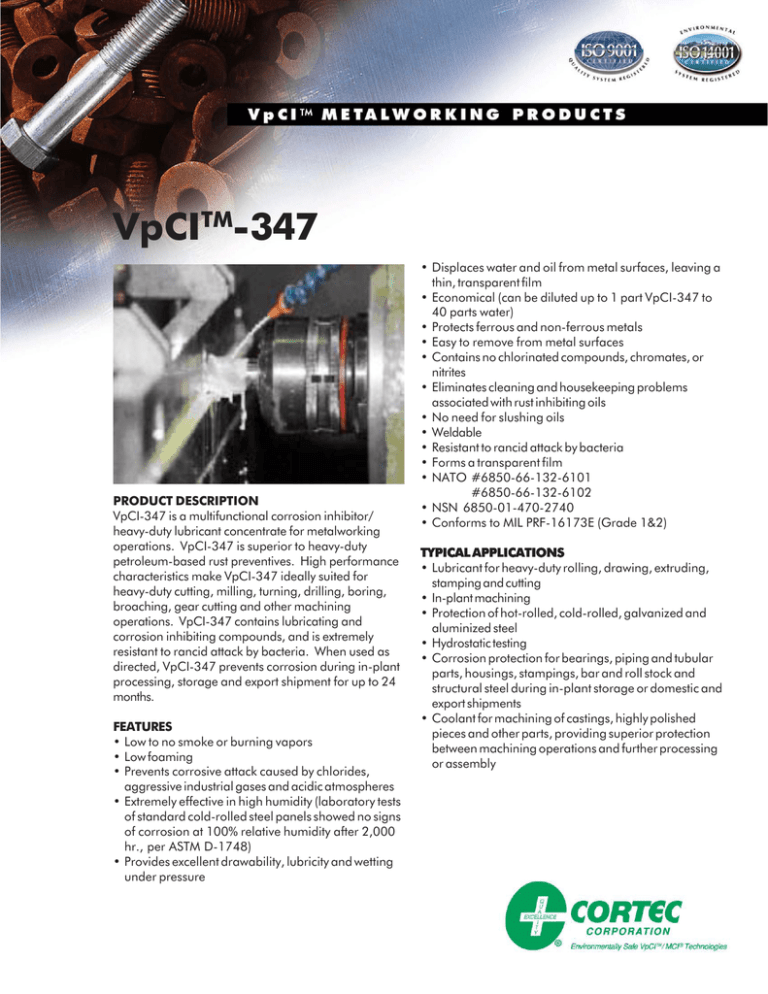 VpCITM-347
PRODUCT DESCRIPTION
VpCI-347 is a multifunctional corrosion inhibitor/
heavy-duty lubricant concentrate for metalworking
operations. VpCI-347 is superior to heavy-duty
petroleum-based rust preventives. High performance
characteristics make VpCI-347 ideally suited for
heavy-duty cutting, milling, turning, drilling, boring,
broaching, gear cutting and other machining
operations. VpCI-347 contains lubricating and
corrosion inhibiting compounds, and is extremely
resistant to rancid attack by bacteria. When used as
directed, VpCI-347 prevents corrosion during in-plant
processing, storage and export shipment for up to 24
months.
FEATURES
• Low to no smoke or burning vapors
• Low foaming
• Prevents corrosive attack caused by chlorides,
aggressive industrial gases and acidic atmospheres
• Extremely effective in high humidity (laboratory tests
of standard cold-rolled steel panels showed no signs
of corrosion at 100% relative humidity after 2,000
hr., per ASTM D-1748)
• Provides excellent drawability, lubricity and wetting
under pressure
• Displaces water and oil from metal surfaces, leaving a
thin, transparent film
• Economical (can be diluted up to 1 part VpCI-347 to
40 parts water)
• Protects ferrous and non-ferrous metals
• Easy to remove from metal surfaces
• Contains no chlorinated compounds, chromates, or
nitrites
• Eliminates cleaning and housekeeping problems
associated with rust inhibiting oils
• No need for slushing oils
• Weldable
• Resistant to rancid attack by bacteria
• Forms a transparent film
• NATO #6850-66-132-6101
#6850-66-132-6102
• NSN 6850-01-470-2740
• Conforms to MIL PRF-16173E (Grade 1&2)
TYPICAL APPLICATIONS
• Lubricant for heavy-duty rolling, drawing, extruding,
stamping and cutting
• In-plant machining
• Protection of hot-rolled, cold-rolled, galvanized and
aluminized steel
• Hydrostatic testing
• Corrosion protection for bearings, piping and tubular
parts, housings, stampings, bar and roll stock and
structural steel during in-plant storage or domestic and
export shipments
• Coolant for machining of castings, highly polished
pieces and other parts, providing superior protection
between machining operations and further processing
or assembly
METAL PROTECTED
• Carbon steel
• Cast iron
• Copper
Product cleanup:
Use soap and water to clean equipment.
• Aluminum
• Stainless steel
TYPICAL PROPERTIES
Appearance
Brown to tan viscous liquid
Corrosion Resistance Up to 24 months
Film Type
Non-drying
pH
10-11 (1% water)
Pour Point
21ºF (-6ºC)
Removal Methods
Alkaline cleaners (VpCI-410 series)
Viscosity
7,000-13,000 cps
Density
8.2-8.7 lb/gal (0.98-1.04 kg/l)
Non-volatile Content 93-95%
APPLICATION
Product Preparation:
Add VpCI-347 to water using a high dispersion mixing
blade. Mix for at least 5-10 minutes. VpCI-347 can be
mixed in this manner at higher concentrations (20-50%)
and then added into larger volumes of water.
Add VpCI347 to water as follows for:
VpCI-347
Short-term protection (1-6 months):
1 part concentrate to 20-40 parts water
Medium-term protection (6-12 months):
1 part concentrate to 15-20 parts water
Protection up to 2 years and/or lubricity:
1 part concentrate to 10-15 parts water
Shell 4-Ball E.P. Test (ASTM D-2783)
Cortec VpCI-347 in Tap Water
2.5%
5%
lb
kg
lb
Seizure
139
63
220
Weld
278
126
353
Load Wear Index 65
29
97
10%
lb
kg
278
126
353
160
88
40
Shell 4-Ball Wear Test (ASTM D-2266)
Cortec VpCI-347 in Tap Water
5%
2.5%
Average Coefficient of Friction
0.88
0.108
Average Scar Diameter (mm)
0.90
0.69
Tapping Torque Test
Cortec VpCI-347 in Tap Water
2.5%
5%
Torque
77.87
10.35
Torque (lb/kg)
42.73-19.4 10.35-4.7
% Efficient
106
121
Methods for monitoring solution:
Refractometer, pH
Recommended applicators and dilutions:
Grinding disks
1:40
Draw bench
1:30
Straight and cut
1:40
CNCs
1:30 to 1:40
kg
110
160
44
10%
10.20
36.83-16.7
122
10%
0.101
0.81
Reference
12.53
42.11-20.5
100
PACKAGING AND STORAGE
VpCI-347 is available in 5 gallon (19 liter) pails, 5 gallon
(208 liter) drums, liquid totes and bulk. The product
should be sealed and stored in a heated warehouse to
avoid freezing. VpCI-347 has a shelf life of 24 months.
FOR INDUSTRIAL USE ONLY
KEEP OUT OF REACH OF CHILDREN
KEEP CONTAINER TIGHTLY CLOSED
NOT FOR INTERNAL CONSUMPTION
CONSULT MATERIAL SAFETY DATA SHEET FOR MORE
INFORMATION
Minimum storage temperature: 32ºF (0ºC)
Maximum storage temperature: 120ºF (49ºC)
LIMITED WARRANTY
All statements, technical information and recommendations contained herein are based on tests Cortec
Corporation believes to be reliable, but the accuracy or completeness thereof is not guaranteed.
Cortec Corporation warrants Cortec® products will be free from defects when shipped to customer. Cortec
Corporation's obligation under this warranty shall be limited to replacement of product that proves to be
defective. To obtain replacement product under this warranty, the customer must notify Cortec
Corporation of the claimed defect within six months after shipment of product to customer. All freight
charges for replacement products shall be paid by customer.
Cortec Corporation shall have no liability for any injury, loss or damage arising out of the use of or the
inability to use the products.
BEFORE USING, USER SHALL DETERMINE THE SUITABILITY OF THE PRODUCT FOR
ITS INTENDED USE, AND USER ASSUMES ALL RISK AND LIABILITY WHATSOEVER IN
CONNECTION THEREWITH
THEREWITH. No representation or recommendation not contained herein shall have
any force or effect unless in a written document signed by an officer of Cortec Corporation.
THE FOREGOING WARRANTY IS EXCLUSIVE AND IN LIEU OF ALL OTHER WARRANTIES,
EXPRESS, IMPLIED OR STATUTORY, INCLUDING WITHOUT LIMITATION ANY IMPLIED
WARRANTY OF MERCHANTABILITY OR OF FITNESS FOR A PARTICULAR PURPOSE.
IN
NO
CASE
SHALL
CORTEC
CORPORATION
BE
LIABLE
FOR
INCIDENTAL
OR
CONSEQUENTIAL
DAMAGES.
Distributed by:
4119 White Bear Parkway, St. Paul, MN 55110 USA
Phone (651) 429-1100, Fax (651) 429-1122
Toll Free (800) 4-CORTEC, E-mail info@cortecvci.com
Internet http://www.cortecvci.com
printed on recycled paper
10% post consumer
Revised 7/20/05. Cortec Corporation 2000-2005. All rights reserved. Supersedes: 4/4/03.