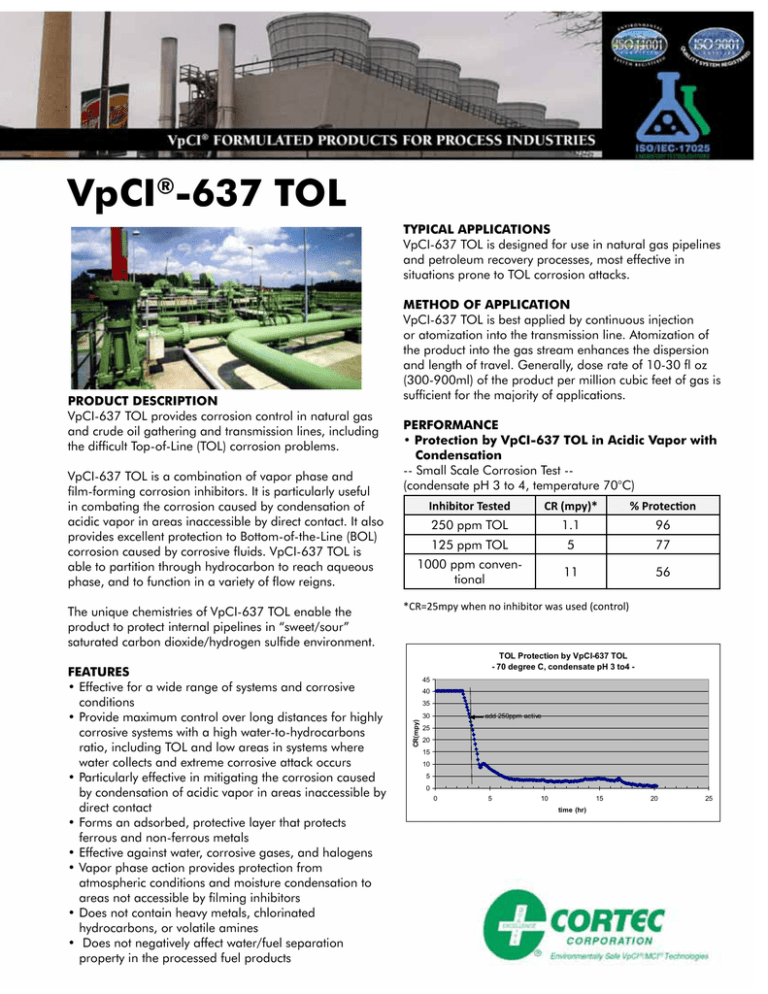 VpCI®-637 TOL
TYPICAL APPLICATIONS
VpCI-637 TOL is designed for use in natural gas pipelines
and petroleum recovery processes, most effective in
situations prone to TOL corrosion attacks.
VpCI-637 TOL is a combination of vapor phase and
film-forming corrosion inhibitors. It is particularly useful
in combating the corrosion caused by condensation of
acidic vapor in areas inaccessible by direct contact. It also
provides excellent protection to Bottom-of-the-Line (BOL)
corrosion caused by corrosive fluids. VpCI-637 TOL is
able to partition through hydrocarbon to reach aqueous
phase, and to function in a variety of flow reigns.
The unique chemistries of VpCI-637 TOL enable the
product to protect internal pipelines in "sweet/sour"
saturated carbon dioxide/hydrogen sulfide environment.
FEATURES
•Effective for a wide range of systems and corrosive
conditions
•Provide maximum control over long distances for highly
corrosive systems with a high water-to-hydrocarbons
ratio, including TOL and low areas in systems where
water collects and extreme corrosive attack occurs
•Particularly effective in mitigating the corrosion caused
by condensation of acidic vapor in areas inaccessible by
direct contact
•Forms an adsorbed, protective layer that protects
ferrous and non-ferrous metals
•Effective against water, corrosive gases, and halogens
•Vapor phase action provides protection from
atmospheric conditions and moisture condensation to
areas not accessible by filming inhibitors
•Does not contain heavy metals, chlorinated
hydrocarbons, or volatile amines
• Does not negatively affect water/fuel separation
property in the processed fuel products
PERFORMANCE
• Protection by VpCI-637 TOL in Acidic Vapor with
Condensation
-- Small Scale Corrosion Test -(condensate pH 3 to 4, temperature 70°C)
Inhibitor Tested
CR (mpy)*
% Protection
250 ppm TOL
1.1
96
125 ppm TOL
5
77
1000 ppm conventional
11
56
*CR=25mpy when no inhibitor was used (control)
TOL Protection by VpCI-637 TOL
- 70 degree C, condensate pH 3 to4 45
40
35
CR(mpy)
PRODUCT DESCRIPTION
VpCI-637 TOL provides corrosion control in natural gas
and crude oil gathering and transmission lines, including
the difficult Top-of-Line (TOL) corrosion problems.
METHOD OF APPLICATION
VpCI-637 TOL is best applied by continuous injection
or atomization into the transmission line. Atomization of
the product into the gas stream enhances the dispersion
and length of travel. Generally, dose rate of 10-30 fl oz
(300-900ml) of the product per million cubic feet of gas is
sufficient for the majority of applications.
add 250ppm active
30
25
20
15
10
5
0
0
5
10
15
time (hr)
20
25
• Protection by VpCI-637 TOL in Acidic Brine/Hydrocarbon
Test
CR
(mpy)
-Control-
CR(mpy)
-50ppm active
VpCI-637 TOL-
% Protection
Bubble Test**
130
4.4
97
Rotating Cylinder Electrode
Test**
(ASTM G 170)
130
14
89
Value
Working electrode
G10180 (SAE1018)
Test electrolyte
3.58% Synthetic Sea Salt in DI
+ 5% commercial diesel (wt)
Purging gas
CO2 @5x10-6 (m3/s)
pH of brine
4.5-5
Temperature
58°C
RPM of Cylinder Electrode (for RCE)
1000
Est. Liquid Reynolds number
(for RCE)
>10,000
Inhibitor, concentration
VpCI-637TOL 50ppm active
Corr. rate measurement
LPR, w/o inhibitor, and
20 h after inhibitor addition
Amber liquid
47-50%
8.3-8.8 (neat)
8.4-8.7 lb/gal
(1.01-1.04 kg/l)
-35°F (-37°C)
59 (ASTM D3948)
STORAGE/PACKAGING
VpCI-637 TOL is available in 5 gallon (19 liter)
containers, 55 gallon (208 liter) metal drums, liquid
totes, and bulk. Products should be stored in tightly
closed containers.
** Test Conditions
Parameters
TYPICAL PROPERTIES
Appearance
Non-Volitile Content pH
Density
Pour Point
Water/Fuel Seperation MSEP FOR INDUSTRIAL USE ONLY
KEEP OUT OF REACH OF CHILDREN
KEEP CONTAINER TIGHTLY CLOSED
NOT FOR INTERNAL CONSUMPTION
CONSULT SAFETY DATA SHEET FOR MORE INFORMATION
LIMITED WARRANTY
All statements, technical information and recommendations contained herein are based on tests Cortec Corporation believes
to be reliable, but the accuracy or completeness thereof is not guaranteed.
Cortec Corporation warrants Cortec products will be free from defects when shipped to customer. Cortec Corporation's
obligation under this warranty shall be limited to replacement of product that proves to be defective. To obtain replacement
product under this warranty, the customer must notify Cortec Corporation of the claimed defect within six months after
shipment of product to customer. All freight charges for replacement products shall be paid by customer.
®
BEFORE USING, USER SHALL DETERMINE THE SUITABILITY OF THE PRODUCT FOR ITS INTENDED USE, AND USER ASSUMES
ALL RISK AND LIABILITY WHATSOEVER IN CONNECTION THEREWITH. No representation or recommendation not contained
herein shall have any force or effect unless in a written document signed by an officer of Cortec Corporation.
THE FOREGOING WARRANTY IS EXCLUSIVE AND IN LIEU OF ALL OTHER WARRANTIES, EXPRESS, IMPLIED OR STATUTORY,
INCLUDING WITHOUT LIMITATION ANY IMPLIED WARRANTY OF MERCHANTABILITY OR OF FITNESS FOR A PARTICULAR
PURPOSE. IN NO CASE SHALL CORTEC CORPORATION BE LIABLE FOR INCIDENTAL OR CONSEQUENTIAL DAMAGES.
Cortec Corporation shall have no liability for any injury, loss or damage arising out of the use of or the inability to use the products.
Distributed by:
4119 White Bear Parkway, St. Paul, MN 55110 USA
Phone (651) 429-1100, Fax (651) 429-1122
Toll Free (800) 4-CORTEC, E-mail info@cortecvci.com
Internet http://www.cortecvci.com
printed on recycled paper
100% post consumer
Revised: 4/9/14, ©Cortec Corporation 2013-2014. All rights reserved. Supersedes: 1/31/14.
VpCI® is a trademark of Cortec Corporation. ©2014, Cortec Corporation. All Rights Reserved. Copying of these
materials in any form without the written authorization of Cortec Corporation is strictly prohibited.
ISO accreditation applies to Cortec's processes only.