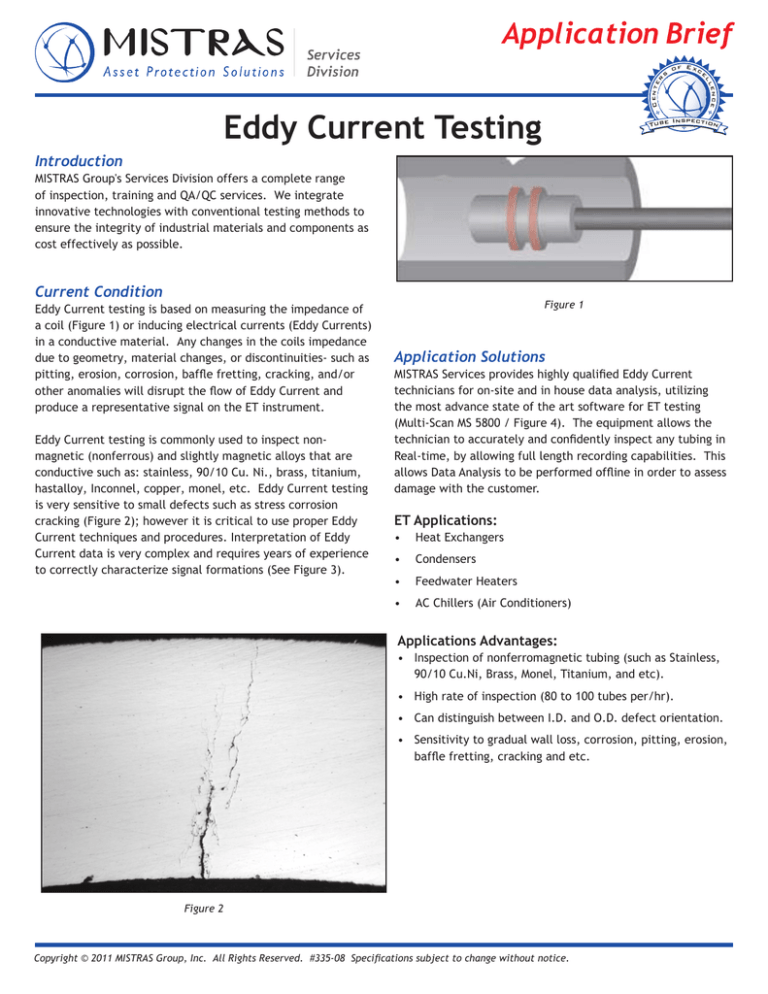 o f E xc
e
Eddy Current Testing
Tu b e
ence
Cente
s
ll
r
Application Brief
Inspection
Introduction
MISTRAS Group's Services Division offers a complete range
of inspection, training and QA/QC services. We integrate
innovative technologies with conventional testing methods to
ensure the integrity of industrial materials and components as
cost effectively as possible.
Current Condition
Eddy Current testing is based on measuring the impedance of
a coil (Figure 1) or inducing electrical currents (Eddy Currents)
in a conductive material. Any changes in the coils impedance
due to geometry, material changes, or discontinuities- such as
pitting, erosion, corrosion, baffle fretting, cracking, and/or
other anomalies will disrupt the flow of Eddy Current and
produce a representative signal on the ET instrument.
Eddy Current testing is commonly used to inspect nonmagnetic (nonferrous) and slightly magnetic alloys that are
conductive such as: stainless, 90/10 Cu. Ni., brass, titanium,
hastalloy, Inconnel, copper, monel, etc. Eddy Current testing
is very sensitive to small defects such as stress corrosion
cracking (Figure 2); however it is critical to use proper Eddy
Current techniques and procedures. Interpretation of Eddy
Current data is very complex and requires years of experience
to correctly characterize signal formations (See Figure 3).
Figure 1
Application Solutions
MISTRAS Services provides highly qualified Eddy Current
technicians for on-site and in house data analysis, utilizing
the most advance state of the art software for ET testing
(Multi-Scan MS 5800 / Figure 4). The equipment allows the
technician to accurately and confidently inspect any tubing in
Real-time, by allowing full length recording capabilities. This
allows Data Analysis to be performed offline in order to assess
damage with the customer.
ET Applications:
• Heat Exchangers
• Condensers
• Feedwater Heaters
• AC Chillers (Air Conditioners)
Applications Advantages:
• Inspection of nonferromagnetic tubing (such as Stainless, 90/10 Cu.Ni, Brass, Monel, Titanium, and etc).
• High rate of inspection (80 to 100 tubes per/hr).
• Can distinguish between I.D. and O.D. defect orientation.
• Sensitivity to gradual wall loss, corrosion, pitting, erosion, baffle fretting, cracking and etc.
Figure 2
Copyright © 2011 MISTRAS Group, Inc. All Rights Reserved. #335-08 Specifications subject to change without notice.
Eddy Current Testing
Requirements and Site Preparation:
• Tubes must be cleared of all I.D. loose scale and deposits.
• Hydro-blast (10,000 to 25,000psi / depending on material
type) is common practice.
• 110 AC power supply.
• Customer safety requirements in plant or unit.
• Tube information is critical (U-1 Spec. Sheet) to assure
proper equipment is used for the project.
Reporting:
Figure 3
• Formal report contains cover sheet, table of contents, introduction, executive summary, tube sheet layouts, data summary sheets, detail data sheets, printouts of graphics, etc.
MISTRAS Group, Inc. is a team of skilled researchers,
engineers, technicians and manufacturing personnel dedicated
to the development of practical and cost saving solutions to
meet your challenging inspection needs.
For assistance or additional information, please contact our
main headquarters at 609-716-4150 or via email at
sales.services@mistrasgroup.com.
Figure 4
Corporate Hqts: Princeton Junction, NJ • (609) 716-4150 • Fax (609) 716-4145
Email: sales.services@mistrasgroup.com • Website: www.mistrasgroup.com
Regional Hqts:
Northeast - Philadelphia (610) 497-0400 • Southeast - Monroe (704) 291-2360
Mid-Atlantic - Richmond (804) 745-5830 • Gulf Coast - Houston (281) 478-1600
Midwest - Chicago (630) 230-3400 • West Coast - Los Angeles (562) 597-3932
Mountain - Denver (303) 393-9689 • Products & Systems - Princeton Jct. (609) 716-4000
Copyright © 2011 MISTRAS Group, Inc. All Rights Reserved. #335-08 Specifications subject to change without notice.