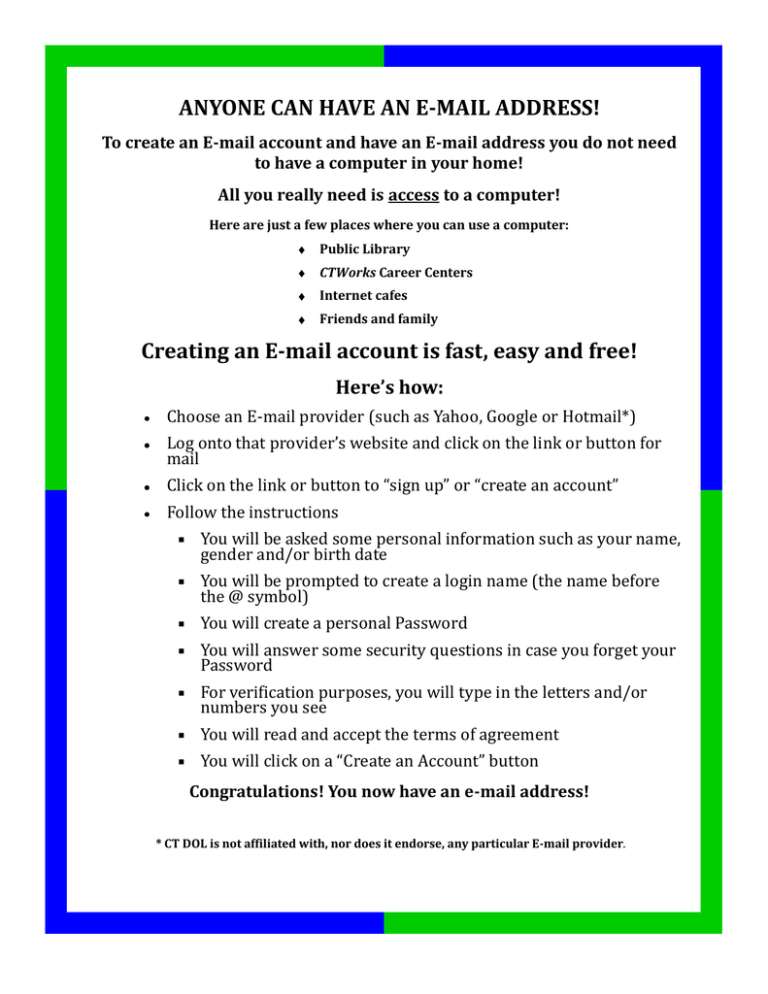 ANYONE CAN HAVE AN E-MAIL ADDRESS!
To create an E-mail account and have an E-mail address you do not need
to have a computer in your home!
All you really need is access to a computer!
Here are just a few places where you can use a computer:
Public Library
CTWorks Career Centers
Internet cafes
Friends and family
Creating an E-mail account is fast, easy and free!
Here's how:
Choose an E-mail provider (such as Yahoo, Google or Hotmail*)
Log onto that provider's website and click on the link or button for
mail
Click on the link or button to "sign up" or "create an account"
Follow the instructions

You will be asked some personal information such as your name,
gender and/or birth date

You will be prompted to create a login name (the name before
the @ symbol)

You will create a personal Password

You will answer some security questions in case you forget your
Password

For verification purposes, you will type in the letters and/or
numbers you see

You will read and accept the terms of agreement

You will click on a "Create an Account" button
Congratulations! You now have an e-mail address!
* CT DOL is not affiliated with, nor does it endorse, any particular E-mail provider.