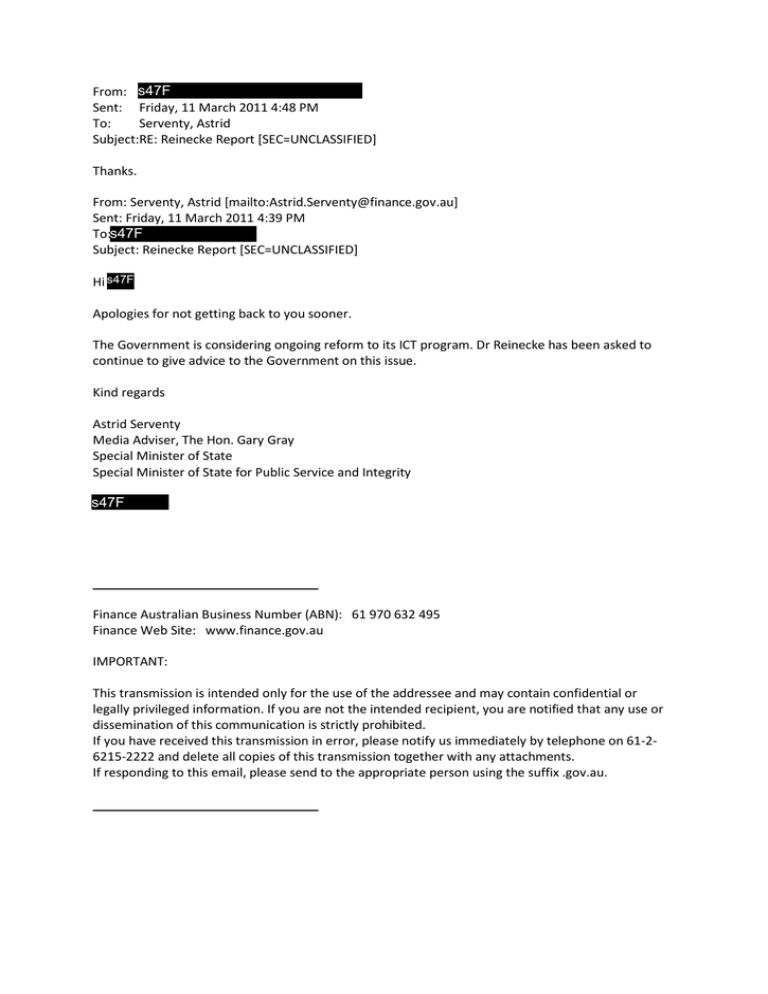 From: s47F
Sent: Friday, 11 March 2011 4:48 PM
To:
Serventy, Astrid
Subject:RE: Reinecke Report [SEC=UNCLASSIFIED]
Thanks.
From: Serventy, Astrid [mailto:Astrid.Serventy@finance.gov.au]
Sent: Friday, 11 March 2011 4:39 PM
To:s47F
Subject: Reinecke Report [SEC=UNCLASSIFIED]
Hi s47F
Apologies for not getting back to you sooner.
The Government is considering ongoing reform to its ICT program. Dr Reinecke has been asked to
continue to give advice to the Government on this issue.
Kind regards
Astrid Serventy
Media Adviser, The Hon. Gary Gray
Special Minister of State
Special Minister of State for Public Service and Integrity
s47F
Finance Australian Business Number (ABN): 61 970 632 495
Finance Web Site: www.finance.gov.au
IMPORTANT:
This transmission is intended only for the use of the addressee and may contain confidential or
legally privileged information. If you are not the intended recipient, you are notified that any use or
dissemination of this communication is strictly prohibited.
If you have received this transmission in error, please notify us immediately by telephone on 61-26215-2222 and delete all copies of this transmission together with any attachments.
If responding to this email, please send to the appropriate person using the suffix .gov.au.