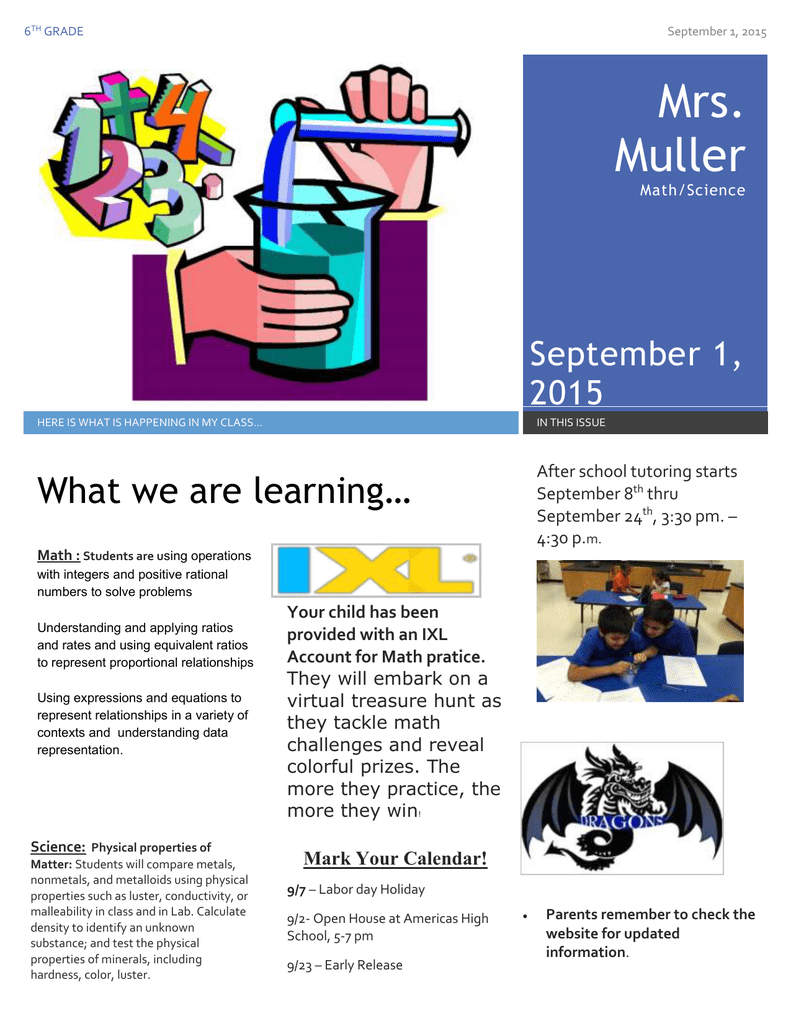 6TH GRADE
September 1, 2015
Mrs.
Muller
Math/Science
September 1,
2015
HERE IS WHAT IS HAPPENING IN MY CLASS…
IN THIS ISSUE
What we are learning…
After school tutoring starts
September 8th thru
September 24th, 3:30 pm. –
4:30 p.m.
Math : Students are using operations
with integers and positive rational
numbers to solve problems
Understanding and applying ratios
and rates and using equivalent ratios
to represent proportional relationships
Using expressions and equations to
represent relationships in a variety of
contexts and understanding data
representation.
Science: Physical properties of
Matter: Students will compare metals,
nonmetals, and metalloids using physical
properties such as luster, conductivity, or
malleability in class and in Lab. Calculate
density to identify an unknown
substance; and test the physical
properties of minerals, including
hardness, color, luster.
Your child has been
provided with an IXL
Account for Math pratice.
They will embark on a
virtual treasure hunt as
they tackle math
challenges and reveal
colorful prizes. The
more they practice, the
more they win!
Mark Your Calendar!
9/7 – Labor day Holiday
9/2- Open House at Americas High
School, 5-7 pm
9/23 – Early Release

Parents remember to check the
website for updated
information.